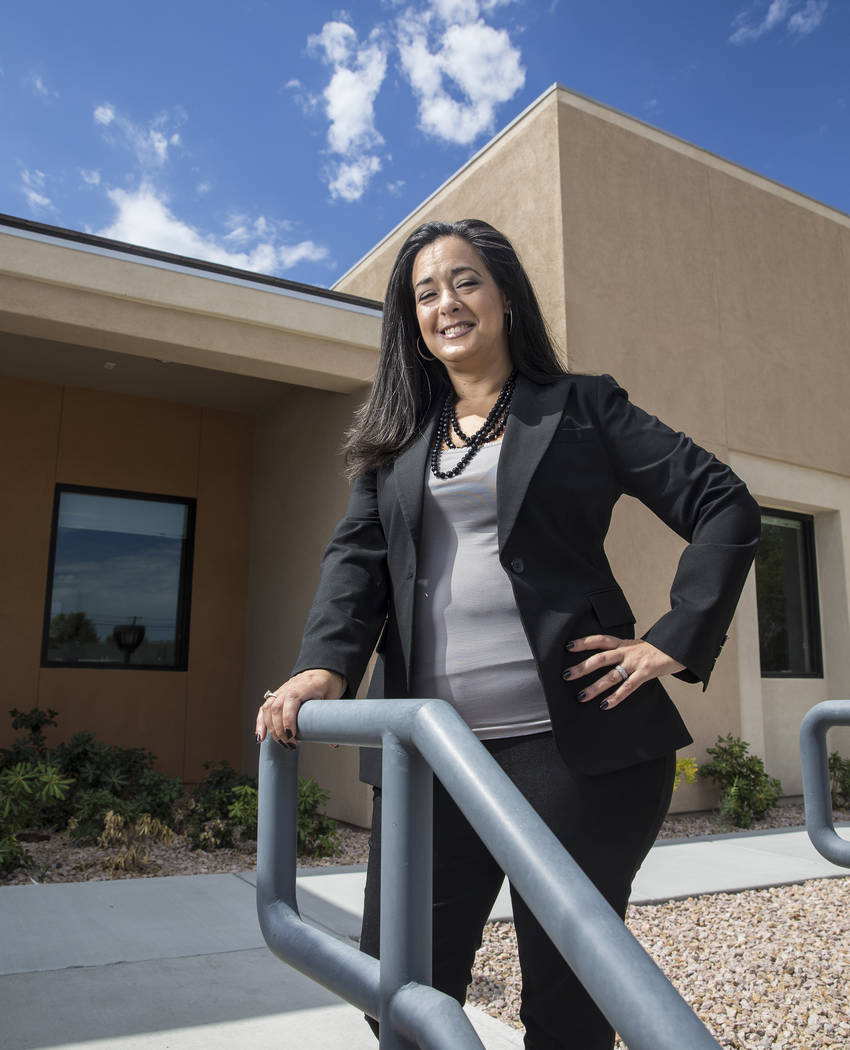 For the past month, Alexandra Silver has been settling into her new position as executive director of the Clark County Medical Society, an organization that provides health services and support to physicians and residents in Southern Nevada.
The former director of development of Planned Parenthood of Southern Nevada has lived in Las Vegas for more than 12 years, planning events and connecting with the community through health-related organizations.
In her new role, Silver says she plans to focus on one major goal: Recruit and retain doctors in Southern Nevada.
Review-Journal: Why did you decide to take this position?
Alexandra Silver: For me, the answer is really simple. It's personal. I'm the mother of identical twins, and one has a minor but chronic condition that's really rare. For my daughter, we have to travel several times a year to Southern California. We, like many Southern Nevadans, have to travel outside of our local area because there's such a shortage (of doctors) here. I thought if I'm going to be away from my kids all day, I could really make a difference and help the Clark County Medical Society overcome some obstacles, in particular, trying to recruit and retain doctors to overcome the critical shortage that we face in Clark County.
What exactly does the CCMS do?
Mostly what we're here to do is to build a sense of community for the physicians and represent them, their needs and their patients as well. We do that in a couple of different ways — everything from programming, events, job postings, providing membership benefits, banking or things that would help their practice. We're also responsible for providing continuing education, which is key. We offer several opportunities to get Continuing Medical Education credits, which are required for physicians to maintain their active license. We also do programs to attract and retain medical students as well as residents and fellows.
What are your duties?
My main focus will be to help raise the profile of the organization and let people know what we're doing. In addition to increasing membership of doctors, residents and students, we want to continue to build on the success of the organization and start to partner with more organizations and help get the word out.
Do you see an opportunity for your organization to grow now that UNLV has a new medical school?
Absolutely. Here at Roseman, Touro or now UNLV, we offer free membership for students. That's to get them to understand that opportunities are available to them in Nevada and Clark County. They can work with doctors side by side, be open to networking opportunities, leadership and mentoring. They really get to have a say in how they're represented both on advocacy as well as at the community level. One thing we have piloted — one of my personal goals is to expand this program — is a mini internship for high school students. We partner with the Clark County School District, which recruits exceptional students with interests in medical fields. For a week, they get to shadow a doctor in their chosen field. That will help them hopefully and ultimately choose to pursue that here in Nevada.
You've touched on the importance of connecting with the community. How do you plan to do that through CCMS?
One of the things that we provide to the community are town halls. For example, some issues that have been discussed are suicide prevention or the opioid crisis that's not only being experienced here but all over the country. We have a role and an obligation to be able to provide quality information to citizens. One of our main initiatives right now is working on educating the community on the importance of vaccines, especially right now as it's back to school season. The first day of school is Aug. 14, so we really want people to know how important it is for their kids to be vaccinated and to be able to make sure their children have a healthy school year.
Contact Katelyn Umholtz at 702-383-0279 or kumholtz@reviewjournal.com. Follow @kumh0ltz on Twitter.