Don't feel the burn: Doctors offer sunscreen tips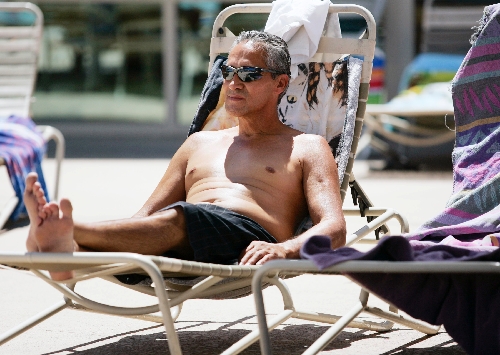 For Danielle Havis, a good working knowledge of sunscreens is as necessary a job requirement as knowing CPR.
Havis, 24, is assistant pool manager at Henderson's Whitney Ranch Aquatic Complex. Before that, she spent several years as a lifeguard. And for Havis and other Southern Nevadans who work outdoors all summer, staving off the health effects of overexposure to the sun is a daily concern.
It wasn't always that way. Havis recalls that promoting the religious use of sunscreen "wasn't that big an issue" when she began her lifeguarding career.
Today, however, Havis says she and other pool managers across the valley routinely "encourage (lifeguards) to wear sunscreen and to also cover up with clothing."
The rest of us could take a cue from these poolside pros in protecting ourselves from the ravages of the summertime sun, even if that might be a bit more confusing this summer than it was last summer.
The reason: New sunscreen labeling requirements that were supposed to take effect this month have been delayed until at least the end of the year.
The U.S. Food and Drug Administration says the new regulations are an effort to help consumers protect themselves against skin cancer and skin damage caused by excessive exposure to the sun.
Among the new rules:
■ A sunscreen may be marketed as a "broad spectrum" sunscreen only if it passes tests that show it protects against both ultraviolet A (UVA) and ultraviolet B (UVB) light.
■ Manufacturers may claim that a sunscreen helps to reduce the risk of skin cancer and premature aging of skin only if the sunscreen is a broad spectrum sunscreen with a sun protection factor (SPF) of 15 or higher.
■ A sunscreen that claims to be "water resistant" must state how long, either 40 or 80 minutes, that it will offer effective protection while swimming or sweating.
■ However, manufacturers no longer may claim that a sunscreen is "waterproof" or "sweatproof" and no longer can describe a product as a "sunblock."
Also, any claims made on sunscreen labels would have to be backed up through standardized laboratory tests.
The new requirements were scheduled to go into effect this month. However, the FDA extended the deadline to at least December after manufacturers said they could not test and relabel the products by the deadline.
"I think they were worried that if they made (manufacturers) pull all of the packages, there wouldn't be enough sunscreen for the summer," said Dr. Carol Scott, director of the University of Nevada School of Medicine's sports medicine program.
For consumers, the delay may mean having to compare sunscreens bearing old labels to sunscreens bearing new labels when they shop this summer. It also may mean that consumers could see sunscreen labels making claims that, six months from now, will be forbidden.
Sunscreens are designed to reduce the risk of skin cancer and other negative health effects – including wrinkling, discoloration and premature skin aging – by preventing harmful ultraviolet light from damaging the skin.
First, there are UVA rays, which "go deep into the skin and cause damage to the skin cells," says Dr. David Park, chairman of the primary care department at Touro University Nevada College of Osteopathic Medicine. Then, Park says, there are UVB rays, which "don't go as deep but cause a burn."
Just about every sunscreen is designed to prevent sunburn by blocking UVB rays. However, many sunscreens don't offer UVA protection to the same degree that they offer UVB protection.
"People could put on a sunblock for UVB and not get a sunburn, but still have a fair amount of sun damage over the years (from unblocked UVA)," Scott notes.
Sunscreens formulated to block both UVB and UVA rays are called – and, under the new regulations, will be the only ones allowed to be called – "broad spectrum" sunscreens.
For maximum protection, Park recommends using only sunscreens that are labeled "broad spectrum" or that specifically state that they offer protection from both UVA and UVB rays.
Next, consumers should look at a sunscreen's sun protection factor, a measure of how effectively it protects against sunburn. While most consumers are familiar with SPF numbers, they are, in reality, "very confusing" numbers, Park says.
In general, a higher SPF number denotes a greater degree of protection from sunburn. But, Park says, "just because the number is doubled – SPF 15 to 30 – doesn't mean it's a doubling of protection.
"SPF 15 will protect and block out about 93 percent of UVB, and SPF 30 will block out approximately 97 percent of UVB, and an SPF 40 blocks out only about another percent more - maybe 98 percent."
SPF 15 is the absolute minimum value that physicians recommend. In fact, notes Dr. Nancy Yu, an internal medicine and pediatrics physician with Southwest Medical Associates, the new FDA regulations will prohibit sunscreens with SPFs of 2 to 14 from claiming to prevent skin cancer or early skin aging.
Instead, Yu explains, "SPF 2 to 14, all they can say is that it protects you against sunburn, but even that's not enough"
Las Vegas dermatologist Dr. Lucius Blanchard says Southern Nevadans should always look for, and use, a broad spectrum sunscreen with an SPF value of at least 30.
For most of us, "going higher than that doesn't give any significant additional protection," he says.
The new FDA regulations also will prohibit use of the word "sunblock." The problem, Park says, is that the word "kind of gives you the idea it blocks out all of the sun's rays. It actually doesn't. It only blocks a certain amount."
Similarly, manufacturers no longer may use the words "waterproof" or "sweatproof," again because the words overstate the reality of what sunscreens are.
However, manufacturers may label a sunscreen "water resistant" if laboratory tests prove that to be true. However, the label also must tell consumers how long – whether for 40 or for 80 minutes – the water resistance is effective.
Previously, Blanchard says, "people thought they could swim all day and it wouldn't wash off. That's not true. You still need to reapply it every two hours, and you can stay in the water for 40 or 80 minutes."
Note, however, that Blanchard also recommends reapplying any sunscreen every two hours at the very least. That's true not just for swimmers or marathoners, but also for those of us who just work out in the yard or work up a sweat walking around outside.
Now that you've chosen a sunscreen – and, remember, you're looking for a broad spectrum sunscreen of at least SPF 30 that's water resistant – it pays to use it correctly.
First, "it needs to be applied at least 15 minutes before exposure to the sun, because it takes about 15 minutes for the chemicals and protective film to settle in," Park says.
Then, Scott adds, "you want to apply a fair amount of it. At least one ounce, and an ounce is a shot glass or a golf ball-sized (amount), so that the palm of the hand is full. A lot of people think, 'I've got a bottle, I'm going to make it last a whole weekend at Lake Tahoe.' "
Then be sure to reapply sunscreen at least every two hours and more often if you're swimming or sweating. Don't forget the face, the hands, the back of the neck and legs and sparsely covered spots on the head.
"I think what happens is, a lot of people put it on in the morning and go to the beach all day and play and run and sweat and swim and nobody ever reapplies it," Scott says.
How about aerosol sunscreens?
"I think aerosols have not been tested as much as the creams," Blanchard says. "I think they probably do not give as much protection. I use them sometimes because they're easier to apply, but I spray it on pretty thick and rub it in."
Finally, increase your protection from the sun by adopting other skin-saving and skin cancer-preventing strategies.
Juliana Pisani, district executive director of the Great West Division of the American Cancer Society, suggests following the society's "Slip! Slop! Slap! and Wrap" skin cancer prevention campaign: Slip on a shirt, slop on sunscreen, slap on a hat and wrap on sunglasses to protect the eyes from harmful UV light.
Then, she says, "limit your time in the sun, and generally the most intense hours are from 10 a.m. to about 4 p.m."
Remember, too, that protecting yourself from the harmful effects of the sun is a year-round concern in Southern Nevada.
"We have sun about 300 days a year, and if you're just walking around and getting maybe one hour a day, that's like 300 hours a year, which is a lot of days at the beach," Blanchard says. "So use sunscreen on the face and hands on a regular basis."
Even on cloudy days, Park adds. "People think, 'The sun is out, but clouds are covering the sun.' But 80 percent of UV light from the sun penetrates the clouds."
Contact reporter John Przybys at
jprzybys@reviewjournal.com or 702-383-0280.