Drug summit develops blueprint to combat opioid abuse in Nevada
September 1, 2016 - 7:36 pm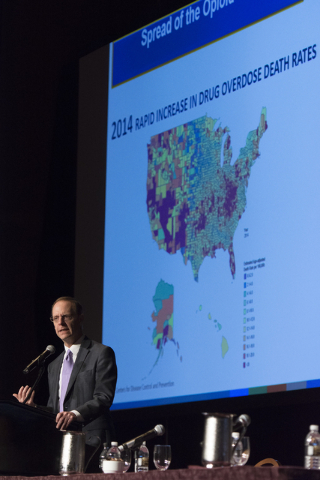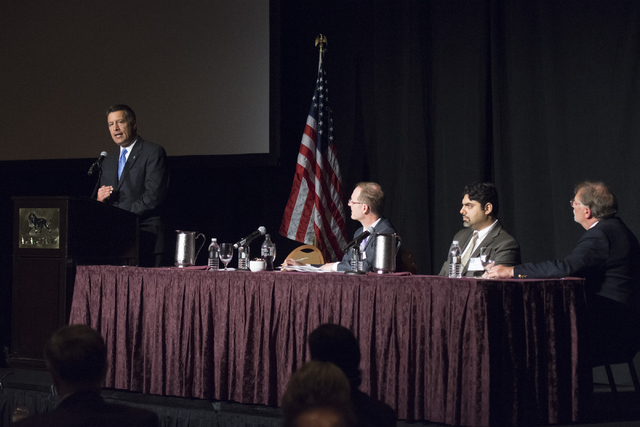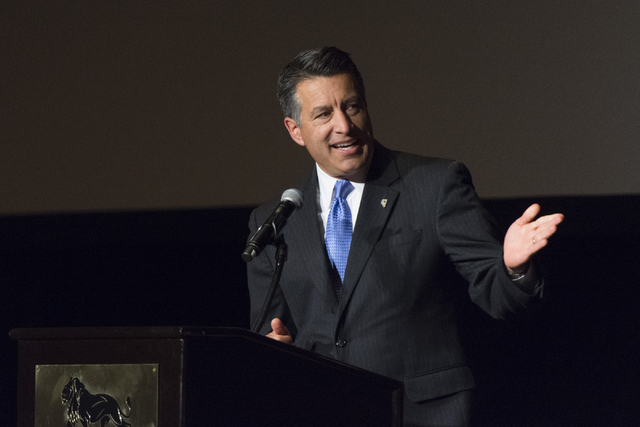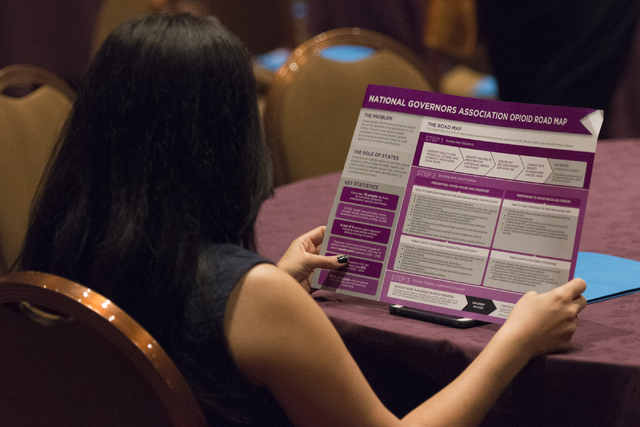 Gov. Brian Sandoval's Prescription Drug Abuse Prevention Summit concluded Thursday with a laundry list of recommendations to reduce opioid abuse in Nevada, at least some of which are expected to be included in a legislative package the governor will send to the Legislature next year.
Suggestions from about 400 health care professionals, politicians and others attending the two-day summit included identifying physicians and others who overprescribe opioids, ensuring that patients who abuse drugs are connected with rehabilitation services and increasing access to the overdose-reversing drug naloxone.
The summit also revealed some hopeful news: The number of reported opiate-related overdose deaths declined statewide in 2015, though state officials say they don't yet know why.
Drug overdose deaths — particularly those involving opioids — are a growing problem nationwide, with the number of deaths jumping from an average of nine per 100,000 Americans in 2003 to 15 per 100,000 in 2014.
Nevada has been particularly hard hit by the epidemic, which includes abuse of pain-relieving prescription drugs such as hydrocone and oxycodone as well as illegal drugs like heroin, Sandoval told the conference.
"Since 2003, overdose deaths have steadily risen … harming greater and greater numbers of families, shattering lives, destroying futures and inflicting grief and sadness," Sandoval said.
During the summit, medical professionals raised concerns that some alternative treatments for substance abuse are considered too experimental by Medicaid and Medicare, which limits the amount of reimbursement available to them.
And they worried aloud about efforts to use the state's Prescription Drug Monitoring Program to track "overprescribing" doctors. Physicians log prescriptions made to patients through the database, which allows other physicians to check for patients who are "doctor shopping" for easy access to prescription drugs.
But using the database to monitor if physicians are writing too many prescriptions is tricky, groups representing doctors say.
"The medical association believes that the (database) could be used under the proper circumstances as a tool to identify high prescribers provided that there is consideration made of the prescribers' specialty and that it is coupled with non-punitive peer review and education for the provider if necessary," Nevada State Medical Association Executive Director Catherine O'Mara said via email.
Vermont Gov. Peter Shumlin also addressed the summit Thursday, railing against policies that make opioids the default choice for pain prevention.
Vermont has been recognized for its efforts to fight opioid addiction by encouraging additional education for physicians and other prescribers, developing addiction recovery programs and championing alternative pain management treatments.
"The question for all of us in Vermont and Nevada and across the country is, 'What can we do to prevent folks from getting addicted to painkillers and the terrible tragedy that ensues once they're addicted?'" Shumlin said.
Despite the sometimes grim tone at the gathering, state data presented by Sandoval offered a glimmer of hope that the state may have turned the corner in its battle with opioid abuse. Deaths from drug overdoses declined about 28 percent between 2011 and 2015 in Nevada, from 531 deaths to 382, according to the data.
But state officials say they don't know why or if the data is trustworthy.
Sandoval's chief of staff, Mike Willden, suggested the decline may have to do with increased availability of the overdose-reversing drug naloxone, which has been made more widely available throughout the Silver State in the past few years.
Willden said he thinks the data may be off. Discussions at the conference revealed that some coroners haven't been documenting all opioid-related deaths in the same way, which could be affecting statewide statistics.
Contact Pashtana Usufzy at pusufzy@reviewjournal.com or 702-380-4563. Find her on Twitter: @pashtana_u