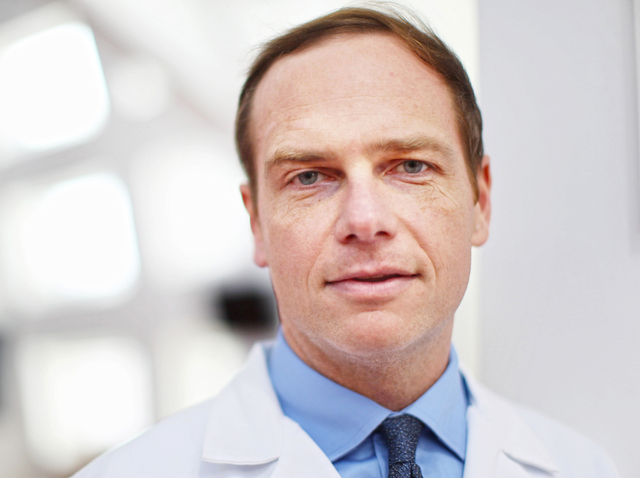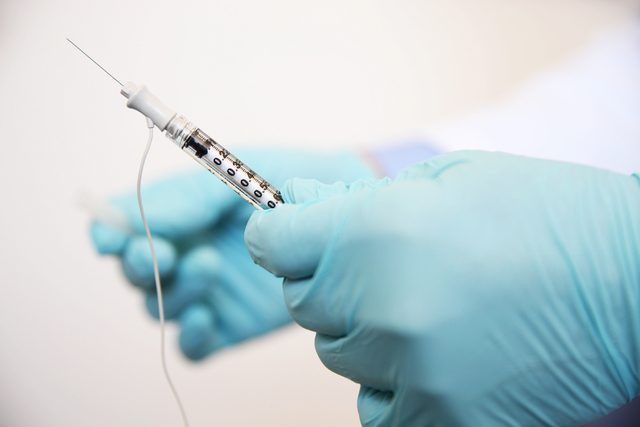 When 64-year-old Mesquite resident Charlene Lacenski visits the Cleveland Clinic Lou Ruvo Center for Brain Health to see her doctor, she might as well be carrying a microphone and standing under a spotlight.
Lacenski jokes with, teases and dazzles her doctor, Brent Bluett, as he discusses her condition.
"Dr. Bluett is very friendly, very easy to talk to," she said. "He's better when he's smiling."
Bluett, who grins in response to Lacenski's humor, oversees a full-day clinic on Fridays for patients with dystonia, a disorder involving involuntary muscle contractions that can result in tremors and possibly severe pain. Some forms of the disease are hereditary, but the cause behind most cases is not known, according to the National Institutes of Health.
Estimates of how many people in the United States are afflicted with the disorder vary because it is often misdiagnosed or goes undiagnosed. In 2005, the American Association of Neurological Surgeons said that "as many as 250,000 people in the United States have dystonia."
The Bachmann-Strauss Dystonia and Parkinson Foundation estimates that approximately 500,000 people have dystonia in the U.S. and Canada, but notes the condition's severity varies tremendously from person to person, according to its website, www.dystonia-parkinsons.org.
To treat Lacenski and other patients, Bluett injects them with botulinum toxin, the most famous brand of which is Botox.
"It cleaves the communication between the nerve and the muscle for three months," Bluett said. "It begins working at about two days and in general lasts for about 10 weeks."
Lacenski, who has a slight head tremor, suffers from cervical dystonia, in which the contraction of her neck muscles causes her head to turn involuntarily to the right.
She's been receiving injections for roughly 15 years.
When she moved to Nevada about 8½ years ago, she had insurance accepted only in her home state of Wisconsin. She flew or drove there for treatment for years, but she finally began injections in Nevada at the end of February after a January consultation with the Ruvo Center.
"I could see the tremor and I knew instantly what was going on," Bluett said.
Lacenski said medications she's taking help her feel better, but the injections provide relief from the tightness that sometimes develops in her shoulder.
She tells friends and others about the benefits she's experienced.
"They say 'Really? You're having Botox done?' and I say 'Yes, because besides the medication that I'm taking, the Botox eases the tightness and the tremor,'" she said.
Dystonia's effects are not totally resolved by an injection, but they can certainly be improved, said Eric Farbman, University of Nevada School of Medicine associate professor of neurology and movement disorders center director.
"It doesn't work for everybody, but for the right people, it works really well," he said.
Farbman's research partner, neurology professor and neurology division chief David Ginsburg, has been performing similar injections on patients for at least 10 years, Farbman said.
The cost of the injections is generally covered at least partly by insurance at both the Ruvo Center and in Ginsburg's sessions.
For dystonia with a focal point, the injections can be effective and relieve pain, Farbman said.
However for a more generalized dystonia, the toxin would have to be injected all over. That's why some patients will undergo deep brain stimulation, which uses surgically implanted electrodes connected to a pulse generator to send measured amounts of electricity to the brain in an effort to halt the involuntary contractions.
Lacenski, who'll be back in late May for another appointment at the Ruvo Center, said the temporary discomfort of the shot in Bluett's office is worth the relief she gets.
"It's not as bad as going to the dentist way back when," she joked.
Contact Pashtana Usufzy at pusufzy@reviewjournal.com or 702-380-4563. Find her on Twitter: @pashtana_u