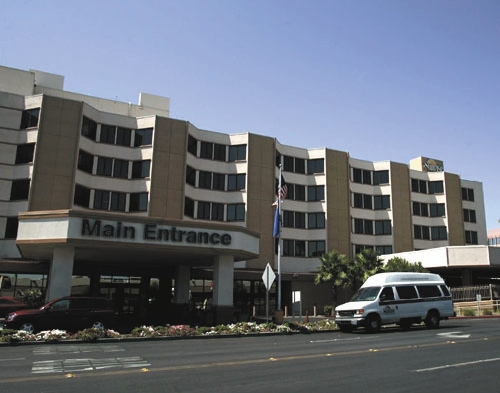 The limping Las Vegas economy extended its shadow over health care, as eight of the area's 13 hospitals reported operating losses last year.
This is the second year in a row that eight hospitals ran in the red, but the overall loss for the local operators dropped by one-third, to $64.5 million, according to numbers submitted to the state's Department of Health and Human Services. That meant that the average patient paid $10,900 per stay, but the hospital lost $247 on the visit.
As another benchmark of how far the economic pendulum has swung, the eight hospitals also reported shrunken patient loads, reducing the occupancy rate from 70 percent in 2009 to 63 percent last year. Just four years ago, when the rate was nearly 74 percent, many local hospitals worried they were losing the race to keep pace with the booming population.
Several industry experts cited three factors that have cut the patient flow: declining population, double-digit unemployment that has left many without health insurance, and lower benefits for those still employed and covered.
Further, said hospital consultant Jack London of London Medical Management in Las Vegas, more aggressive hospital collection policies are causing some people to hesitate before checking in. He said that in recent months hospital financial managers have tried to secure some payment while the patient was still in the bed.
With declining caseloads but rising prices, total revenues for Clark County hospitals rose 2.4 percent, to $2.8 billion. Hospitals billed $15.2 billion, but collected only 18 percent of that due to a wide array of discounts to both private insurance companies and government programs.
With limited potential for revenue growth, particularly as governments cut reimbursement levels to help cover budget deficits, hospitals are curbing operating costs to the point of eliminating entire departments. A spokesman at North Vista Hospital in North Las Vegas, for example, attributed much of the hospital's 28 percent drop in admissions last year to closing the maternity ward.
"In the past couple of years, hospital have more intently focused on costs to manage the bottom line," said Bill Welch, president of the Nevada Hospital Association.
Total expenses for all hospitals in the county rose 1 percent, to $2.9 billion. The biggest improvement in operating income came at Sunrise Hospital and Medical Center, which slashed its loss from $46.8 million to $11.5 million by flat-lining spending while finding new sources of revenue.
Nevada hospitals have laid off about 1,300 people in the past year, the majority of them in Las Vegas.
The largest single hospital expense is payroll, said Andrew Brignone, an attorney at Brownstein Hyatt Farber Schreck who specializes in health care.
"Sometimes, the only way you can show a profit or keep your nose above water is to reduce personnel costs," he said.
Some of the problems, stem from overbuilding that cannot easily be cured. St. Rose-San Martin and Southern Hills posted combined losses of more than $40 million, after both opened mid-decade in the once rapidly growing southwest corner of the Las Vegas Valley. But after home building slammed to a halt, both have too few patients even with parts of their facilities in mothballs.
On the other end of the spectrum, Summerlin and St. Rose-Siena maintained their positions as the most profitable hospitals in Las Vegas. Both not only have developed signature specialties but also are located in affluent areas.
But one factor that can skew the numbers is that all but one of the hospitals, University Medical Center, are part of chains. Nine of them, excluding UMC and the three St. Rose Dominican hospitals, are owned by for-profit corporations. As such, they send money back to the home offices to cover overhead.
Tim O'Reiley can be reached at toreiley@review journal.com or 702-387-5290.