First flu deaths of season reported in Clark County
Updated November 29, 2022 - 6:09 pm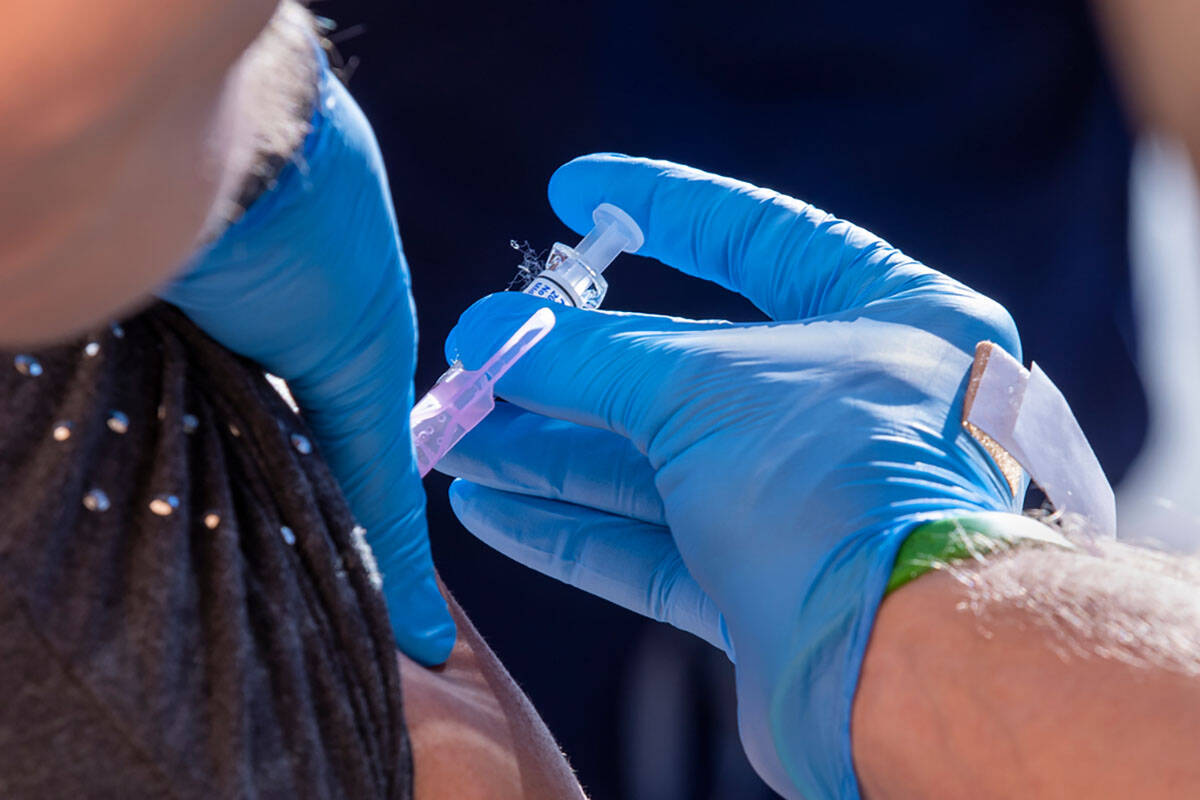 The first two flu deaths of the influenza season in Clark County were announced on Tuesday.
Two residents — a woman in her 40s and one in her 60s — died this month from complications from influenza, according to the Southern Nevada Health District.
For the week ending Nov. 19, there were 67 flu-related hospitalizations, a 72 percent increase over the previous week, the health district said. Emergency department and urgent care visits also are increasing.
Respiratory illness activity is high in Nevada, as it is in much of the country, according to the Centers for Disease Control and Prevention. The federal agency estimates that there have been at least 6.2 million cases of flu so far this season across the U.S., with 53,000 hospitalizations and 2,900 deaths.
The cumulative flu hospitalization rate is the highest it has been at this point in a season since 2010-2011, the CDC said. There are an estimated 140,000 to 710,000 flu-related hospitalizations annually, depending on the severity of the flu season, and 12,000 to 79,000 deaths.
The flu season in the U.S. "not only started early, it started vigorously," Dr. William Schaffner, an infectious disease expert at Vanderbilt University, said in an interview.
The disease curve of new cases and hospital admissions "just went straight up like a rocket," he said, with substantial numbers of infections in both adults and children.
Nationwide, there were five flu-related deaths in children last week, for a total of 12 pediatric flu deaths reported so far this season, the CDC said.
Typically one strain of influenza A will be dominant early in the flu season, Schaffner said, However, this season there are two A strains (H3N2 and H1N1) producing high numbers of cases, as well as strains of influenza B circulating.
"Each of these strains seems to be spreading independently of the others," which may be contributing to the rapid increase in cases, he said.
The flu vaccine, developed months before the flu season, is a good match so far for those strains in circulation
"If there's a little ray of sunshine in this dark day, it's that all of these strains are well represented in the current vaccine," Schaffner said.
However, the uptake of flu vaccine has been slow, which he attributed to "vaccine fatigue" stemming from all the vaccinations against COVID-19.
As of Nov. 5, about 35 percent of children in the U.S. had gotten an annual flu shot. As of roughly mid-October, 26 percent of adults had gotten a flu shot for the season.
As of Nov. 22, about 18 percent of eligible Nevadans had gotten an annual flu shot, said Marissa Medeiros with the Nevada State Immunization Program.
Nevada's flu vaccination rates typically fall below national averages.
"Peak flu season is typically October – February, so we expect these numbers to continue to rise as more eligible Nevadan's choose to protect themselves and their communities against the flu by getting their flu vaccine," Medeiros said in an email.
Information was not immediately available on whether the two Clark County women who died from flu complications had gotten a flu shot this season or had underlying health conditions.
Flu vaccines are recommended for everyone 6 months and older, the health district said. Older adults, younger children, those who are pregnant or with underlying medical conditions are more at risk for severe illness from the flu.
People who care for children who are too young to get the flu vaccine should get vaccinated instead, the district said.
Flu vaccines are available at health district clinics as well as doctors' offices and pharmacies throughout Clark County.
It's too soon to say how severe the flu season will become and whether it has peaked, Schaffner said.
"Now what we all hope is that we had the surge and then we'll have a rather prompt decline," he said. "Well, we can hope for that, but we certainly have no assurance that that will happen.
"If we have something akin to the current intensity for a couple of months, we will be easily in the severe category," he said.
The fast-out-of-the-gate flu season comes on the heels of two mild seasons, attributed to pandemic precautions that have since loosened.
There were 454 flu hospitalizations in Clark County last season and 15 deaths, said Haley Blake, a communicable disease supervisor for the health district.
Contact Mary Hynes at mhynes@reviewjournal.com or 702-383-0336. Follow @MaryHynes1 on Twitter.