First Nevadan gets cutting-edge sleep apnea treatment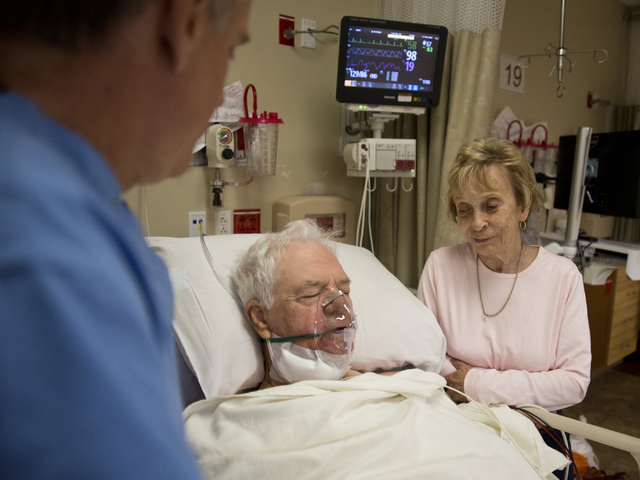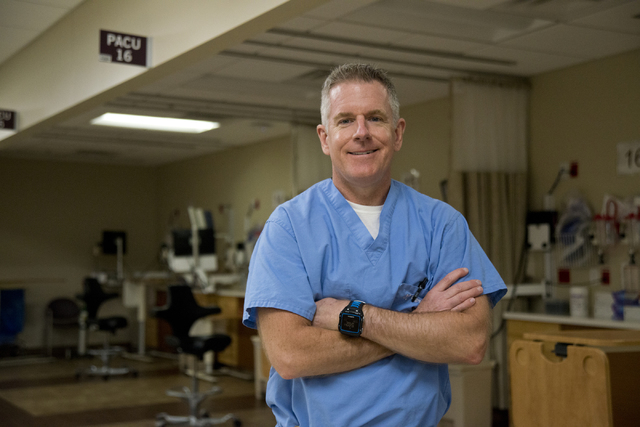 Carson City resident Don Fox couldn't take it anymore.
The 72-year-old, who said he has suffered from sleep apnea for at least a decade, was often tired and took pills before resting.
He'd tried continuous positive airway pressure, or CPAP — a common treatment for obstructive sleep apnea that keeps airways open during sleep. But it didn't work well for him.
"CPAP, it just blows you away. You can't sleep," he said.
A few years ago, Fox, who also has emphysema, began tracking a treatment method that wasn't yet approved by the U.S. Food and Drug Administration: the Inspire Upper Airway Stimulation System.
This month, he became the first patient in Nevada to receive the Inspire implant, company spokesman Howard J. Green said.
Inspire, which has training centers in Las Vegas and Tampa, Florida, has taught more than 100 surgeons to implant the product, Green said.
Dr. Frederick Goll III performed Fox's surgery April 8 at St. Rose Dominican Hospital — Siena campus and implanted the device in another patient the next day.
The doctor, who practices general otolaryngology, received his hands-on training the day before Fox's surgery but said he'd watched videos and reviewed the techniques involved for months. The surgery is similar to others he's performed, he said.
The Inspire system, which the FDA approved in April 2014, uses a pulse generator to detect a patient's breathing patterns and stimulate the hypoglossal nerve, which affects tongue movement.
The device is for patients with moderate to severe obstructive sleep apnea "who have been confirmed to fail or cannot tolerate positive airway pressure (PAP) treatments," according to the FDA.
"Most patients who come in have been frustrated with their treatment of sleep apnea because their CPAP hasn't been working for them," Goll said.
Typically, a tube on the CPAP device channels air blown from a motor to a mask that covers the nose or the nose and mouth. CPAP can prevent the blockage or collapse of the airway, according to the National Heart, Lung and Blood Institute.
The machine can correct snoring, improve sleep quality and relieve other sleep apnea symptoms, but some users struggle with skin allergies, dry mouth, congestion, sinus problems and stomach bloating, according to the institute. Others might struggle with discomfort from wearing the mask and air pressure problems that make it difficult to exhale.
People with sleep apnea might stop breathing multiple times a night and wake up frequently without treatment. The lack of oxygen can cause more severe medical problems, Goll said.
Patients have several treatment options including CPAP and different surgeries based on the location of the breathing obstruction. Inspire surgery generally takes two to three hours; it is appropriate for people who are not severely overweight and when breathing is being obstructed by the tongue, Goll said.
Patients turn on the device with a remote before sleeping and turn it off when they awaken.
"The tongue falls back and obstructs the airway, and it loses muscle tone during sleep," Goll said. "The implant, it senses when you breathe and it stimulates the nerve to increase the muscle tone, and therefore, it prevents the tongue from obstructing the airway during sleep."
Inspire implantation has the normal risks associated with any surgery, including the small possibility of infection, Goll said.
The implanted battery is about 1.5 inches by 1.5 inches and needs to be changed after eight to 11 years, according to Goll and the Inspire website.
A 2014 report on Inspire showed that two out of 126 participants had serious adverse effects related to the device. Some participants experienced discomfort and tongue soreness, which were both mostly resolved when participants got used to the system. Some people also complained of sore throat from intubation, pain and soreness.
The New England Journal of Medicine study found Inspire provided "significant and clinically meaningful reductions in the severity of obstructive sleep apnea and self-reported sleepiness and improvements in quality-of-life measures."
During the surgery, the doctor turns on the device to ensure it's working, then shuts it off again. The patient is given about a month to heal fully before the device can be activated.
Fox will return to Las Vegas in May to have it turned on, and about a month later, his sleeping will be monitored in a follow-up sleep study.
"So far each day I'm getting better," he said. "I'm feeling better, doing good and really anxious to get this thing turned on."
Contact Pashtana Usufzy at pusufzy@reviewjournal.com or 702-380-4563. Find @pashtana_u on Twitter.