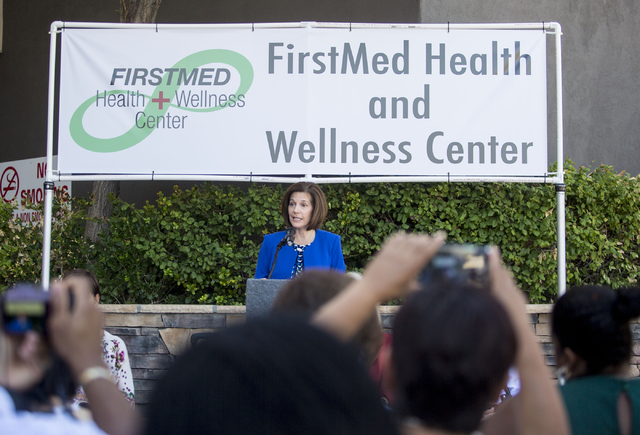 FirstMed to open clinic in North Las Vegas
FirstMed Health and Wellness Center will celebrate the opening of its third clinic at 10:30 a.m. Wednesday at the facility, 3940 N. Martin Luther King Blvd., Suite 105. The clinic is dedicated to primary care but also will offer behavioral health care for adults, adolescents and children. FirstMed serves low-income and underserved families in Southern Nevada. Its clinics currently treat nearly 11,000 patients, and FirstMed CEO Angela Quinn estimates that more than 27,000 indigent and low-income people live within five miles of the new center.
Applebee's helping raise money for MDA
Applebee's Neighborhood Grill & Bar locations in Nevada are helping raise money for the Muscular Dystrophy Association through March 18. Customers can purchase MDA Shamrock pinups for as little as a $1 donation. All proceeds will go toward sponsoring a local child's trip to this year's MDA Summer Camp. Nationwide, thousands of youngsters with muscle-debilitating diseases spend a week at the camps, which feature horseback riding, swimming and fishing.
Mobile immunization clinic plans stops
The Southern Nevada Health District has a mobile immunization clinic for adults and children. Through April, the clinic will be available from 10 a.m. to 1 p.m. first and third Wednesdays at the Windmill Library, 7060 W. Windmill Lane, Las Vegas, and 10 a.m. to 1 p.m. second and fourth Mondays at Skyview YMCA, 3050 E. Centennial Parkway, North Las Vegas.
Lunch & Learn series meets Wednesdays
The Cleveland Clinic Lou Ruvo Center for Brain Health, 888 W. Bonneville Ave., hosts the Lunch & Learn Educational Series from noon to 1 p.m. each Wednesday in February. Participants are encouraged to bring lunch; drinks and dessert will be provided. This week's program is "Using Improvisation as a Caregiving Technique." Participants can learn techniques for "living in the moment" and adjusting to challenges of caregiving or other stressful situations.
Submit event information at health@reviewjournal.com.