Flesh-eating disease nearly took life of Arizona woman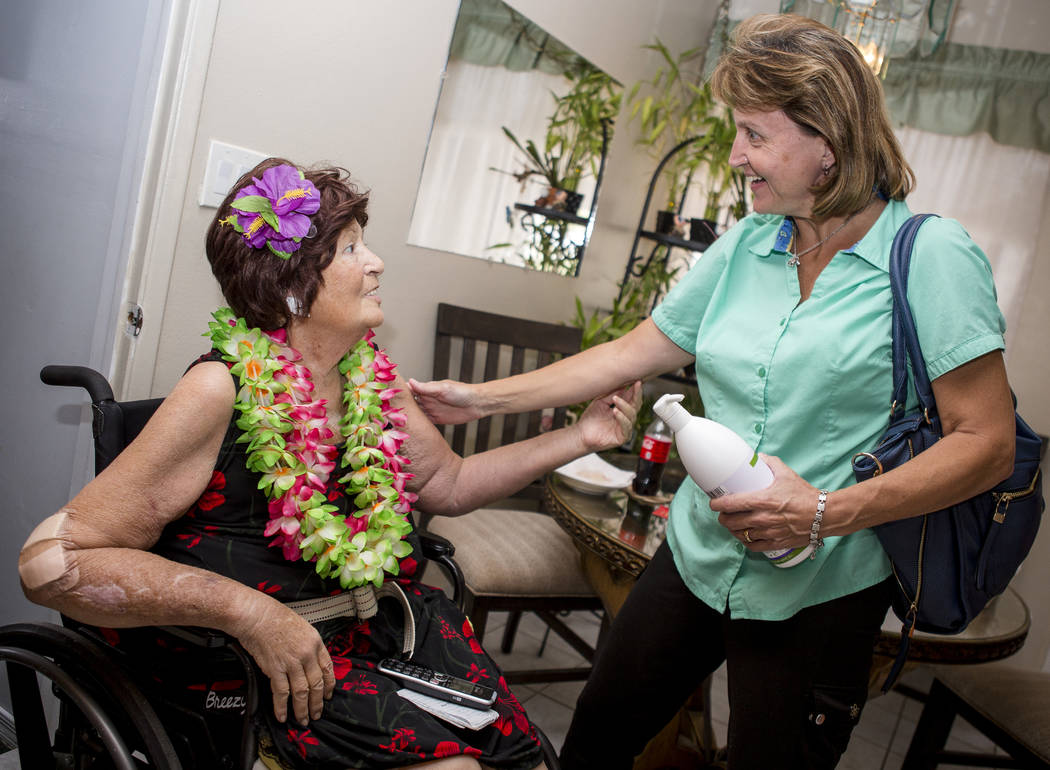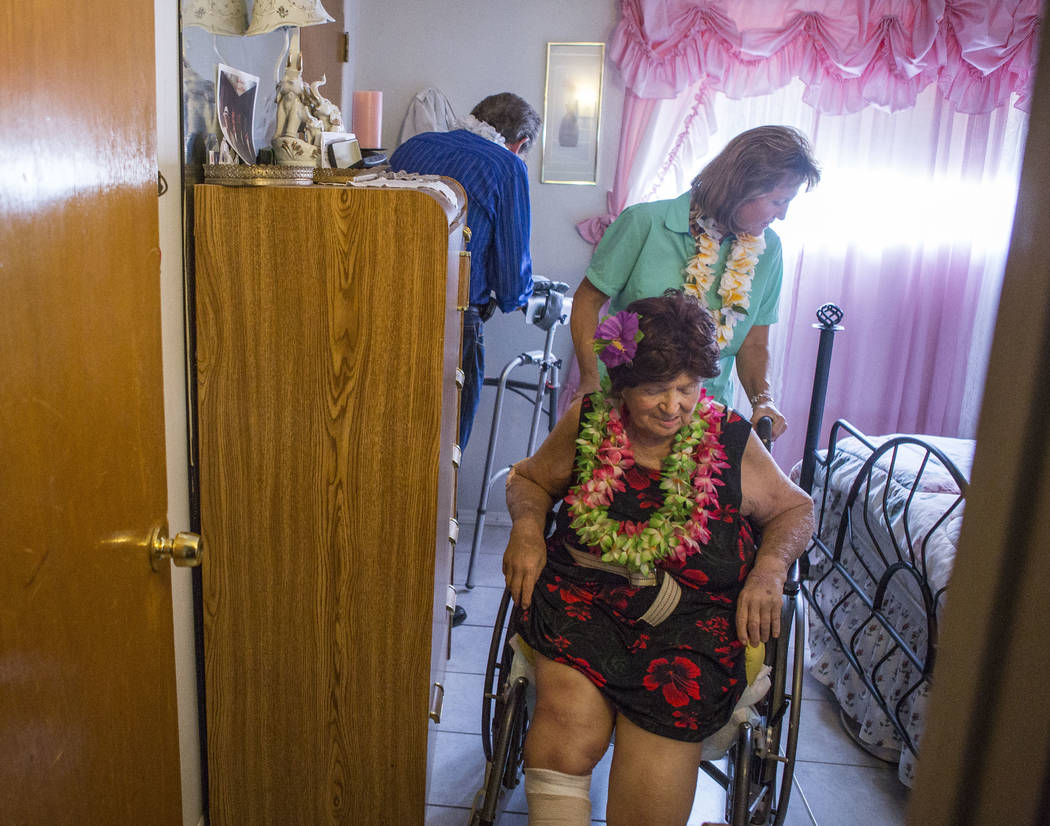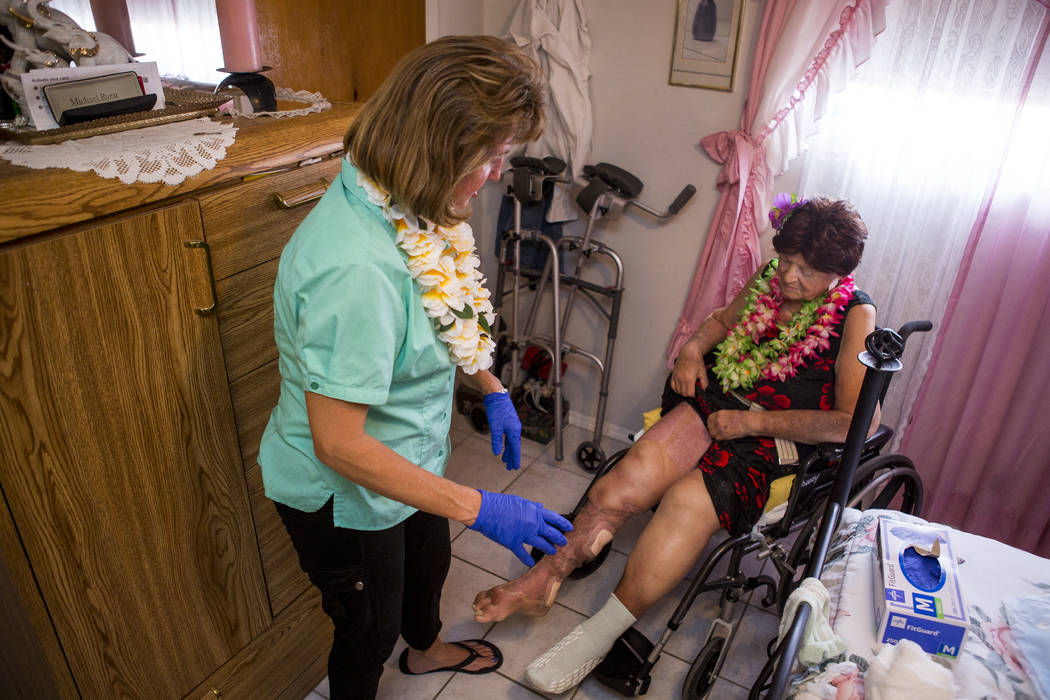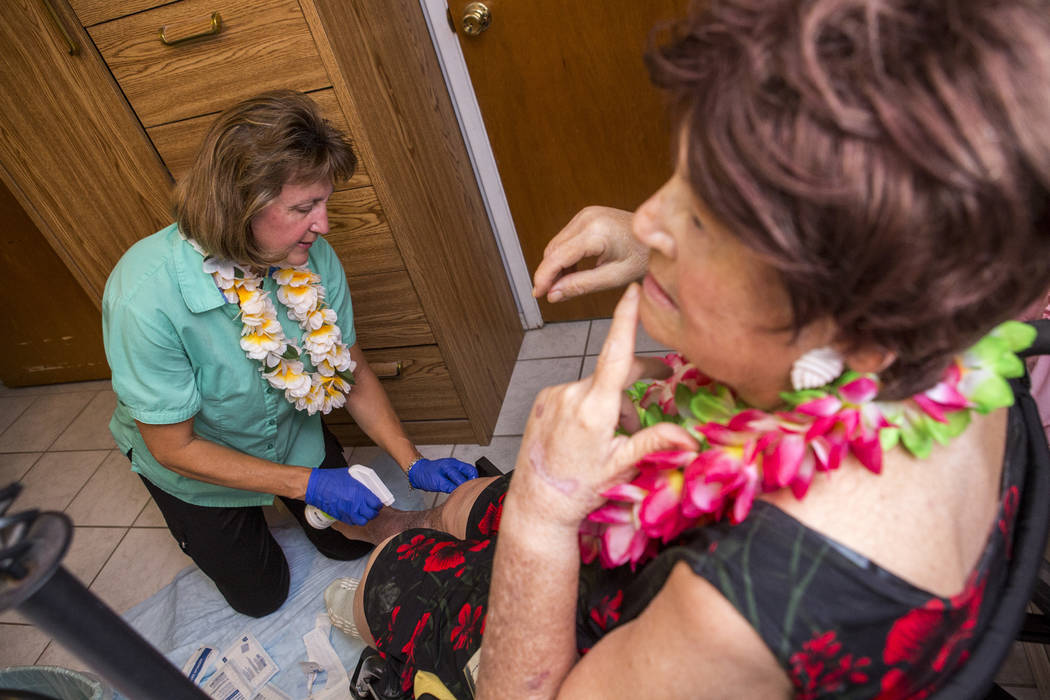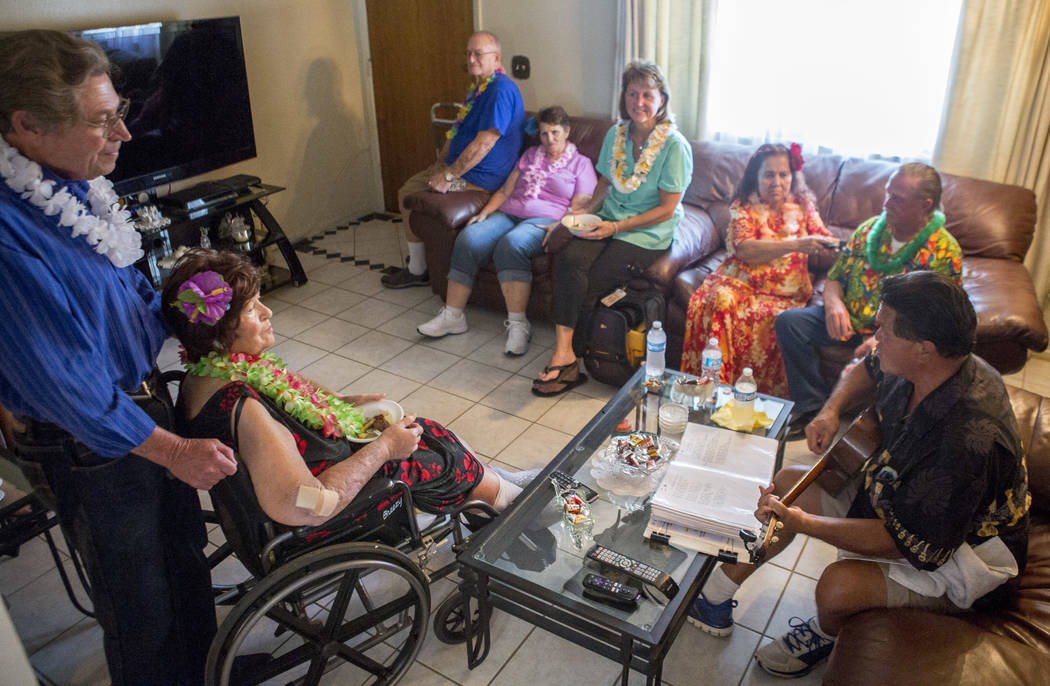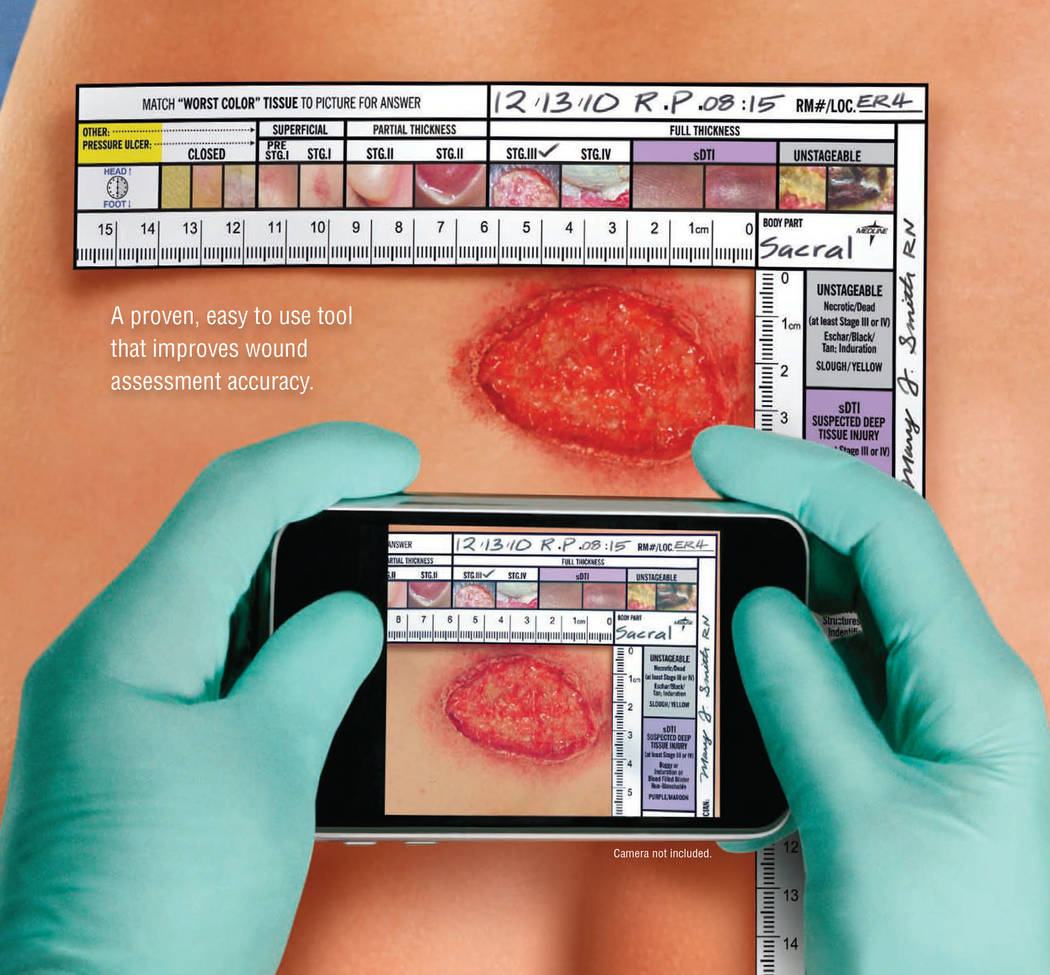 KINGMAN, Arizona — Virginia Nixon has no memory of the frantic 103-mile trip in January to a hospital in Las Vegas. But she will never forget the healer she calls "my angel," who played a key role in diagnosing the blistering wound on her leg as necrotizing fasciitis — the often deadly malady better known as flesh-eating disease.
Nixon, a 72-year-old diabetic, was unconscious and on the brink of losing her right leg — if not her life — when she arrived at Sunrise Hospital and Medical Center by ambulance on Jan. 4.
"I still can't believe I don't remember going to Las Vegas," Nixon said recently in her northwest Arizona home, her lower leg still heavily bandaged.
"The last thing I remember is my husband, Johnny, taking me to emergency at the Kingman hospital after my foot wound started leaking fluid. … I was really out of it."
Fortunately for Nixon, Nancy Estocado, a 51-year-old Sunrise wound specialist with extensive expertise on necrotizing fasciitis, arrived for work shortly after she was transferred to the Las Vegas hospital from the Kingman medical center to receive more specialized care.
When Estocado examined an image of the wound on her foot she recognized it as possibly being an infection of flesh-eating bacteria in its early stages and raised an alarm that led to its rapid diagnosis and treatment.
But Nixon was by no means out of the woods. Her foot wound, a tad larger than a pea, had become so infected that the flesh on her right leg up to her knee would soon die and turn black and she would be placed on life support, too weak to breathe on her own. Doctors were prepared to perform an amputation — a common last-ditch measure — to prevent the flesh-eating bacteria from spreading throughout her body.
A dangerous adversary
Even with a prompt diagnosis, flesh-eating disease is a dangerous adversary. Studies show that the overall mortality rate for all age groups is between 25 and 35 percent with early intervention, but higher for older patients like Nixon. Even with a timely diagnosis, patients over 50 years of age succumb 37 percent of the time, while those over 60 have a mortality rate of 62 percent. Those who survive frequently lose limbs.
Nixon was able to beat those odds, with help from Estocado and other health professionals in Sunrise's innovative "Woundology Department."
What made her survival even more unusual was the close bond that developed between her and Estocado during her nearly four-month hospitalization.
Estocado, her husband, Danny, and daughter Shelby all were on hand on a recent Sunday when Nixon's friends and relatives filled her modest Kingman home to celebrate her recovery.
The two women — each wearing a festive Hawaiian lei — hugged as soon as Estocado walked through the door. The flower garlands are a favorite of Estocado's husband, Danny, who has performed in the islands and at Las Vegas nightspots as "Maui's Hawaiian Cowboy," singing and accompanying himself on the guitar.
"I don't normally get so close to patients," Estocado said a few minutes later, putting her hand on Nixon's arm as she sat next to her. "But Virginia and I spent hours together as I treated her wounds. She spent 111 days in the hospital and we really got to know each other. She and her husband Johnny saw … Danny perform at Sam's Town and they were always asking about him."
Nixon said she feels like Estocado is a member of her family.
"It makes you want to work hard to get well when the person working with you is really pushing for no reason other than for you to get better so you can be with your family," she said. "That made a lot of my pain easier to take. She really is my angel."
Department of Woundology
Estocado, a physical therapist whose formal title is program supervisor of physical medicine and rehabilitation, played a pivotal role in the recent creation of a Woundology Department at Sunrise. She also holds a patent on a wound-measuring device that can help doctors quickly determine what type of lesion a patient has. That's critical with a disease like flesh-eating disease, as it often resembles a superficial skin infection early on.
Sunrise uses other advanced tools to ensure that wounds aren't simply treated with antibiotics and stitched up. Photographs of wounds taken at the bedside are now uploaded electronically so they can be reviewed and analyzed by team members trained in wound assessment.
"Those photos need to be in a patient's record just like MRIs and CAT scans, easily accessible," Estocado says.
Nixon's infection provides a case study of the difference such an approach can make.
When Estocado came to work at 5 a.m. on Jan. 4 — four hours after Nixon arrived in the emergency room — she examined an image of her foot wound and was concerned enough to send a Woundology team member to evaluate and take more pictures. Dr. Neri Blanco, the physician in charge of wound care at the hospital, also was contacted.
As soon as necrotizing fasciitis was diagnosed, staff began giving heavy doses of antibiotics to Nixon. Even so, her wound infection had triggered sepsis, the body's overwhelming response to infection that can itself lead to tissue damage, organ failure and death.
Nixon was placed on life support as her major organs began to shut down, but the antibiotics kicked in over the next few days and slowly beat back the infection. Doctors were soon able to remove her from the equipment keeping her alive.
Still, her diabetes, weak nutritional status and compromised immune system — which make someone a better candidate for infection — played havoc with wound care, slowing her recovery to a glacial pace.
It's a recovery that is still continuing, nearly eight months after she was hospitalized.
While Estocado's husband performed for guests in the living room during their recent visit to Kingman, the caregiver and Nixon strolled down an excruciating medical care memory lane in Nixon's bedroom. Carefully, Estocado removed Nixon's bandages, checking her healed foot wound as well as the skin graft required after Estocado cut away, or debrided, all the dead flesh on her lower leg.
Excruciating treatments
"Debriding her leg — I had to get as close as I could to the live tissue — was very painful even with medication," Estocado said, nodding as she looked over the skin that a plastic surgeon took from Nixon's thigh and grafted to her calf area. "You have to get rid of the dead skin because it can harbor bacteria. Virginia was tough but I had to take my time over a couple of weeks because it hurt."
"Yes, it really did, but you were very nice about it," Nixon said.
She told Estocado she's feeling so much better that she's looking forward to going back to work with Johnny, her husband of 57 years, at the building maintenance company they run in Kingman. "I'll be walking all the time soon," she vowed.
Estocado said after the visit that her experience with Nixon increased her determination to make sure that wound care is taken more seriously within the medical profession.
"If we hadn't gotten treatment started quickly, I don't think Virginia would have made it," she said. "That she did has convinced me that we have to treat wounds better and faster in this country."
A dozen years ago she was horrified to learn that studies showed the average clinician or nurse correctly assessed wounds only about 30 percent of the time.
"That's the kind of treatment that can cost lives," she says.
That realization spurred her to invent what is known as the NE1 Wound Assessment Tool, now used at health care facilities throughout the United States.
A paper, single use, L-shaped measuring device, it allows nurses and clinicians to frame the wound, take a photo and match the actual wound image to one on the tool. A study showed that after just five minutes of training, nurses and clinicians improved to 69 percent on average in their wound assessments.
Estocado has since morphed that paper tool into the electronic version used by the Sunrise Woundology Department to help diagnose Nixon's infection.
She believes it should be adopted everywhere.
"The faster we can diagnose someone's wound, the faster we can get someone the right treatment," Estocado said. "Patients deserve that."
Contact Paul Harasim at pharasim@reviewjournal.com or 702 387-5273. Follow @paulharasim on Twitter.