Flu on the rise in Clark County, causes first reported death
November 20, 2017 - 10:39 am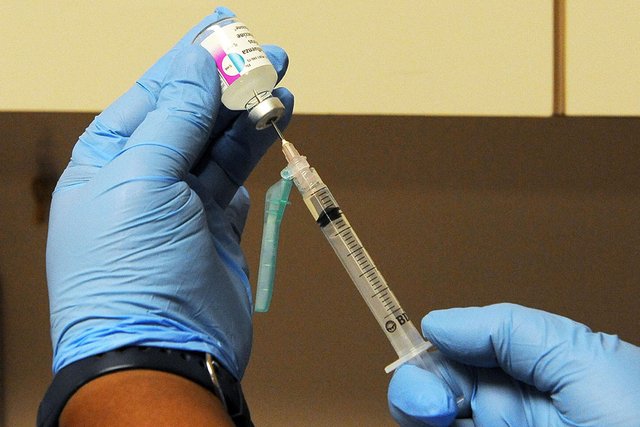 Flu season has kicked into high gear in Clark County, but it's not too late to get vaccinated, the Southern Nevada Health District said in a Monday release.
As of Nov. 11, the district confirmed a total of 78 cases, with one flu-related death of a child under the age of 4.
"A flu-related death is a tragic reminder that influenza can be a serious illness," the district's Chief Health Officer Joe Iser said in the news release. The Centers for Disease Control and Prevention estimates that 12,000 to 56,000 flu-related deaths have occurred each year since 2010.
About 100 of the 2016-2017 flu-related deaths occurred in children, the CDC reports.
The flu spreads through fluid droplets when infected people cough, sneeze or talk. Those droplets land on the mouths or noses of people nearby, causing infection, according to the CDC. Sometimes, a person can touch and infected surface and then touch their own mouth or nose, though this less often leads to infection.
Most at risk are young children under the age of 2, adults over 65, pregnant women and those with underlying health conditions — though anyone can contract the disease.
The best way to prevent infection is by getting vaccinated. Washing your hands often and covering your mouth when coughing can help prevent the spread of the disease.
If you're sick, stay home, the health district said.
"You will help prevent other from catching your illness," it said.
Last year, there were 713 confirmed flu cases in Clark County, according to the health district, resulting in 13 deaths and 476 hospitalizations.
Contact Jessie Bekker at jbekker@reviewjournal.com or 702-380-4563. Follow @jessiebekks on Twitter.