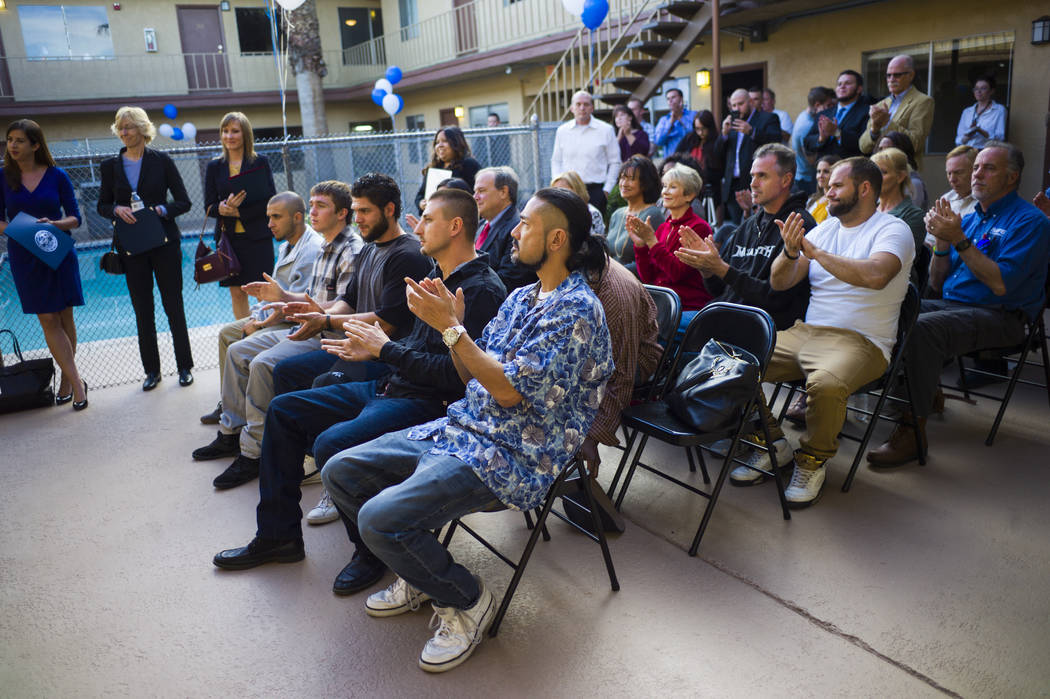 Keith Hinchen was given a choice in summer 2016.
Get help, or go to prison.
The 53-year-old former Marine had been homeless on the streets of west Las Vegas for seven years, living a life that revolved around an addiction to crack cocaine. He was on the verge of becoming one of the hundreds of Nevadans who die from drug overdoses each year.
"I was broken," Hinchen said Wednesday, standing under an outdoor staircase at Freedom Behavioral Health on Palos Verdes Street.
But Hinchen wasn't there as a patient. He was back at the facility he called home for more than seven months as a success story, celebrating Freedom Behavioral Health's first full year of operation.
Freedom Behavioral Health, a residential treatment agency located just east of the Strip, works to help drug and alcohol addicts with the hope of helping get them back to being productive members of society. Freedom House, the related transitional housing program located next door, opened in 2010.
"They gave me my life back," Hinchen said.
More than 600 Nevadans died in 2015 from drug overdoses, putting the state in the top 15 nationally for drug overdose mortality rates, statistics from the Centers for Disease Control and Prevention show. That's an improvement from its 2010 ranking as fourth-worst state in the U.S., but officials in Nevada know much work must be done to combat the problem.
"Nevada has an addiction crisis on its hands," state Treasurer and Republican gubernatorial candidate Dan Schwartz said during the event.
Schwartz also praised the addiction treatment center for its dedication in getting addicts off the streets and out of jail and back to being productive members of society.
Assemblyman Nelson Araujo, D-Las Vegas, said at the event that he had worked at the facility recently and was blown away by the kind of support he saw from the staff.
"I saw a community. I saw staff members who treated their patients as peers," Araujo said. "This is how we start changing lives."
Hinchen has been sober since his arrest in July 2016. Freedom House helped connect him with job training. He is working as a cook at Paris Las Vegas and living in a place of his own. And he credits the staff and the program for everything.
"This works. This program works," he said.
Contact Colton Lochhead at clochhead@reviewjournal.com or 702-383-4638. Follow @ColtonLochhead on Twitter.