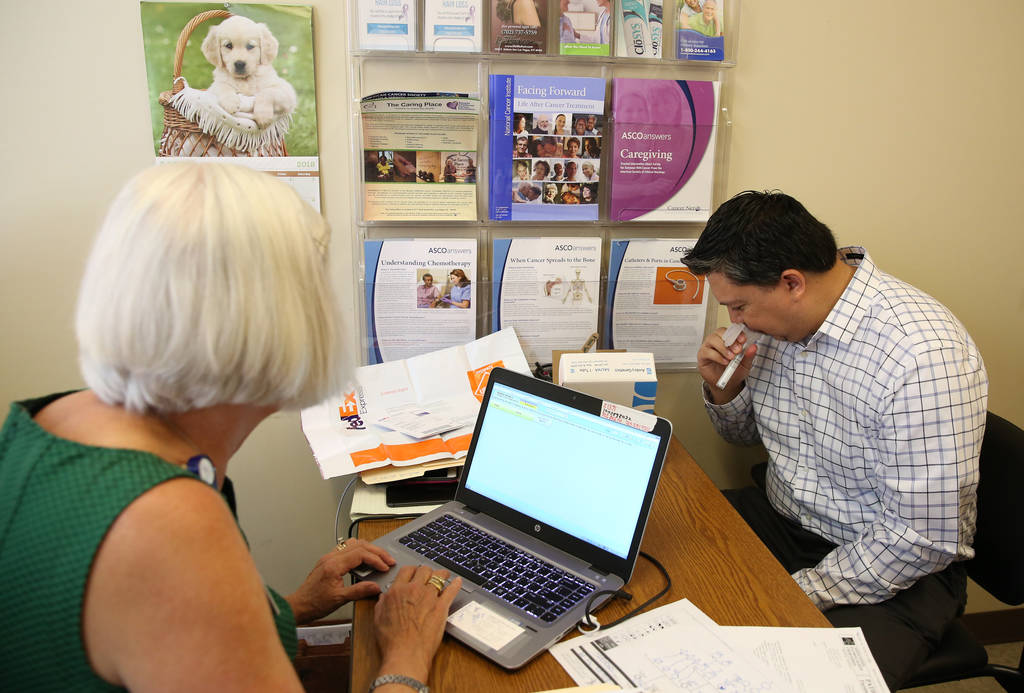 When Mike Reardon's sister learned she had breast cancer at the young age of 44, he wondered if his daughters were at risk.
So on a recent Wednesday, the 44-year-old Las Vegan spit in a tube and, with the help of nurse Barbara Caldwell, shipped it off to a genetic testing lab.
Reardon's just one example of a national trend to create more cancer "previvors" — people who undergo genetic testing in hopes of beating a cancer diagnosis before it happens, instead of facing one down the road.
"All we're doing is collecting information and educating the patient and her family on how to optimize her health," said Caldwell, a genetic counseling nurse at Comprehensive Cancer Centers of Nevada, who started seeing patients in March. "We can never get to zero (risk), but we can considerably reduce someone's risk in most cases."
About a decade ago, genetic testing was out of reach for most, said Anna Victorine, a genetic counselor who runs her own business, Genetic Consultations.
"Test's could've cost $4,000" at the time, Victorine said.
Today, many insurance companies cover testing. At Caldwell's office, a comprehensive gene panel might cost $250 out of pocket, she said.
Sarah Lawrence College in New York launched the first genetic counseling program in the U.S. in the fall of 1969, according to its website. It was accredited in 1997 by the American Board of Genetic Counseling and has graduated more than 1,000 genetic counselors since its start.
But in Las Vegas, genetic counselors say there are just a handful of them. The demand isn't high for their expertise.
Caldwell says reasons are Las Vegans' unfamiliarity with genetic testing and the absence of an academic institution pushing for it. There is no genetic counseling master's program in the state, though she said she hopes the UNLV School of Medicine will change that.
Nationwide, however, testing is becoming trendier with the introduction of commercial services such as 23andMe and AncestryDNA. Caldwell said such tests are not medical grade, which can be a problem when people rely on the results to understand their genetic makeup. Victorine said, however, the tests have sparked interest in some of her clients, who then opt to undergo medical genetic testing.
For people who decide to get tested, the information could help them make decisions about their health. Caldwell points to actress Angelina Jolie as an example. She underwent a preventative double mastectomy in 2013 after genetic testing uncovered the BRCA1 gene mutation she carried. The mutation has been linked to certain cancers, including breast and ovarian.
That's what brought Reardon to Caldwell's office. In case the test comes back positive for a mutation in the BARD1 gene, which was detected in his sister, he can pass that information on to his 24-year-old twin daughters, who could decide to get tested and take preventative measures results are positive.
The BARD1 gene interacts with the BRCA1 gene, increasing a woman's risk for breast and ovarian cancer risk.
Those with a family history of cancer or who receive a cancer diagnosis under age 50 should get tested, Caldwell said.
An appointment with Caldwell usually lasts about an hour and includes creating a family pedigree and discussing the implications of knowing more about your cancer risks.
That knowledge is power, Victorine said.
"It's 'what can I do to protect myself and protect my relatives,' " she said. "In an ideal world, we'd be able to reduce the incidence of cancer."
Connect with a counselor
At least three counselors in Las Vegas specialize in cancer genetics.
Barbara Caldwell, Comprehensive Cancer Centers of Nevada, 702-952-3350
Anna Victorine, Genetic Consultations, anna@geneconsults.com
Jamie Fisher, Desert Perinatal Associates, 702-341-6961
Contact Jessie Bekker at jbekker@reviewjournal.com or 702-380-4563. Follow @jessiebekks on Twitter.