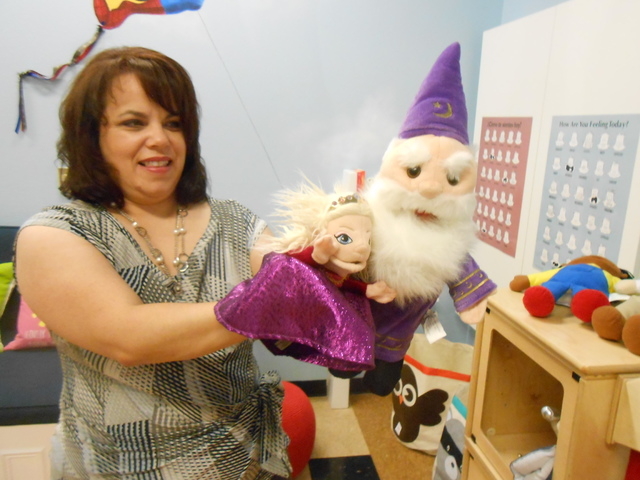 The Candlelighters Childhood Cancer Foundation of Nevada has a new tool to help children dealing with cancer: the Engelstad Family Foundation Play Therapy Room.
Thanks to a $162,000 grant awarded to the nonprofit from the foundation in 2013, several programs through Candlelighters were funded, including the refurbishing of the play therapy room at the group's headquarters, 8990 Spanish Ridge Ave., Suite 100.
Play therapy is used mostly with children ages 3 to 11. The therapy room is filled with various items that spur the imagination: costumes, puppets, an art table and a pretend kitchen. Toys are developmentally appropriate.
"These are not your everyday G.I. Joe toys or your Batman and Robin or Disney princess," said Melissa Cipriano, Candlelighters executive director. "This way, they can use their creativity with or without guided direction. There are no preconceived notions."
She said about 30 percent of families helped through Candlelighters use the therapy program, whether for the diagnosed child or their siblings and parents. Sessions typically last about an hour, based on the child's age and how he's dealing with medications and/or treatments.
"I've seen, where a child has passed away, (siblings) make the doll house a hospital, and they save their brother or sister. … Part of healing is being in charge," said Sarah Haggerty, a marriage and family therapist intern who works with Candlelighters.
According to the National Institute of Mental Health, it is normal for patients diagnosed with cancer and their loved ones to suffer from depression, anxiety, extreme stress or sadness. If not addressed, depression may affect the course of treatment.
Some insurances put a cap on how many counseling sessions are covered, but Candlelighters offers sessions to its clients on an unlimited, as-needed basis.
Before the room was a dedicated play therapy space, children met with the therapist in a sterile office setting. The new play room was refurbished at a cost of about $12,000. Before that, it was furnished with a toy chest and used as a waiting room when parents needed to discuss matters with staff members.
Jackie Trueblood and her husband, Justin, learned that their son, Austin, 7, had leukemia when he was 22 months old. On their initial visit to Sunrise Hospital & Medical Center, representatives from Candlelighters approached them and educated them on what the organization offers, including assistance for quality-of-life issues, disease-specific education, patient advocacy, emergency assistance, travel for treatment, family counseling and survivor scholarships.
"At the time, they were doing Fast Food Friday, so they said, 'You're welcome to the food. What would you like?'," Jackie said. "We were kind of shocked. … Then they came around with a toy for Austin. It was our first time at the hospital, and it was all very overwhelming."
After that, the family was invited to various events hosted by Candlelighters: a Halloween party and a camp for kids with cancer. What did it mean to have support like that?
"It was huge," Jackie said. " … It was nice to know somebody was there."
For more information about Candlelighters, visit candlelightersnv.org or call 702-737-1919.
Contact Summerlin Area View reporter Jan Hogan at jhogan@viewnews.com or 702-387-2949.