Gym provides supportive environment for long-term weight loss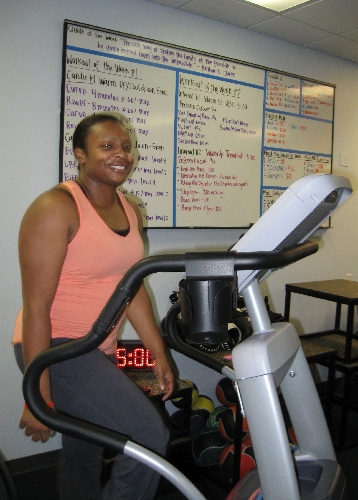 Francis Wisniewski knew he had to make a change.
As a trader/hedge fund manager, he sat at his desk nearly all day long. His weight ballooned to 360 pounds. He was determined to do something about it.
Under the guidance of a personal trainer, he built a home gym where he worked out daily. A year later, he'd lost 60 pounds.
"While doing it, I realized that there are a lot of people like me who don't want to go to a regular gym," he said, "(where) you have people running on a treadmill beside you who are going twice as fast and who look really good."
So Wisniewski opened a new business, Downsize Fitness at 321 N. Buffalo Drive, Suite 120, a health club for people with more than 50 pounds to lose. How committed is Downsize to helping clients work out in private?
There are no windows.
Inside are all the machines found in a typical gym – treadmills, rowing machines and elliptical machines. Other workout apparatus is less typical – 18-wheeler tires, a large sledgehammer and 20-foot-long ropes such as those used to dock cruise ships. Much of the program is functional training, with both circuit training and cardiovascular-based exercises.
"If we trained people like a typical health club would, people typically can't sustain the weight, can't maintain the lifestyle," trainer Chris Gowens said. "We try to give people an understanding of why we're doing what we're doing."
Gowens said four of his clients told him of joining a gym and going there but being unable to get out of the car because the intimidation factor was so strong. Downsize uses a small-group format with no more than five people per group, which acts as a support system.
Downsize clients are asked to commit to five days a week for a lifestyle change. It's not just about moving the body but also what one feeds his body. Downsize counsels people on how to eat healthily, without feeling deprived.
Bridget Post has been working out since November. She joined Downsize soon after it opened and lost 30 pounds, going from a size 14 to an 8.
The most valuable things she's learned?
"Healthy eating," she said. "I was eating bad stuff, eating out maybe five times a week. And if I cooked, it was like hamburger or fried chicken or macaroni and cheese. Now I eat grilled chicken, grilled fish and vegetables. And I eat five or six times a day."
Watching "The Biggest Loser" reality television show was motivating, said Post, "but they work out six or seven hours a day. Who has time for that?"
She does strength training for an hour, then cardiovascular work on her own for an hour.
Once people reach their goal weight, they can continue to work out at the gym.
"They have a community here, so once they hit that 50 pounds, they're still able to come here for support and maintenance," said marketing manager Adrienne Hester. "So it's ongoing. It's not like, 'Oh, you did this (achieved your goal weight), so now you go to a standard gym."
Rates start at $75 per month. For a personal trainer, it's $300 a month.
Wisniewski still has to lose 100 pounds.
"We don't expect somebody to go from eating 5,000 calories a day to eating 1,200," he said. "We ask you to make slower changes that you can get used to. It's a long-term battle, not a short, quick fix."
The first Downsize Fitness opened in Chicago. Las Vegas is the second location, and a third is planned to open in Dallas this summer.
Downsize for Life, a program that helps transform the lives of overweight teens and their families, is looking to sponsor five teens. For more information about how to apply, call 778-9653 or visit downsizefitness.com and click on "Downsize for Life."
Contact Summerlin/Summerlin South View reporter Jan Hogan at jhogan@viewnews.com or 387-2949.
Downsize Fitness
Downsize Fitness, a gym for people with 50 pounds or more to lose, is at 321 N. Buffalo Drive, Suite 120. Rates start at $75 per month. For more information, call 778-9653 or visit downsizefitness.com.