Hangover entrepreneur realizes profit from the pain after party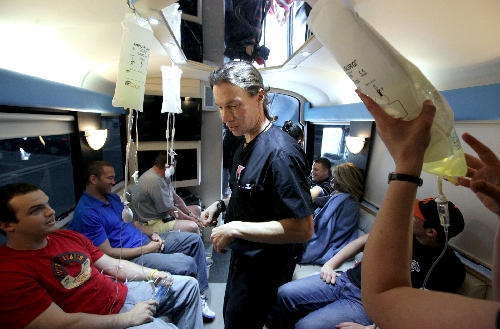 Where some only see vomit, one man saw Las Vegas gold. And he was right.
With two mobile clinics and a stationary office now in service, and a third vehicle coming on line in two months, Hangover Heaven owner Jason Burke is looking forward to the future.
He's almost finished negotiations with a production company that wants to shoot a reality series based around his Las Vegas-based hangover medical treatment service, and he's waiting for approval from local hotel properties to get on their concierges' "approved physicians lists." Hangover Heaven also might be a featured pool party attraction toward the end of the month.
"I thought it would be more of a slow build, but it seems to have a certain allure to it for the general public," Burke said of his business' quick takeoff. "It's probably a little further along than I thought it would be at this point, probably because of the news coverage."
The anesthesiologist's launch in April of his mobile practice catering to the drinking crowd made worldwide headlines, but Burke is proving his business idea to be viable and scalable.
While still a practicing anesthesiologist, Burke has reduced his in-hospital work to concentrate on his growing hangover relief business. About 70 partiers suffering the effects of a hangover – nausea, headache, muscle aches – come to Burke's Hangover Heaven each week to be cured from what ails them. Burke said some of his clients are vomiting so badly he has to hold their hair back while they begin treatments, which include intravenous hydration, and medication for nausea and inflammation.
To build his business, Burke last week began advertising on the back of 40 taxicabs. He said he's already noticed a 15 percent increase in customers.
His $150 Salvation Package makes up 65 percent of his business, with the $90 Redemption Package rounding out the rest. That's significantly less than what a hospital would charge to see a patient for intoxication. A broad estimate of emergency room charges at University Medical Center ranges from $500 to $3,000, depending on what tests are run, how sick the patient is and what other medical problems they have.
University Medical Center spokeswoman Danita Cohen said the hospital, which is just a few miles from the Strip, doesn't typically see patients specifically for hangovers in the emergency room.
"We do see a lot of alcohol intoxication, but that's different than a hangover," she explained.
Burke said 75 percent of his clients are men, and so far he's only had to refuse service to a few people who called while still intoxicated. He deals only with aftereffects.
Based on patient surveys, Burke said the average client comes in with a self-rated hangover of 6.6 on a 10-point scale. After a treatment, the average hangover is reduced to a 1.5. He claims a client satisfaction score of 94 percent, and reports that he has treated about 350 people with no complications.
Burke said most of his clients have been tourists from Chicago, Texas, Southern California, Indiana, the United Kingdom and Canada.
"The people from overseas come before they get on their long plane rides," he explained.
With the Electric Daisy Carnival in town this weekend, Burke is launching two new services for those seeking a high-energy boost: A $20 B-12 shot and a $90 IV drip of Myers' cocktail, which is a mix of B complex, Vitamin C, magnesium and calcium.
"People have called asking for it after they see that I'm an anesthesiologist," Burke explained.
And who is he to deny the people?
As of Thursday, Hangover Heaven had 25 reservations for this weekend, and Burke is expecting a large turnout as the weekend unfolds.
Besides the medical services, Burke sells Hangover Heaven T-shirts ($19.95, marked down from $29.95) bearing phrases such as "Now if I could just find herpes heaven" and "I feel like Jesus on Easter morning."
Seventy patients so far have been there, done that and left with the T-shirt – which, like all of his services, is not covered by any health insurance plan.
Contact reporter Laura Carroll at
lcarroll@reviewjournal.com or 702-380-4588.