Health news and events around the valley, Sept. 3-9, 2015
September 2, 2015 - 1:42 pm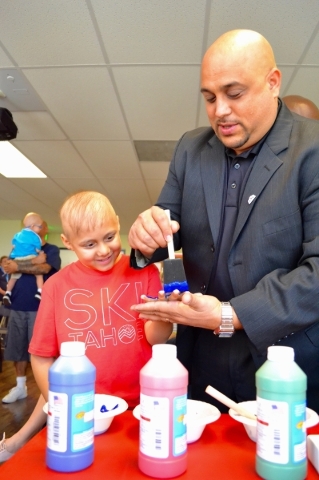 Health fair planned Sept. 12 at Spring Valley Hospital
A free Fall into Better Health Fair is planned from 11 a.m. to 1 p.m. Sept. 12 at Spring Valley Hospital, 5400 S. Rainbow Blvd. More than 70 vendors are set to be on hand to share health information and education. Participants can also meet the Spring Valley Hospital staff and participate in a variety of free health screenings including blood pressure, glucose (fasting required), vision, spine and balance. Special activities will be available for children, and the first 100 attendees are set to receive a free gift.
Healthy walking seminars planned
Tina Encheva, Realtor and continuing education UNLV teacher, is set to direct workshops on the Secrets of Natural Walking from 9:30 a.m. to 5 p.m. Sept. 13 and Oct. 18 at 3585 E. Flamingo Road, Suite 203. Email tinae@realtyonelv.com.
Educational Medicare events scheduled
As part of National Medicare Education week, Medicare beneficiaries are invited to participate in educational events during Sept. 15-21. This annual observance begins one month before the start of the Medicare Open Enrollment Period Oct. 15 to Dec. 7.
During the events, local UnitedHealthcare representatives and a Walgreens pharmacist will address people's questions. Events are planned for 10 a.m. Sept. 21 at the Sunrise Ballroom at Siena Summerlin, 10525 Siena Monte Ave., and 3 p.m. Sept. 21 at Buckman's Grill at the Revere Golf Club, 2600 Hampton Road. The events are free, but registration is requested.
To RSVP, visit nmew.com and click on "Attend an Event" or call 800-379-1208.
In addition, UnitedHealthcare plans to host a Facebook question-and-answer session from 1 to 5 p.m. Sept. 15. To join, participants should visit Medicare Made Clear's Facebook page.
Visit medicaremadeclear.com.
Massage Envy and Arthritis Foundation planning Healing Hands for Arthritis event
Las Vegas and Henderson Massage Envy Spas are partnering with the Arthritis Foundation to host Healing Hands for Arthritis, a one-day national event to build awareness and raise funds to find a cure for arthritis. On Sept. 16, every Massage Envy Spa in the United States (including the 12 Las Vegas and Henderson locations) will donate $10 from every one-hour massage session or facial and 10 percent of retail sales to the Arthritis Foundation.
Appointments for this fundraiser are being accepted on a first-come, first-served basis through Sept. 16. Walk-ins are welcome. To make an appointment, call 866-955-3689 or visit massageenvy.com.
Walk with a Doc events planned monthly
Free Walk with a Doc events are planned at 8 a.m. the third Thursday of the month at the Springs Preserve, 333 S. Valley View Blvd. Upcoming event topics are Sept. 17, Prostate Health; Oct. 15 Breast Health; Nov. 19, Eating Healthily; and Dec. 17, Coping with Psychiatry. Visit umcsn.com.
Addiction treatment center accepting applications for art contests
Local addiction treatment center Solutions Recovery Inc. is accepting applications for two art contests to will highlight the 12 steps of recovery. The paintings are to be featured in the organization's Wellness Campus publication and be officially presented during an unveiling ceremony at Solutions Recovery's 10-year anniversary event, scheduled from 4 to 6 p.m. Sept. 24.
Solutions Recovery will select 12 contestants total, with six artists participating in each of the contests. Each artist will be tasked with painting a mural portraying one of the 12 steps of recovery on an outdoor wall at the Solutions Recovery Wellness Campus, 2975 S. Rainbow Blvd. Artists will pick their recovery step on a first-come, first-served basis, and they are free to interpret their step however they choose, using any painting style they prefer.
Each contest will provide a $500 prize to the painter of the winning mural and a $150 prize for the second-place mural. Artwork will be judged on originality, design and significance to the specific step.
To apply, email Jessica Kantor at jkantor@solutions-recovery.com.
Free Medicare 101 seminars planned
Free Medicare 101 seminars are planned from 5:30 to 6:30 p.m. Sept. 9 at Southwest Medical Associates Lifestyle Center, 8670 W. Cheyenne Ave., Suite 105, and from noon to 1 p.m. Sept. 17 at Southwest Medical Associates Lifestyle Center, 5820 S. Eastern Ave., Suite 100. Participants can learn the ABCs of Medicare benefits, including enrollment and lock-in dates and enrollment and eligibility requirements. Free refreshments are to be served. Space is limited; RSVP by calling 855-861-8277.
Candlelighters Superhero 5K set to celebrate 25th anniversary
The Candlelighters Childhood Cancer Foundation of Nevada's 25th annual Superhero 5K with Chet Buchanan is planned Sept. 12 at Exploration Peak Park at Mountain's Edge, 9600 S. Buffalo Drive.
The event includes costumes; kids activities with an inflatable obstacle course, bounce house and games; a bone marrow drive hosted by Be The Match; a 5K awards ceremony; food and refreshments; raffle prizes; 25th anniversary commemoration and more.
Dace Ash Davis and Keenan Bly are this year's Superhero Ambassadors. Dace, 5, receives chemotherapy every day as he battles leukemia. Keenan was almost 8 when he died from a rare form of liver cancer in 2007. He is the race's Super Angel Ambassador.
Event day registration begins at 6:30 a.m.; the race and walk are set to start at 8:15 a.m., and festivities continue until noon. For advance registration, visit candlelighersnv.org or call 702-737-1919. Superhero capes are being sold for $5 while supplies last at the Candlelighters office, 8990 Spanish Ridge Ave., Suite 100.
Better Breathers Club plans meetings
The American Lung Association in Nevada invites persons with lung health disease, their loved ones and caregivers to a Better Breathers Club meeting, set from noon to 1 p.m. Sept. 8 in the conference room at Centennial Hills Hospital, 6900 N. Durango Drive.
September's topic, Exercise and Chronic Obstructive Pulmonary Disease, is to be presented by Patricia Bain, a registered yoga teacher. Bain is set to explain the benefits of exercise for people with COPD and identify the physical activities most appropriate and accessible for them.
Meetings are planned at the following locations and times each month:
Second Tuesdays, noon to 1 p.m. in the conference room at Centennial Hills Hospital; 702-835-9898.
Last Fridays, 3 to 4 p.m. at Prestige Care at Mira Loma, 2520 Wigwam Parkway; 702-431-6348.
First Thursdays, 1 to 2 p.m. at St. Rose Women's Care and Outreach Center, 2651 Paseo Verde Parkway; 702-616-4910.
First Wednesdays, 6 to 7:30 p.m., United in Hope: Lung Cancer Survivors Support Group, at Kindred Hospital Las Vegas, 2250 E. Flamingo Road; at 702-353-2039 or lysa71@cox.net.
Fibromyalgia group meets second, third Thursdays
The Fibromyalgia Friends Support Group of Southern Nevada is scheduled to meet during lunch and evening sessions the second and third Thursday of the month. Lunch meetings are set from 1 to 3 p.m. at the Fiesta Henderson buffet, 777 W. Lake Mead Parkway. Evening meetings are planned from 6:30 to 8:30 p.m. at the Barbara Greenspun Women's Care Center, 2651 Paseo Verde Parkway, Suite 180. Visit fmfriends.org.
Breast cancer empowerment group set to meet monthly
A free Breast Cancer Empowerment/Support Group is set to meet from 6 to 7:30 p.m. the second Tuesday of the month at Summerlin Hospital Medical Center, 657 N. Town Center Drive. Topics vary and include guest speakers, resources and open discussion with the goal of helping to empower and support women. RSVP by calling 702-233-7155.
Free STD testing available
Free weekly STD screenings are available at the Gay and Lesbian Center of Southern Nevada and the Richard Steele Boxing Facility. Visit snhd.info/sexual-health-clinic.
Stroke support group planning monthly meetings
The Stroke Support Group is set to meet at various times monthly:
From 3 to 4 p.m. the fourth Thursday of the month at Summerlin Hospital Medical Center, 657 N. Town Center Drive, 702-233-7061.
From 3 to 4 p.m. the second Tuesday of the month at Centennial Hills Hospital, 6900 N. Durango Drive, 702-629-1309.
From 10 a.m. to noon the first Saturday of the month at the South Magna Conference Center, south of the Desert Springs Hospital main entrance, 2075 E. Flamingo Road, 702-369-7560. Recommended parking is off Bruce Street. Lunch is provided.
From 10 to 11:30 a.m. the fourth Wednesday of the month on the fourth floor of Valley Hospital, 620 Shadow Lane. Call 702-388-8441 or 702-388-4619. Light refreshments will be served.
Las Vegas HEALS announces new, renewing members
Founded in 2002, Las Vegas HEALS (Health, Education, Advocacy, and Leadership in Southern Nevada) is a nonprofit, membership-based association whose mission is to foster strategic alliances in the health care community, collaborating on workforce issues, and being a proactive force for legislative initiatives to improve access and the delivery of quality health care.
New and renewing members for the month of August include: Advanced Manual Therapy Institute, Advanced Orthopedics and Sports Medicine, American Cancer Society, Blossom Bariatrics, Cragin & Pike Insurance, Cox Communications, HealthCare Partners of Nevada, Las Ventanas, Silver State Medical Travel Group, The Korte Company and Touro University.
Visit lasvegasheals.org.
Bloodmobile drives planned across valley
UBS Bloodmobile drives are planned at multiple times and locations around the valley. Call 702-233-9620 or visit unitedbloodservices.org and enter the code specific to the location, listed below. The locations include:
From 4 to 7 p.m. Sept. 3 at REI, 701 S. Rampart Blvd. Enter code reibocapark.
From 11 a.m. to 2:30 p.m. Sept. 3 and 11 a.m. to 2:20 p.m. Sept. 9 at UNLV Alumni Walk, 4505 S. Maryland Parkway. Enter code unlv.
From 8 a.m. to noon Sept. 6 at Dignity Health, 3001 St. Rose Parkway. Enter code strosesiena.
From 10 a.m. to 2 p.m. Sept. 9 at College of Southern Nevada, 700 College Drive. Enter code csnhenderson.
American Red Cross blood drives scheduled around the valley
The American Red Cross encourages residents to donate. Blood drives are planned continually across the valley. All blood types are needed, especially O negative, A negative and B negative, on a regular basis. To schedule a donation appointment, download the Red Cross Blood Donor App, visit redcrossblood.org or call 800-733-2767. Additionally, the Red Cross and Sport Clips Haircuts are teaming up through September. Those who donate blood or platelets during the month will receive a free haircut coupon valid through Nov. 8.
Upcoming donation opportunities are:
Las Vegas
From 9:30 a.m. to 1 p.m. Sept. 4 at Summerlin Hospital, 657 Town Center Drive.
From 2:45 to 6:45 p.m. Sept. 5 at the Clark County Library, 1401 E. Flamingo Road.