Health services enter retail level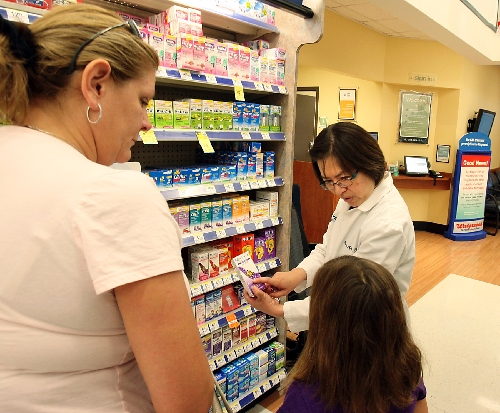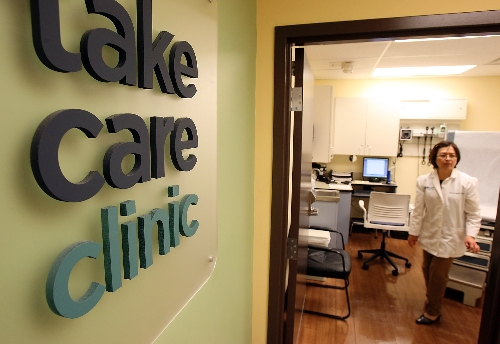 Just before 9 o'clock on a June weekday morning, a tired Kollen Marchant entered a southeast valley drugstore carrying her teary-eyed and cranky 20-month-old son, Ashdon.
The mother of five had been up much of the night with her feverish toddler, whose runny nose made it difficult for him to breathe.
"I tried to get him into my primary care doctor, but they said they couldn't get him in until this afternoon," Marchant said. "So that's why I came here."
"Here" was the first-come, first-served Take Care Clinic inside the Walgreens pharmacy at 2389 E. Windmill Lane, open 8 a.m. until 8 p.m. seven days a week.
At clinics such as these, a nurse practitioner, not a doctor, treats patients 18 months and older for a number of minor conditions: colds, bronchitis, flu, ear infections, strep throat, allergies, bladder infections, diarrhea, nausea, vomiting, head lice, mononucleosis, swimmer's ear, acne, insect bites, warts, minor burns and shingles.
Less than half an hour after she arrived, Marchant, whose family has insurance, stood at the pharmacy window waiting for the antibiotic prescribed for Ashdon by nurse practitioner Myrna Africa.
"You can't beat the convenience," said Marchant, kissing her son on the cheek. "Hopefully, by this afternoon he'll be feeling better. Kids bounce back quick."
That kind of retail service, a relatively new phenomenon in the United States, has played out millions of times this decade across the country at centers run by the two major providers in the retail health care marketplace: Minute Clinics at CVS/pharmacy locations and Take Care Clinics at Walgreens stores.
Other chains, including retailing behemoth Wal-Mart, also are embracing the health care business model that advertises cheaper and convenient alternatives to physician offices for minor illness and wellness care. Retail clinic costs for services such as vaccinations and physicals are generally about $20 to $35 less per visit than what a doctor charges.
At a June 1 health care summit in Las Vegas organized by state Attorney General Catherine Cortez Masto, a number of participants left believing that a larger share of Nevadans' health care would be provided by retail health clinics as the new federal health care overhaul is phased in. The overhaul means another 600,000 Nevadans will receive insurance in a state that now ranks 48th in the nation for the number of doctors per capita.
Many physicians, however, think patients who rely heavily on retail health care will be shortchanged.
"I just think it's horrible," said Dr. Ivan Goldsmith, a Las Vegas internist. "They're not doing a real history on a patient, so they're going to miss things. A nurse practitioner is not a doctor. Someone could come in talking about a sore throat but actually be suffering from angina."
A national study by University of Nevada School of Medicine researcher John Packham was cited at the summit and found that retail health clinic visits constitute about 13 percent of adult primary care appointments. A Las Vegas doctor who attended the meeting thinks that percentage is already higher locally.
"We have such a highly transient population, where people have come from somewhere else and never have gotten a primary care physician," said Dr. Jerry Reeves, vice president for medical affairs with HealthInsight, a private, nonprofit group dedicated to improving health care systems. "I think our numbers are probably higher than the national average and are going to go higher because we have so few doctors, particularly in primary care."
The federal health system overhaul recently signed into law will give an estimated 32 million more people access to health insurance by 2019. The Association of American Medical Colleges Center for Workforce Studies now estimates that by 2025, the nation will have a shortage of 46,000 primary care physicians and 41,000 general surgeons, even with the influx of international medical graduates who will come to the United States.
Though the numbers seem dismal, U.S. Sen. Harry Reid, D-Nev., said Thursday that the new health reform bill also provides provisions for addressing the projected work force crisis.
To encourage doctors in training to pursue primary care careers, the bill includes expanded loan and debt-forgiveness options.
"There's no doubt that will help turn out more primary care doctors," said Dr. Ole Thienhaus, dean of the University of Nevada School of Medicine. "We're already seeing an increase. But we're still going to see a huge shortage of doctors overall. We're not getting that many new medical schools."
Reid also noted that billions of dollars in the health reform bill will go toward building more community health centers, where many primary care residents can train. How many more centers will be built in Nevada is unknown at this time.
"Having more community health centers in Nevada is really going to help a lot of Nevadans with their everyday health needs," Reid said.
Still, the American Medical Association projects a national shortage of about 160,000 physicians, including all specialty areas, by 2025.
"I just don't see how retail health care clinics won't continue to grow," Reeves said. "People want easy access to care, but the good primary care they need isn't going to come from there."
MinuteClinic, which pioneered the retail health clinic concept in 2000, has generated about 7 million visits nationally, compared to 1 million at Take Care. In the Las Vegas area, MinuteClinic has six clinics compared to Take Care's 14, which include two sites doing a thriving business among tourists and casino workers on the Strip.
Executives for Wal-Mart, which isn't currently in the local health care market, have talked about opening more than 2,000 clinics nationwide.
Both Dr. Annette Teijeiro, president of the Clark County Medical Society, and Dr. Ronald Kline, president of the Nevada State Medical Association, worry that Nevadans will substitute acute care visits at a retail clinic for long-term care from a physician.
"Complicated or chronic medical conditions need continuous medical intervention to decrease acute exacerbations that lead to hospitalizations," Teijeiro said. "It is your medical record that generates a chronological history that best allows your doctor to improve the quality of your medical care, long term. A patient needs to understand the limitations of the retail clinic."
One of those limitations, Kline observed, is that a nurse practitioner is not as highly skilled as a physician in diagnosing medical conditions.
A nurse practitioner is a registered nurse who has completed advanced education — a minimum of a master's degree — and training in the diagnosis and management of common medical conditions.
Thienhaus said his experience with nurse practitioners has been a positive one.
He said it is critical for nurse practitioners at retail clinics "to know the limits of what they're doing. An important qualification for them is to know what they don't know. … They have to be on the lookout for referrals to physicians. So far, I haven't heard anything negative about the treatment they're providing."
Both Richard DiCarlo, who manages the Take Care Clinics in Las Vegas, and Suzy Ruff, the manager of local operations for MinuteClinics, say their nurse practitioners do not try to do more than they should.
"We have a book of physicians we refer people to," said Ruff, who added that more than half her patients have insurance.
DiCarlo also said a collaborating physician, who under state law must oversee a clinic, "is always just a phone call away."
The collaborating physician, DiCarlo stressed, frequently reviews protocols and patient charts to try and ensure the safe treatment of patients.
To date, no malpractice complaints have been filed in Nevada against retail health clinic personnel, according to Debra Scott, the executive director of the Nevada State Board of Nursing, and Doug Cooper, executive director of the Nevada State Board of Medical Examiners. The Nevada State Health Division has also found labs run at the clinics are in compliance with state law.
Both Ruff and DiCarlo said their clinics readily make patient treatment records available to primary care physicians.
"We are not trying to be a substitute for a patient's primary care doctor," DiCarlo said.
Yet Goldsmith, who also helps patients with weight control, believes many people are already using the clinics that way.
"Well over half the people I see for obesity don't have a primary care doctor, so I have to start from scratch with them," he said. "They go to clinics at drugstores when they have a problem, but what a nurse does for them there doesn't help me even if I get a record. They don't do anything in depth, so a doctor is better off not using their records. It can only help you get the wrong diagnosis."
Even if people decide they want to go to a doctor for their every health care need, it will become increasingly difficult.
"The country simply can't turn out doctors quickly enough," said Packham, who presented studies on the physician work force at the Las Vegas health care summit.
The nation's health care leaders recognize the need for more physicians. After nearly 25 years of no growth, the number of medical schools has increased from 125 in 2003 to 131 in 2009. Yet the annual number of graduates has increased from 15,829 to just 16,468 in the same time period.
Although the number of physicians in Nevada grew by nearly 70 percent during the past decade, Packham said, the expansion barely kept pace with population growth.
And it would appear that things will get far worse before they get better. Nearly 40 percent of physicians in Nevada are 55 or older. In other words, two in five of Nevada's doctors — there are less than 5,000 with active licenses — are preparing for retirement just as the demand for health care services is increasing as a result of the overall aging of the population.
The number of Nevadans age 65 and over is projected to increase by 170,000 or 52.1 percent between 2008 and 2018, Packham said.
DiCarlo noted Take Care Clinics also help the elderly with acute care problems.
"We take Medicare insurance," he said.
As Julie Grodesky and her coughing 7-year-old daughter Hailey Dietrich walked up to see Take Care Clinic nurse practitioner Myrna Africa at the East Windmill Lane Walgreens, the mother predicted that increasing numbers of patients will be treated at retail clinics.
"You can't beat the convenience," she said. "I tried to get my daughter into her primary care doctor and couldn't right away.
"It's just brutal to keep a sick kid with a cold waiting. Now if I think it's something really serious, of course I'm going to take her to a doctor."
Contact reporter Paul Harasim at pharasim@reviewjournal.com or 702-387-2908.