HIV patients in Southern Nevada move from death sentence to possibility of life
November 26, 2016 - 10:23 pm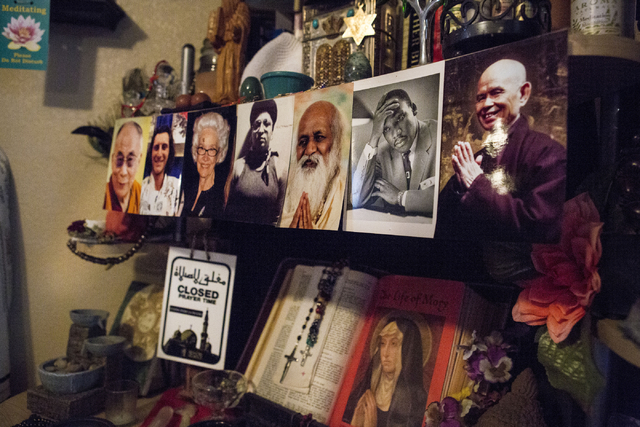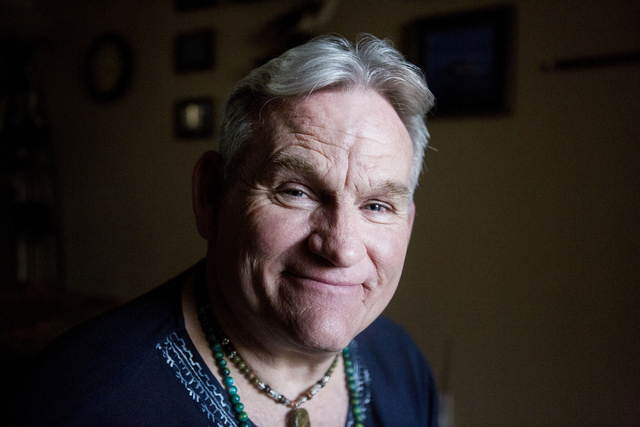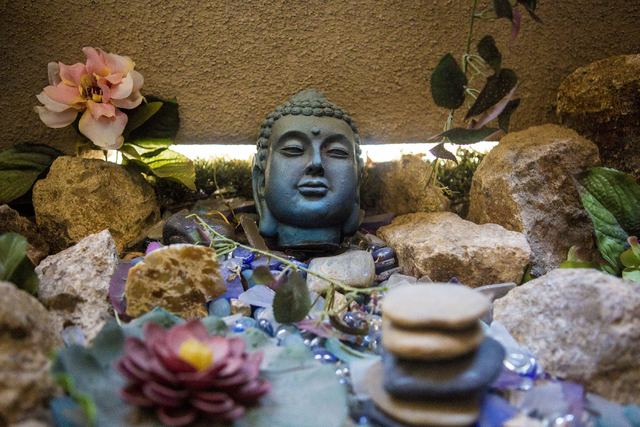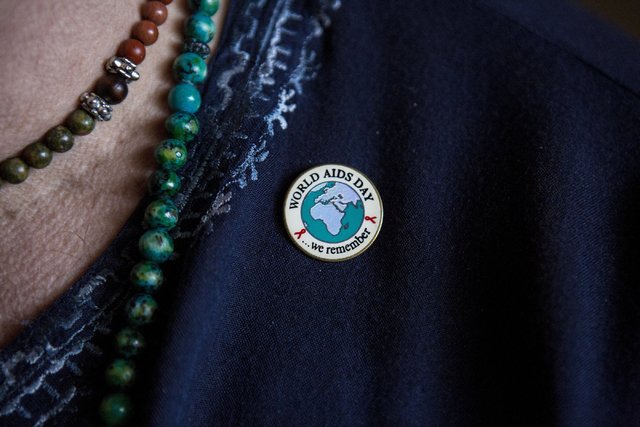 When Mike was diagnosed HIV-positive at the age of 22, he came up with a plan.
"My response was, I've got 60 years to live in the next three years," he says. "So whatever I had planned out, the map of my life, from college through my golden years, has to be condensed down to a very short amount of time."
He spent money he didn't have doing and buying the things he'd always wanted, figuring he'd be dead before the tab came due, and he told absolutely no one about being HIV-positive.
Gary started planning his own funeral when he was diagnosed HIV-positive in his 20s. Robert and Anna, meanwhile, started taking illegal drugs to dull the pain of facing a suddenly abbreviated, seemingly futile future.
That was HIV during the late '80s and early '90s, a time when Ron Lawrence, founder of Community Counseling Center of Southern Nevada, remembers six clients dying during a single workday and news of a young man's death from pneumonia was met with knowing responses by those who could surmise the truth.
Treatments that might effectively keep HIV in check were either nonexistent or hit-or-miss then, while the social stigma often isolated those who had it from friends, family and even potential medical resources.
Today, while HIV infection remains a chronic, incurable, potentially deadly condition, a new generation of antiretroviral therapies has helped to allow management of the disease in a way that wasn't possible then.
But Southern Nevadans who were diagnosed as HIV-positive during the late '80s and early '90s remember vividly when the diagnosis brought little more than expectation of an early death. Day by day, they dealt, in whatever way they could, with the reality that they might die.
Until, over a period of years, they were forced to deal with another reality: the possibility that they might live.
EARLY SIGNS
World AIDS Day, observed each year on Dec. 1, is an occasion to promote awareness of HIV, show support for those who live with HIV and remember those who have died. According to the latest statistics available from the U.S. Centers for Disease Control and Prevention, more than 1.2 million people in the United States are living with HIV — although an estimated 1 in 8 of those people don't know it. From 2005 to 2014, the number of new diagnoses dropped 19 percent, from a high of 44,073.
But Lawrence, now clinical supervisor of Community Counseling Center of Southern Nevada, remembers the mid-1980s, when early signs of the nationwide HIV/AIDS epidemic began appearing in Southern Nevada. At first, the signs were oblique and discerned mostly by reading between the lines of reports of young men who had became ill and died quickly.
"I remember having one friend who got sick, and two weeks later he was dead," Lawrence says. "They said he died of pneumonia, but … I knew exactly why he died."
Lawrence founded Community Counseling Center of Southern Nevada in 1990. "I was a therapist, and I realized it was so difficult for people to get services," he says. "A lot of times, service providers wouldn't exactly say, 'We're not going to serve you because you have AIDS,' but what people were basically told was there was no room at the inn."
On that day when six clients died in a single 12-hour period, "I had to set up some support groups for our staff, because there was so much grieving about our own losses," Lawrence says. "Our receptionist was in tears. She said, 'I just saw that person last week. How can they be dead?' It was this sense of shock, of feeling overwhelmed."
Robert Johnston, 55, has lived in Las Vegas for 17 years, and once served as a minister in Reno, as well as in Louisiana, Alabama and Pennsylvania. He was married, has a daughter, and estimates that during a two-year period during the late '80s and early '90s, he officiated over the burials of more than 150 people in Pennsylvania who had died of AIDS.
Johnston and his wife divorced in 1992, and confirmation of his own HIV diagnosis in early 2000 hit him hard.
"I was, this whole time, an advocate for safe sex and all that, but when it happened, it really threw me for a loop," Johnston says. "I kind of felt like a hypocrite. I felt I had let other people down."
The director of a Southern Nevada nonprofit organization recalls that when he was diagnosed as HIV-positive in 1988, "I was told I was going to be dead in two years."
"I was devastated," says Gary, then in his early 20s and now 55 years old (who, like several others, asked that his full name not be used in this story). "It became very real, very surreal. I actually started picturing my funeral and basically planning my funeral."
COMING TO TERMS
Anna, 56, was diagnosed as HIV-positive in 1990 while pregnant with twins.
"They said I would never live to see the twins make 5," she says, and the expectation of a drastically shortened life "drove me to doing drugs, which I'd never done before. I never even smoked cigarettes before I was diagnosed."
Anna lived in the Southern United States then. "I was the first female patient my doctor had," she notes. "She had a number of gay men, but I was her first black female patient."
Anna, who had contracted HIV from sexual activity, says she was scared to tell her parents and, really, "scared to tell anybody. There was a stigma about it."
Mike, 48, was diagnosed in June 1990. He was 22 then, and learned that his former partner, 29, had died.
"At the time, you just knew," he says. "In that era, a young gay man who passes away, unless he is murdered or in a car accident, that was, like, the real cause of death for someone."
"I told absolutely no one," Mike says. "I don't think I even uttered the words 'HIV-positive' until, probably, 2002. I guess I was fortunate — and I hate to say this, because it's unfair — but I never looked sick. To this day I don't look sick."
But Mike knew the consequences of living with HIV and the damage the virus can cause to the body's immune system. "Every cough, every sniffle, every weird ache in your body was, 'Am I going downhill now?'" he says.
Some HIV-positive patients turned to illegal drugs as a coping attempt. "It was a feeling of futility, like, 'I'm gonna die now. I might as well go off this way,'" Lawrence explains.
Anna started using crack cocaine. "It was just a thing, like, whatever happens is going to happen," she says. "I was, 'I'm not going to be here too long.' That's how you feel."
Johnston became a meth addict. "Everything that had ever happened in life that I had suppressed just came flooding up," he explains. "I was introduced to meth and I found that it took away the pain.
"People who are HIV-positive live in a very judgmental world, so you're scared to tell people. You're intimidated," Johnston says. "When you get into drugs, though, not only are you relieving your emotional pain, not only are you escaping everything you want to run away from, but you're running into a world where you're accepted and not judged."
Anna, who says she continued caring for her children even during that period, eventually quit cold turkey and remains close to her family and children. Johnston says he's been clean and sober since 2013.
"I'm not religious anymore but I am very spiritual, and when I think about how God kept me out of the funeral, out of the mental ward, it's amazing," he says.
ONE LAST SPLURGE
Others tried to cope by putting together bucket lists of everything they wished to do before dying.
Mike learned to ride a motorcycle, bought a fish and traveled to India and Morocco. "I just got a credit card with a really high limit and charged it as high as it would go and bought stuff," he says. "I bought Rollerblades and trips. A lot of good food."
Mike figured he'd never live long enough to have to pay it all back. That's "a horrible way to think about it," he adds, noting that it later took seven years to repair his credit.
Gary realized he was devoting a good chunk of his pay to withholding taxes and "figured out how to change my deduction. I figured I could use the money immediately and I would die before I ever need to cash in on the things.
"So I did that for the next couple of years," he says. "I was living like there was no tomorrow."
A NEW REALIZATION
Eventually, a new realization — aided by a new generation of drug therapies that were effective and caused fewer side effects than earlier HIV drugs — came: There might be a reason to live like there actually would be a tomorrow.
"I don't ever remember consciously making the decision that I want to live. I just remember making the decision that I don't want to die yet," Mike says. "So it was never, 'I'm gonna live.' It was just like, 'I'm not done yet. I've got something else to do.'"
Johnston credits taking care of himself and a strong spirituality with helping to get his life back on track and keeping his HIV in check. Still, he continues to live with the disease and the daily knowledge that something as simple as a bout of the flu could be deadly to him.
"When I get nervous about (HIV) is when I've got to fly somewhere," Johnston says. "I love flying, but to be trapped inside of a capsule with everybody sitting there and having no way of protecting myself, that scares me."
But Johnston says that, for gay men of his generation, "we don't see old age like heterosexuals do. In the back of your mind in my generation it's, 'You're going to die eventually. It's going to happen no matter how much you try to protect yourself.'
"So for me to stand here at 55 is totally mind-blowing for me, and I am totally grateful for every day I've got."
And if there is a lesson to be taken from all of this? "I would have to say the biggest lesson is to be grateful for every single thing you have," Johnston says.
Read more from John Przybys at reviewjournal.com. Contact him at jprzybys@reviewjournal.com and follow @JJPrzybys on Twitter.