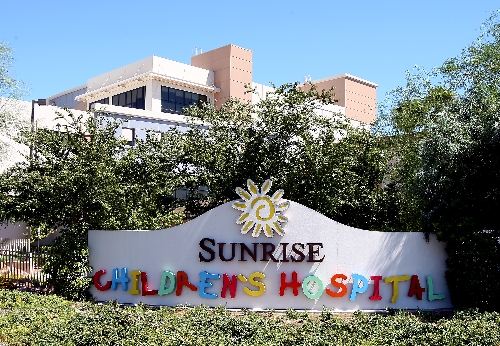 Hooked up to tubes and monitors, tiny babies who lack the body fat to maintain their body temperatures lie in hospital incubators that keep them warm.
Some of the premature infants wave their little hands and kick their too-thin legs. Others, barely more than a pound in weight and less than a foot long, lie still and silent.
It is mid-morning in a Las Vegas hospital neonatal intensive care unit as medical personnel tenderly care for their fragile charges in a high pressure setting where each patient needs a full-time nurse. A respected academic says only the "best of the best" in nursing thrive under such conditions.
Here, babies often teeter between life and death. The nurses who care for them pride themselves on aggressively going the extra mile to tip the scales in favor of life.
And yet it was in just such a setting that 2-month-old Miowne Obote died in what has been deemed a homicide. Police have named two nurses — Jessica May Rice and Sharon Ochoa-Reyes — as "persons of interest" in an investigation into "intentional patient harm." No charges have been filed in the case.
The infant girl's death is part of a string of disrupted catheter incidents dating back to February that was reported by Sunrise Children's Hospital officials to the Metropolitan Police Department.
Five veteran nurses who work in neonatal intensive care units for major valley medical centers are horrified by the life-threatening disruptions. They pride themselves on an uncompromising attention to detail in administering medication, performing cardio­pulmonary resuscitation and working with intravenous lines such as catheters.
"Fourteen major problems with catheters since February," mused one nurse as she looked at the babies in her unit. "That's way too much. That just shouldn't happen."
As the nurses who asked not to be named talk about the July 22 death of Miowne, they seem more mystified than anyone about the circumstances of the homicide. A coroner determined that the baby girl died of a severed umbilical arterial catheter, which is a thin, flexible tube placed in the umbilical cord through the umbilical artery. It allows fluids and medications to be administered over an extended period of time.
Dr. David Gremse, the University of Nevada School of Medicine chairman of pediatrics who often refers to nurses in neonatal intensive care units as "the best of the best," stresses that "it is highly unusual for an infant to tear out a catheter." How Miowne's death could have occurred has become a regular topic of discussion among those who work with babies in intensive care.
If it was an accident, nurses suggest a scenario where a doctor may have asked that the placement of the catheter be changed. The catheter is sutured into the umbilical cord, so a nurse cutting the sutures to move the device might accidentally sever the catheter, they said.
But that would happen right in front of a nurse and an alarm would go off, one of the nurses said. "I've seen one of those in 14 years and the baby was saved right away."
If the severing was deliberate, nurses suggest that a caregiver could turn off the monitor and alarm with two quick touches of a finger, snip the catheter with scissors and walk away. The baby would lose enough blood in 30 seconds to die.
But if that happened, one nurse said, you'd know the act was deliberate and police wouldn't have to do much of an investigation.
If the suspect in such a case belonged to a small, much-studied set of caregivers who enjoy deliberately hurting patients so they can later save them, another nurse said, then that person would try to get back before the patient dies.
"We really have no idea what happened," one nurse sighed, adding that she hopes the investigation is over soon because she worries that the negative attention could hurt her profession.
It's doubtful, however, that the probe will come to a quick conclusion.
The investigation into the disrupted catheters, which also forced another infant into emergency life-saving surgery, is being led by Las Vegas police Capt. Patrick Neville, who has repeatedly said that the investigation is far from over. He has declined to say what steps detectives are taking to find out why and how so many babies were put at risk.
Fired by Sunrise, Rice and Ochoa-Reyes have had their licenses to practice suspended by State Board of Nursing President Doreen Begley "in the interest of public health, safety and/or welfare."
Las Vegas police spokesman Bill Cassell has asked parents who believe their child's death at Sunrise was suspicious to contact authorities.
Luana Ritch, an administrator with the Nevada State Health Department, said the division is studying death statistics in the unit for "anomalies," a review she believes "will take a long time."
The public should not be surprised if the investigation takes a year or more, according to both a former Texas district attorney and a retired Texas Ranger who 30 years ago investigated the woman who is still the nation's most infamous "Angel of Death." Genene Jones, a pediatric nurse convicted in 1985 of killing one child, is believed to have been responsible for the deaths of up to 46 children in her care.
A world-renowned criminologist suggests that Las Vegas investigators will not only question forensic specialists and pediatric nurses on how a series of disrupted catheters could occur at Sunrise, but also explore whether a list of "red flag behaviors" was evident at the hospital.
Katherine Ramsland, a criminologist at Pennsylvania's DeSales University who wrote the bestselling book "Inside the Minds of Health Care Serial Killers," said law enforcement agencies around the world now know that cases of health care homicide often involve 11 "red flags."
They include a higher death rate when the suspect is on shift; the unexpected, suspicious deaths of victims; unexpected symptoms given the patient's illness or procedure; and the constant availability of the suspect to help during crises. The suspect often is the last one seen with the victim and often moves from one facility to another. Co-workers may have given the suspect a nickname like "death angel."
The suspect also may be "overly interested in death." Patients may have complained about the care provided by the suspect, who also appears secretive or has a difficult time with personal relationships. The suspect may also have a history of mental instability or depression.
"You can bet that all those things are now under investigation in Las Vegas," Ramsland said.
An investigation of Jones by Texas Ranger Joe Davis, now retired, and Ron Sutton, the former district attorney for Kimble and Kerr counties, turned up virtually all of the behaviors that criminologists now term red flags.
Sutton noted that another Texas hospital had investigated Jones for a number of suspicious incidents but let her move on to another medical position in his jurisdiction. She was a nurse, he said, who repeatedly "liked to play the role of hero … but sometimes she failed."
"They just wanted her out of there and let her be somebody else's problem," he said from his home in Junction, Texas. "Many other doctors and nurses suspected her but the hospital administrators didn't want the hospital's reputation hurt."
Davis, now 69, said it takes a while for a police officer to understand medical jargon.
"One thing you have to do is get the doctors and nurses down to a level where you can understand what they're saying," he said in a telephone interview from his home near Kerrville, Texas.
"You're talking to friends and family and co-workers and scientists. It's just like any investigation except the science makes it more sophisticated."
Authorities believe Jones, who received a 99-year prison sentence, killed as many 46 children through the use of a drug that is difficult to detect.
"We ended up going all the way to Sweden to find researchers who had devised a trace test for succinylcholine (a drug that causes paralysis of the diaphragm)," Sutton said. "I worked that case 24/7 for months. It cost me my marriage."
Davis said the case proved to him that "it's better to be lucky than good." It was through a speech given by a Philadelphia medical examiner in Texas that Davis and Sutton learned that Europeans had devised the trace test for the drug in question.
Both Sutton and Ramsland said investigations can be impeded by the reluctance of hospitals to share information.
"They're trying to protect their reputation," Ramsland said. "Every parent's worst nightmare is entrusting his or her child into the care of a person who intends it harm. Hospitals are supposed to be places you can trust."
Dan Davidson, a Sunrise vice president, noted that hospital officials were the ones who reported to police the problem with catheter disruptions. According to a Sunrise statement, that report was made after the discovery of several disrupted catheter incidents, including the one that ultimately caused Miowne's death.
The hospital publicly acknowledged the problems with catheters July 9, when Miowne was in critical condition.
A brief health division report of an investigation of the Sunrise incidents made no mention of the catheters, infant injuries or deaths, or the ongoing police investigation of the neonatal intensive care unit. Usually the reports contain more detail, are site specific and offer witness statements.
"Complaint #NV0002548 was substantiated with no deficiencies," the report of fewer than 100 words states.
What that means, according to Nevada State Health Division deputy administrator Marla McDade-Williams, is that the protocol Sunrise had in place for the use of the catheters "complied with state and federal regulations."
According to state records, neither Rice nor Ochoa-Reyes had received prior disciplinary action. Rice was licensed in Nevada in 2006 and Ochoa-Reyes in 1991.
Repeated attempts to reach both nurses for comment were unsuccessful.
Clark County Coroner Mike Murphy, who ruled Miowne's death a homicide, cautioned that homicide doesn't necessarily mean murder.
"Our definition of homicide is an inter­action between two humans in which a death occurs," he said. "The ruling of homicide does not necessarily mean it's intentional."
In their only detailed release to the public, Sunrise officials said they first thought the problems with catheter tubings were technical in nature. But when the umbilical catheter, which has a low failure rate, was cut as the coroner later ruled, hospital officials contacted police.
Sunrise officials have refused to say how long the catheters had been disrupted in the 13 surviving babies, or whether they suffered long-term damage.
The University of Nevada School of Medicine pediatrics chief said that the effects of a disrupted catheter in a baby, such as brain damage or internal damage, might not be known for years.
Ritch said the health department is confident that increased security at the Sunrise neonatal intensive care unit, including increased video surveillance, has made the facility safer. That's no comfort to Christine Obote, who still grieves for her baby girl.
"That can't bring my baby back," Obote said. "No one can bring my baby back."
Contact reporter Paul Harasim at pharasim@reviewjournal.com or 702-387-2908.