Hospital hosts 'Stop the Bleed' classes after Las Vegas shooting
December 4, 2017 - 8:57 am
Updated December 4, 2017 - 10:23 am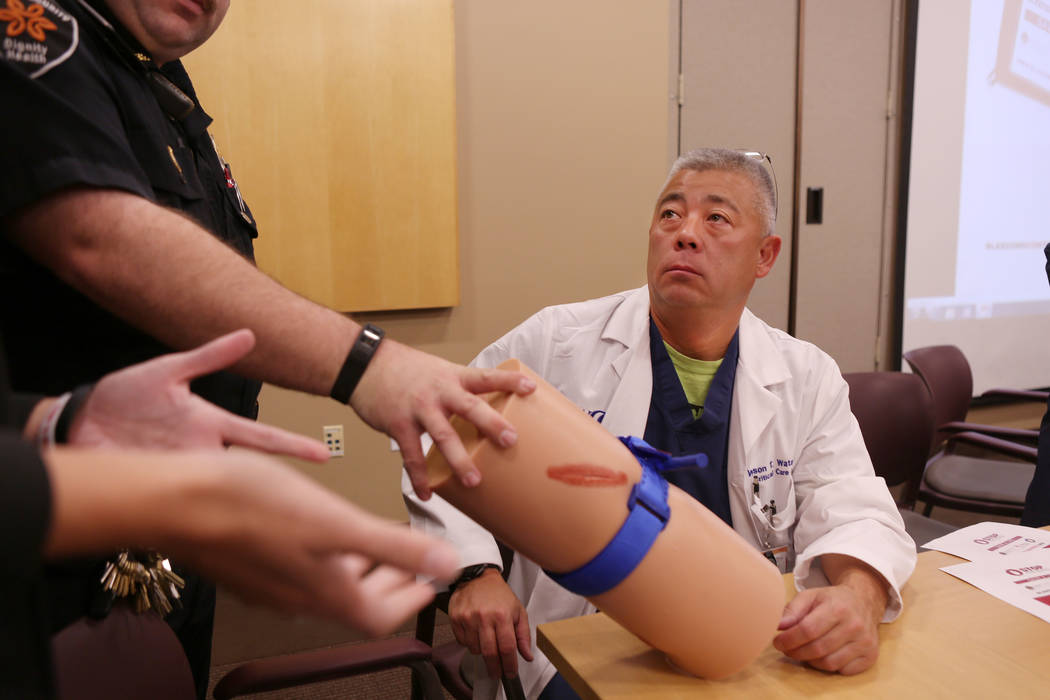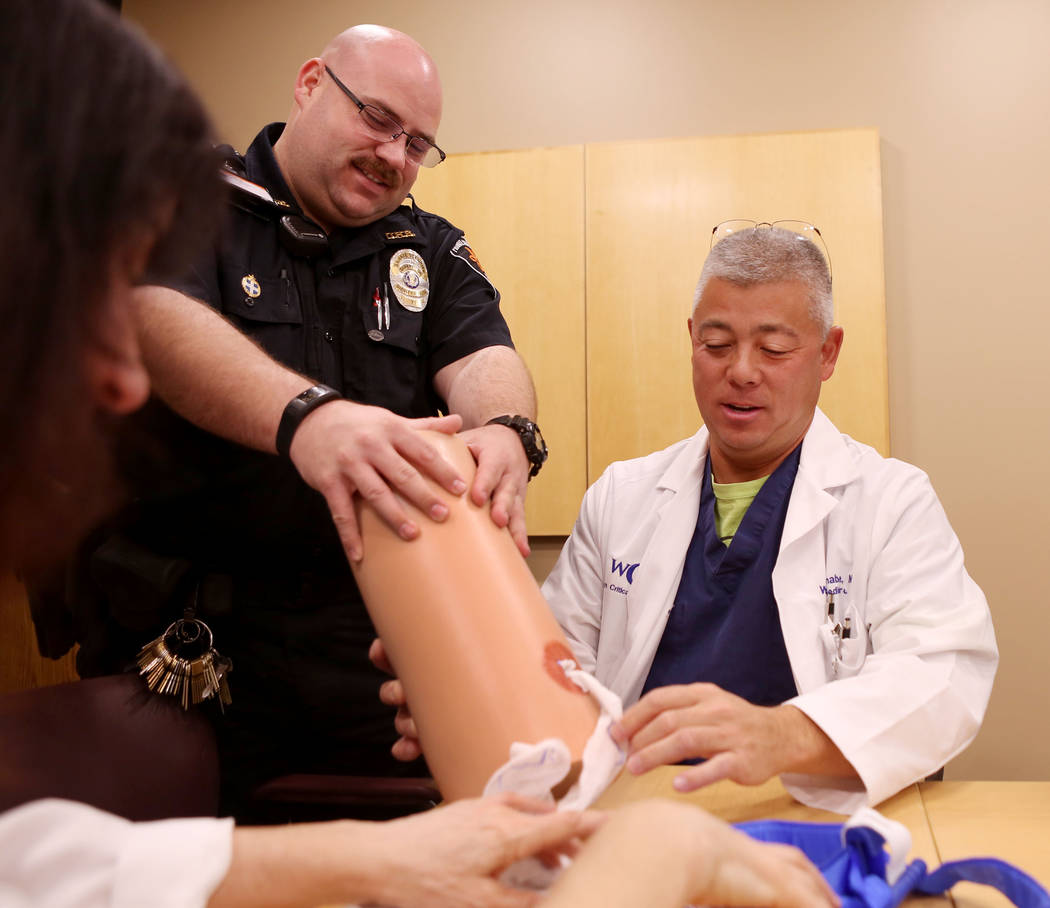 It's been two months since a gunman fired on 22,000 people at a country music concert on the Las Vegas Strip.
In response, Dignity Health-St. Rose Dominican Hospital is launching a local series of the national Stop the Bleed initiative.
The outreach program, created by the American College of Surgeons and federal partners after the Sandy Hook Elementary School shooting in 2012, teaches citizens to stop an emergency bleeding situation.
Trauma doctors will lead the 60-minute classes on wound packing and tourniquet wrapping on plastic body parts to show the step-by-step process that could help save a life.
"Just like CPR was a huge initiative to save people when their heart stops, this is just like that, only for trauma and injury," said Kim Dokken, a nurse and senior director of St. Rose Dominican's neuroscience service line, trauma and stroke unit.
Outside Nevada, survivors of the Oct. 1 shooting have taken advantage of Stop the Bleed classes, news organizations have reported. St. Rose will host its first public training Thursday at the Dignity Health WomensCare Outreach Center, 2651 Paseo Verde Parkway, Henderson. Another class will be held Dec. 13 and dates in 2018 are to be announced.
"Right now, we have two classes being offered by the end of the year, and those are for the general public," Dokken said. "And then our plan is to go out to businesses or organizations that want the training."
The hospital is partnering with Henderson officials and University Medical Center in Las Vegas to offer training classes. UMC also will hold monthly classes at the hospital, 901 Rancho Lane.
Henderson plans to add bleed-control first-aid kits in most public locations that have portable defibrillators.
"These folks, the general public and city employees, they're going to be the first ones on the scene," said Tyson Hollis, Henderson city safety manager.
The kits include clean dressing and a tourniquet, Dokken said. In an emergency situation, a T-shirt or belt would do.
"If people feel empowered and able to do this, then they will," Dokken said. "It's a simple approach, but so impactful."
Contact Jessie Bekker at jbekker@reviewjournal.com or 702-380-4563. Follow @jessiebekks on Twitter.
Stop the Bleed training dates
• 3-4 p.m. Thursday, Dignity Health WomensCare/Outreach Center, Classroom 2, 2651 Paseo Verde Parkway, Suite 180, Henderson
• 5-6 p.m. Dec. 13, Dignity Health Siena Campus, McDonald Conference Rooms A & B, 3001 St. Rose Parkway, Henderson
• Register for either: 702-616-4902
• To find other training sessions: bleedingcontrol.org