Humidifiers can help Las Vegas locals stay moisturized in the dry desert climate
January 16, 2017 - 10:18 am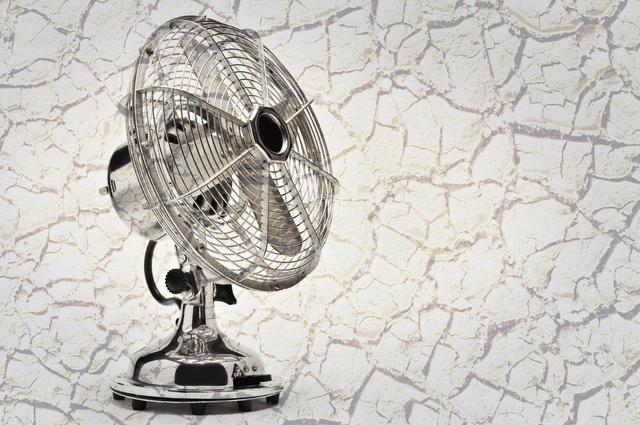 Desert dwellers know it best: Our air is dry.
Dry skin, eyes and nasal passages are the norm for Las Vegas Valley residents, and for recent transplants, it can make for a rude awakening and aggravation of pre-existing conditions.
"When you stay here for longer periods of time, you may be more aware of the negative effects," said Touro University professor and dean emeritus Dr. Mitchell D. Forman.
Forman, a rheumatologist, said low humidity in winter can become especially intolerable because of how much time we spend indoors.
"It's usually more tolerable (in summer) because the windows are often left open and there's more ventilation," he said.
While there may not be a cure for the arid climate, humidifiers can increase a person's comfort level — if the devices are cared for properly.
"With low humidity, you can have aggravation of pre-existing conditions such as asthma, eczema, skin allergies and all that," said Dr. Arthur Oliver Romero, a local pulmonologist who works at University Medical Center and will teach at the new UNLV School of Medicine.
Romero, who has a humidifier in his home, said locals who have conditions such as sinusitis, eczema, certain allergies or asthma should talk to a physician about whether a humidifier might help alleviate their symptoms.
Though he said he wouldn't suggest humidifier use for everyone, many patients find adding mositure to the air can help keep skin, as well as nasal and throats passages, hydrated. That can reduce itchiness of dry skin, help decrease the chance of nose bleeds for some people and relieve the conditions of others.
He emphasized that there isn't much scientific research comparing patients' conditions with and without use of a humidifier, but many patients and even people without ailments prefer air with greater humidity because it's more comfortable.
And humidifiers are relatively safe and many people enjoy using them, as long as the equipment is properly cleaned and humidity levels are appropriate.
Generally, humidity in the 30 percent to 50 percent range is considered optimal for indoors, according to the Mayo Clinic.
However, that can vary based on the weather.
Most experts agree that indoor humidity shouldn't top 60 percent and that humidifier levels should be lower in the winter to prevent condensation buildup and increased risk of mold growth.
Dr. Muhammad Gondal, chief pulmonologist with Optum Medical Partners, said it's important that individuals with humidifiers follow all manufacturer guidelines and also have hygrometers, which measure humidity levels.
If humidifiers are not cleaned properly, they can be dangerous, as the water droplets they emit into the air can carry fungi and bacteria.
"When those bacteria and fungi are let into the environment … (patients) are going to develop infections, and that's a problem," Gondal said.
That's why water should be replaced, and the humidifier and its screens or other components should be cleaned frequently, he said.
Especially for locals, it's important to use distilled water, as water from the tap can contain sediments that clog the device or can be dispersed by the humidifier, Gondal said.
And certain chemicals used to clean humidifiers can worsen medical conditions and cause respiratory problems, so it's vital to use only what's recommended.
"When cleaning it, people should not take it lightly," Gondal said.
Sources such as Consumer Reports offer advice on how much space large humidifiers should be given and what type of device is appropriate for different homes.
"The size would matter because if you use a disproportionately large one in a small room, you tend to develop more humidity," Romero said.
Additionally, some warm humidifiers aren't the best for areas with children, as they have a risk of causing burns, and people with dementia or other cognitive issues might have difficulty cleaning plug-in humidifiers safely.
Forman said the keys are avoiding extremes of too high and too low humidity, properly maintaining humidifiers and keeping an eye out for any red flags, such as a worsening of a patient's condition or growth of mold in the home.
"You can't just buy something and leave it alone," he said.
Contact Pashtana Usufzy at pusufzy@reviewjournal.com or 702-380-4563. Find @pashtana_u on Twitter.