IndyCar driver doesn't let diabetes keep him out of race
October 9, 2011 - 9:12 pm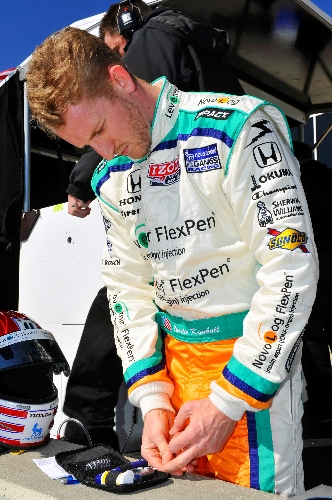 During a race, Charlie Kimball keeps a sharp eye on all of the usual gauges — speed, lap time, oil pressure — any IndyCar driver keeps an eye on while zooming around the track.
But Kimball's No. 83 has another gauge in the cockpit, one that's attached to his steering wheel with a bit of Velcro. That gauge is one of the most important things Kimball watches during a race, because it's a wireless monitor that tells him, with every turn and every lap, his blood glucose level.
Kimball has Type 1 diabetes, a condition characterized by high blood glucose levels in the body that result from the body's inability to make or use insulin.
And if you think managing diabetes can be tricky, just try managing diabetes while strapped into a hot race car for two to three-and-a-half hours and traveling more than 200 mph on a crowded track.
Kimball, 26, is winding up his rookie year on the IndyCar race circuit, which this weekend comes to Las Vegas for the Izod IndyCar World Championships on Sunday at Las Vegas Motor Speedway.
Kimball, who drives for Novo Nordisk Chip Ganassi Racing — Novo Nordisk is the company that manufactures the insulin he uses — is the first licensed driver with diabetes to race at the Indy Racing League's highest level.
During his first season, Kimball has had two Top 10 finishes, is ranked No. 19 going into the championship and holds third place in the 2011 Izod IndyCar Series Rookie of the Year standings.
"It's a dream come true, really, and it's something I've worked my whole life for," Kimball said during a recent phone call from Kentucky, where he was preparing for the Kentucky Indy 300 (he finished 13th).
Sunday's race will mark four years to the day that Kimball received his diabetes diagnosis. To commemorate both events, he plans to wear a special helmet Sunday that bears the two dates, Oct. 16, 2007, and Oct. 16, 2011, and the words, "Four years, one dream."
Kimball has been racing since he was 9, first in go-karts — he won seven national championships — and, eventually, on the open wheel circuit in Europe. It was there, while living in England, that he went to see a doctor about an unrelated skin rash.
"He gave me some cream to clear it up, and he said, 'Is there anything else?' " Kimball recalled. "I said, 'I've been kind of thirsty. I'm drinking eight to ten bottles (of water) a night and I'm going to the bathroom all the time.'
"He had me up on the scale, and in just seven days I had lost 25 pounds. That was a big indication to him that my blood sugar was elevated. I was dehydrated and my body was essentially starving."
The diagnosis of Type 1 diabetes came as a surprise, in part because Kimball had no family history of the disease. Nor did Kimball even know much about the diabetes at the time.
"I was very ignorant, and now I look back and think what an idiot I was," Kimball said. "But it's true. Without any family history, there was no reason for me to know much more about diabetes or diabetes management or what it would mean for me.
"The fist question I asked the doctor was, 'Can I get back to racing cars?' He said: 'I don't see any reason why not. There are incredible people (with diabetes) doing incredible things the world over. But it's not going to be easy.' "
It was "reassuring," Kimball said, that "the first person I asked gave me the answer I wanted."
And if the doctor had answered otherwise? "I think I would have found a doctor who said, 'Yes, and here's how we're going to do it.' But to have that first impression of, 'Yes, you can do this,' helped my recovery."
Managing diabetes can be tricky even for someone who doesn't make a living in a physically taxing, stressful occupation. During a race, drivers spend two-and-a-half to three-and-a-half hours strapped into their cars. And there are no breaks during a race as there are during a baseball or football game, when diabetic athletes can check their blood glucose levels and manage levels that are too high or too low.
But, Kimball said, "most of my management starts well before I ever get into my car. Even in the off-season I'm working with my endocrinologist and sort of laying the groundwork for my management as someone with an active lifestyle.
"Then, on racing weekends, from the moment I get up I'm testing my blood sugar, I'm adjusting my dosage of Levemir and NovoLog (insulins) and I'm tweaking my nutrition and my hydration. If I'm in the car and I've done the job right, all I have to focus on is my driving."
Kimball also has tweaked his car to accommodate diabetes management. First, there's that continuous glucose monitor on his steering wheel so that, during a race, "just like I check lap times, speed and water pressure, I can check my blood sugar as well."
The monitor receives data from wireless sensors on Kimball's body. "It's a fairly new technology," he said, "and the neat thing I've found is that it's a lot less critical than I expected, and I think that's due to the quality of modern insulins."
Then, Kimball's hands-free, in-car hydration system contains two bottles, versus most drivers' one. One of the bottles contains water, while the other is filled with orange juice or another glucose-rich drink he can sip if his blood glucose level drops.
Diabetes is "always a moving target," Kimball said. "But let's put it this way: I've never had any close calls in the car. I've never even needed to drink the (juice) bottle to keep racing."
If Kimball's blood glucose level gets too high during a race, the inside-front tire changer on his pit crew has been trained to give him an insulin injection through his racing suit with a Flex-Pen.
"My doctor came to my first race and trained him to inject an orange," Kimball said with a laugh. "He came out of the truck and said, 'The orange survived,' so it's fine."
All of these measures represent "a fairly serious adjustment, because there are a lot of things going on" during a race, Kimball conceded. "But, for me, it's a necessary evil. It's what I have to do to get in a race car and, because of that, it's completely worth it."
Kimball spends much of his time on the road meeting kids with diabetes and their parents at diabetes camps, diabetes walks, health fairs and other events.
"I love what I do, and I'm in the enviable position to do what I love and to have the opportunity to help people and tell my story," Kimball said.
"The point I make is that you can do it. Whatever it is you want to do, you can do it. The opportunities and the tools are available. You just have to make it happen.
"I think the key point is that with good management and the modern tools that are available, diabetes doesn't have to slow you down."
Contact reporter John Przybys at jprzybys@
reviewjournal.com or 702-383-0280.
HOSPITAL MEET AND GREET
Charlie Kimball is scheduled to attend a reception at Desert Springs Hospital Medical Center, 2075 E. Flamingo Road, from 3:30 to 4:30 p.m. Wednesday .The event, sponsored by the hospital and the Nevada Diabetes Association, is free, but is intended primarily for people with diabetes. Reservations are required. For details, call 364-5604.In the meantime, fans can follow Kimball via his Twitter feed (twitter.com/racewith insulin). DIABETES AT A GLANCE
Type 2 diabetes is the most common form of diabetes. Some groups have a higher risk for developing Type 2 diabetes, such as African-Americans, Latinos, Native Americans and Asian-Americans, native Hawaiians and other Pacific Islanders, as well as the elderly. In Type 2 diabetes, either the body does not produce enough insulin or the cells ignore the insulin.Type 1 diabetes is usually diagnosed in children and young adults. In Type 1 diabetes, the body does not produce insulin. Insulin is a hormone that is needed to convert sugar, starches and other food into energy needed for daily life.
Symptoms of Type 1 Diabetes
■ Frequent urination
■ Unusual thirst
■ Extreme hunger
■ Unusual weight loss
■ Extreme fatigue and irritability
Symptoms of Type 2 Diabetes
■ Any of the Type 1 symptoms
■ Frequent infections
■ Blurred vision
■ Cuts/bruises that are slow to heal
■ Tingling/numbness in the hands/feet
■  Recurring skin, gum, or bladder infections
Note: People with Type 2 diabetes ofetn have no symptoms.
SOURCE: American Diabetes Association (www.diabetes.org)