IV treatments, including for hangovers, a growing trend in Las Vegas amid criticism
December 25, 2016 - 12:47 pm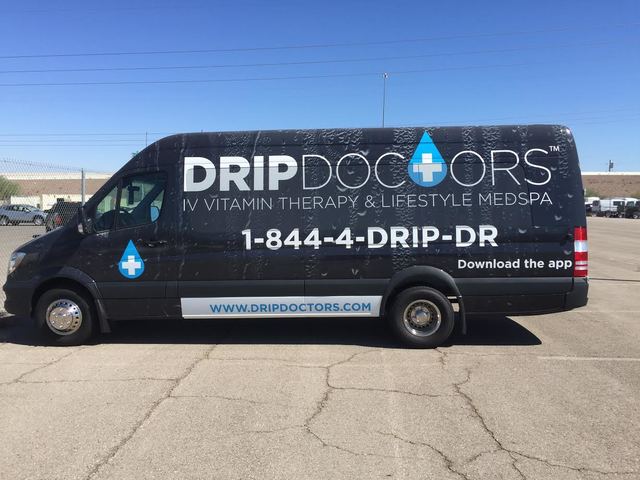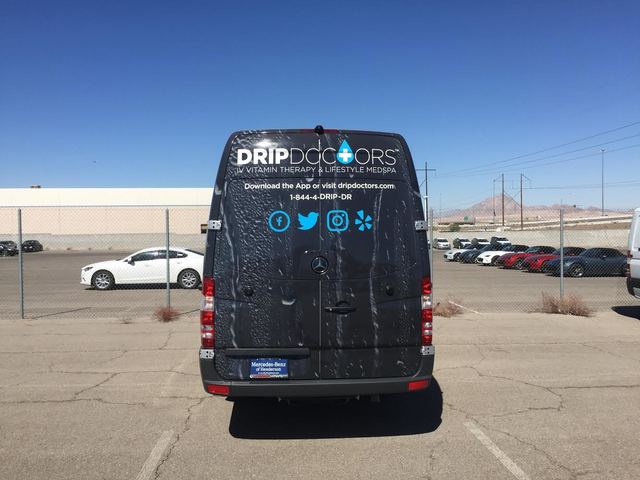 New Year's Day might be the time for looking ahead, but a headache from the night before can make that hard to do.
Los Angeles-based health company Drip Doctors is hoping to help New Year's revelers on the Las Vegas Strip boost their spirits and welcome 2017 in good health by running its mobile IV vitamin therapy unit on Sunday.
The van, which will roam the Strip and travel to any off-Strip appointments, will provide intravenous nutrients to consumers suffering from issues such as hangovers and nausea.
"It's going to be a very busy day for sure," said CEO Jamila Sozahdah, a California-based physician assistant. "I anticipate seeing a lot of people seeking and needing recovery."
The company's mobile unit excursion is just the tip of its Las Vegas Valley plans.
The business, which advertises its services as a quick way to improve overall energy, immunity and recovery from ailments including a headache or cold, has plans for two brick-and-mortar valley locations, one on Dean Martin Drive near the Rio and another at The District at Green Valley Ranch. Both are expected to open by March.
"Drip Doctors focuses on disease prevention through our IV vitamin and anti-aging treatments," Sozahdah said. "We use our knowledge and insight to help our clients achieve their desired health, beauty, wellness, weight loss and anti-aging goals."
The mobile concierge service that will roam the Strip on New Year's Day will offer IVs that take about 45 minutes to administer, with most people beginning to feel the effects of the treatment about 30 minutes in. Seating six people comfortably, the van also has a big-screen TV.
Some of the IV vitamin bags aren't much different from what you might get in an emergency room if you came in dehydrated or sick, though the van does not provide emergency medical services, Sozahdah said.
Prices for the IV "drips" on New Year's Day will range from $89 to $220, not including a $100 concierge fee. The company also offers a range of booster shots, quick IV "pushes" and cosmetic enhancements including Botox.
Drip Doctors is expecting to see lots of partiers on the Strip between ages 18 and 40, though its services aren't limited to that age range or just to that part of town.
"Las Vegas is a place where people come together," Sozahdah said. "It is, I think, where people will need the most recovery."
The business has developed what its CEO calls an "organic growth" of celebrity clientele, with customers such as actress Lily Tomlin, singers Chris Brown and Adele, celebrity DJ Steve Aoki and numerous NBA, NFL and professional boxing athletes having sought its services.
With the Henderson location, Drip Doctors is hoping to make its services more accessible to the general public. The company employs nurses who do consultations with patients and administer the vitamins and other therapies. The company also has physician's assistants and doctors on staff.
"Henderson is an up-and-coming area with a lot of growth and expansion. We want to be part of the health and wellness movement. We bring an alternative way to healthy living and disease prevention, and that is something everyone needs," Sozahdah said.
Drip Doctors is expanding its Southern Nevada presence as IV vitamin therapy's local popularity is growing. It would join businesses such as Hangover Heaven, Reviv Las Vegs and Push IV Hydration, all of which offer services at their sites or by appointment in your home or hotel room.
But IV vitamin therapy isn't without controversy.
Many facilities that offer such treatments are considered medical spas, which can have little to no direct state oversight in Nevada if they do not perform medical treatments.
Critics of the therapy also say it's unnecessary for most healthy people, overly expensive and a potential source of infection if done too often.
Registered dietitian Crystal Petrello said the therapy can be helpful for people who are malnourished and that she understands the popularity, given that vitamin supplements are often ineffective or "watered down."
But she stressed that vitamin therapy by IV can be the equivalent of "peeing out your money" when water-soluble vitamins are provided to healthy, well-nourished individuals who could urinate out unneeded vitamins.
Daliah Wachs, a family medicine physician and assistant professor at Touro University Nevada agreed that the principles of the hydration and vitamin therapy could be beneficial to people who can't take in proper nourishment.
But she also emphasized several caveats.
Wachs pointed out the need for proper medical guidance before the treatments to ensure customers have proper kidney function, liver function and don't receive too much of a vitamin. Continuously having IVs inserted into your arms also carries a risk of infection, which is another reason medical guidance is key, she said.
She advised people to do their research and ensure they receive a consultation, especially since there hasn't been much research on the long-term effects of IV treatments.
"In theory, what they're getting sounds great," Wachs said. "The only problem is, we don't have any studies out there that say it works great."
Contact Pashtana Usufzy at pusufzy@reviewjournal.com or 702-380-4563. Follow her on Twitter: @pashtana_u