Las Vegas-area hospitals are quick to discharge the mentally ill
March 10, 2018 - 11:23 am
Updated March 10, 2018 - 11:22 pm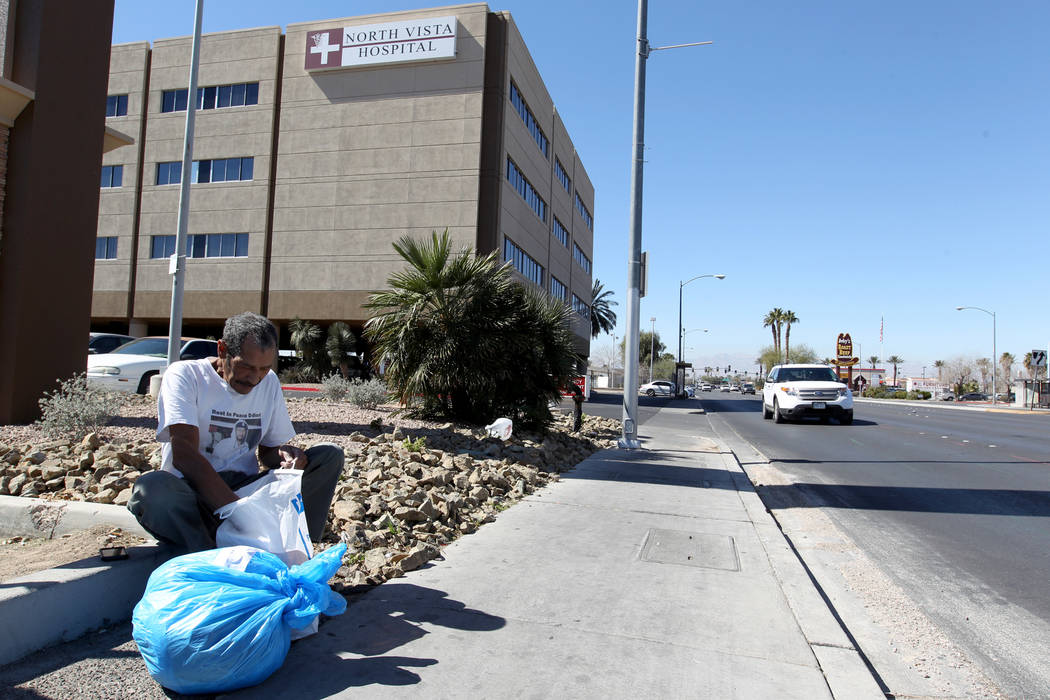 Mentally ill Nevadans are being pushed out of hospitals too soon, and many end up returning to emergency rooms or handed off to an unlicensed "consultant" who sends them to unsuitable group homes, the Review-Journal has learned.
"They could be psychotic and heavily medicated, and we're releasing them," said Takari Reese, a former mental health tech at North Vista Hospital. "The doctors are literally having people walk patients out the doors with no shoes, in patient gowns."
North Vista Hospital last month released 33-year-old Rayshauna Roy, a bipolar suicidal woman, to a stranger named Eileen Lee, who had no medical experience. Lee, who gets paid for her "consultancy" services, placed Roy in an independent living group home with no medical supervision. The hospital never called Roy's family, who lives in Las Vegas, and Roy died inside the home a day later.
Nevada health officials said last week they're investigating the situation.
But Roy's discharge is a symptom of a much larger problem in Nevada: scarce resources for treating mental illness, a lack of trained professionals, and a shortage of hospital beds for patients who often don't have the means to pay for care.
"They keep them if a doctor agrees with the assessment and says this person needs to be on a 72-hour hold," said Metropolitan Police Department Deputy Chief John McGrath. "But we've had people who have been released in 15 minutes. We have people who we have taken multiple times in the same day. That part of the system is broken."
The rush to get mentally ill patients out the door leads to placements in unlicensed or squalid group homes, similar to those uncovered in a recent state audit. It also pushes hospitals to rely on outside brokers like Lee who are paid to place people but have no medical experience and don't follow up with patients.
"The hospitals and other rehab facilities are pressured to get people out," said Lynn Hunsinger, a licensed social worker who works with various health care providers. "As soon as they can get someone discharged, it frees up a bed for someone else."
Fantasi Pridgon, a project manager at HealthInsight, which aims to improve health care in Nevada, said North Vista has the second-highest readmission rate in the state.
"With North Vista, they have so many patients, and a lot of times they don't have enough beds," Pridgon said. "Unfortunately, they ended up discharging someone to a group home without having enough information."
Carlos Sanchez, 61, a maintenance worker, was released Friday from North Vista's psychiatric ward after he attempted suicide. Sanchez said hospital staff pressured him to go into a group home — even though he has family in Las Vegas — and a man he befriended in the ward was released to Lee on Thursday.
"They thought I was homeless," Sanchez said. "They didn't let me call my family."
Legal 2000 holds
In Nevada, people who are unable to care for themselves or who threaten to hurt themselves or others are placed on a 72-hour medical hold called a Legal 2000. The holds are ordered by police officers, physicians or other licensed health care providers. But law enforcement officials say Nevada hospitals are releasing mentally ill people before the full 72 hours, leading to a troubling cycle in which people are put back on the streets, another legal hold is issued and they are sent back to the hospital.
Roy was on a Legal 2000 hold before she was released to Lee.
According to Metro's data, police conducted 10,745 Legal 2000 holds last year. Nearly 100 of those individuals were placed on holds four or more times, and some were placed on a Legal 2000 hold up to 15 times in one year. The number of Legal 2000 holds handled by Metro has more than doubled in the past seven years.
Jim Martin, a 41-year-old IT manager, was taken to North Vista last month on a Legal 2000 hold after he attempted suicide.
Martin, who has depression and anxiety, said he was released a day later. He was never taken to the psychiatric ward. He got no medication or discharge paperwork. He didn't see a psychiatrist until just before his release.
"All I had to do is tell the psychiatrist that I didn't want to kill myself anymore to get released," Martin said. "There were no tests or medications given. They just said, 'OK, we believe you; you're good to go' and kicked me out the door. I feel I was rushed out."
Discharge procedures
North Vista spokeswoman Susan Olson said doctors determine "the level of care" at the time of discharge and adults have a right to go wherever they choose.
The Review-Journal contacted most Las Vegas hospitals to ask about discharge procedures for mental health patients. The majority — including Spring Valley, Valley Hospital, Desert View, Summerlin, MountainView and Southern Hills — did not respond.
University Medical Center spokeswoman Danita Cohen said the hospital's attending physician decides when a patient should be discharged.
Sunrise spokeswoman Fran Jacques declined to answer questions about discharge policies but issued a statement saying the hospital follows state laws and physicians make all discharge decisions.
Sunrise denied using hospital liaisons such as Eileen Lee. The other hospitals did not answer that question.
Southern Nevada has one state facility for mental illness, Rawson-Neal Psychiatric Hospital. Hospital administrator Jo Malay said nearly 90 percent of Rawson-Neal's patients come from Legal 2000 holds. Half of them are transferred from local hospitals.
But, Malay insisted, the state does not use the services of Lee or other consultants, nor does it rush to get people out.
"Before discharge, the treatment team will look for the ability for the client to make good judgments, practice self-care and understand their treatment plan," Malay said.
State law requires that businesses or individuals that "provide referrals" to residential group homes obtain a license. Lee is not licensed. According to state officials, only Akamai Senior Options of Las Vegas is licenced to refer patients to group homes.
Reese, the former North Vista mental health tech, said the North Vista Hospital psychiatric ward's physician, Dr. Kevin Bernstein, insisted that they contact Eileen Lee first. Bernstein treated Rayshauna Roy before she was released to Lee and died a day later.
"We were told to contact Eileen first before we contact anyone else and she will handle discharge," Reese said. "And she immediately comes in within 24 hours to assess that patient."
Bernstein did not return calls for comment. His attorney, John V. Spilotro, acknowledged that the hospital uses Lee but said she's one of several hospital liaisons.
Spilotro said he would have to "examine" whether Lee needs a license to transfer people out of the hospital.
Contact Ramona Giwargis at rgiwargis@reviewjournal.com or 702-380-4538. Follow w@RamonaGiwargis on Twitter.