Las Vegas bellman completes international series of marathons
Updated July 14, 2018 - 7:54 pm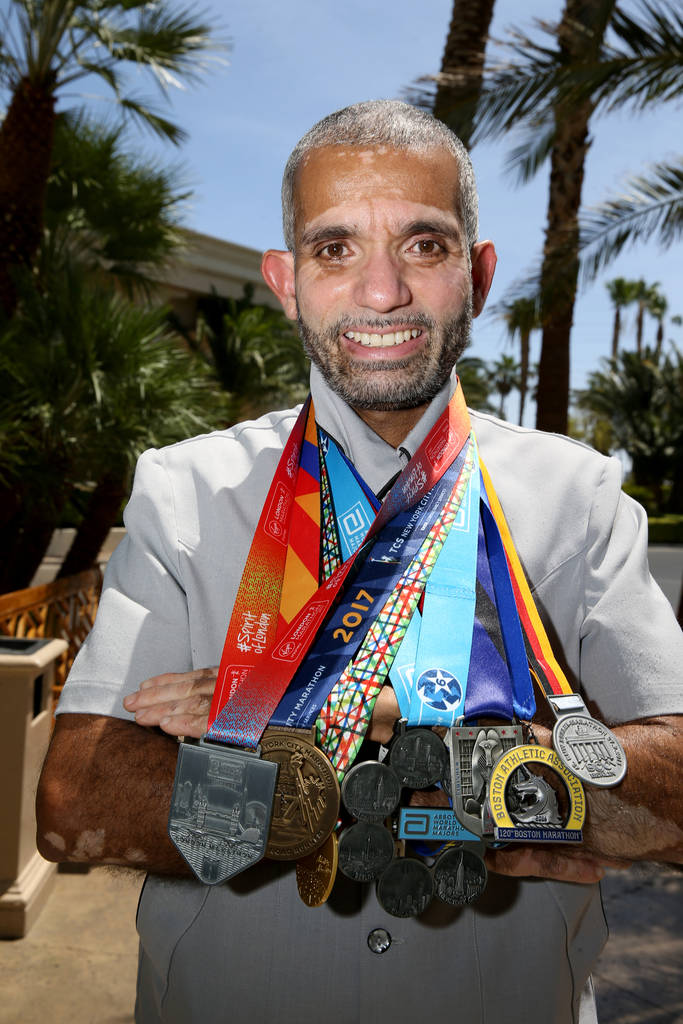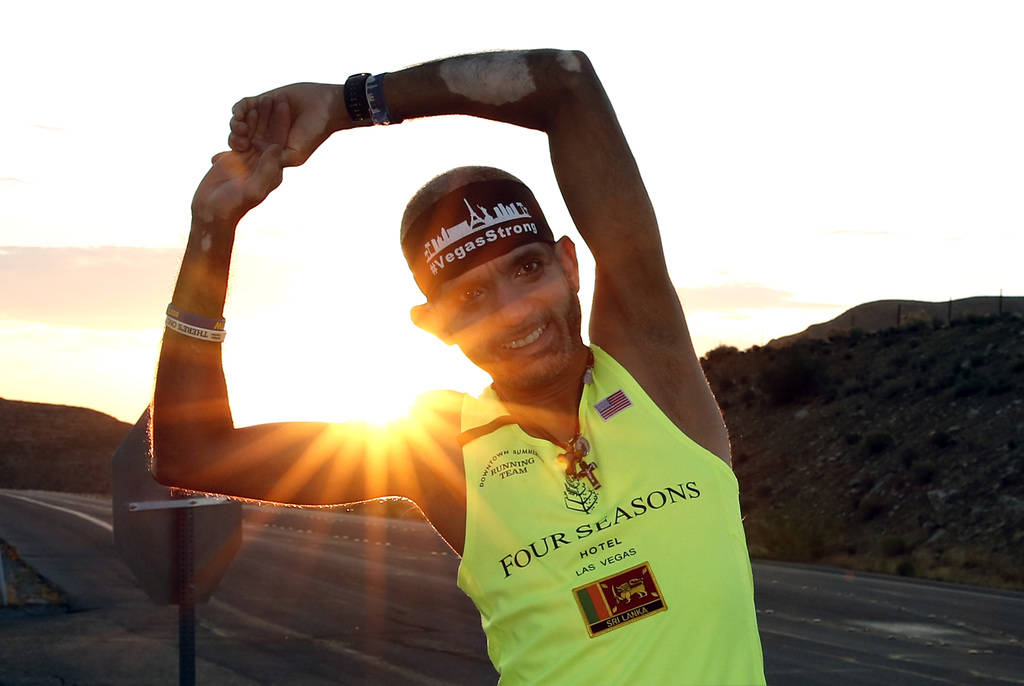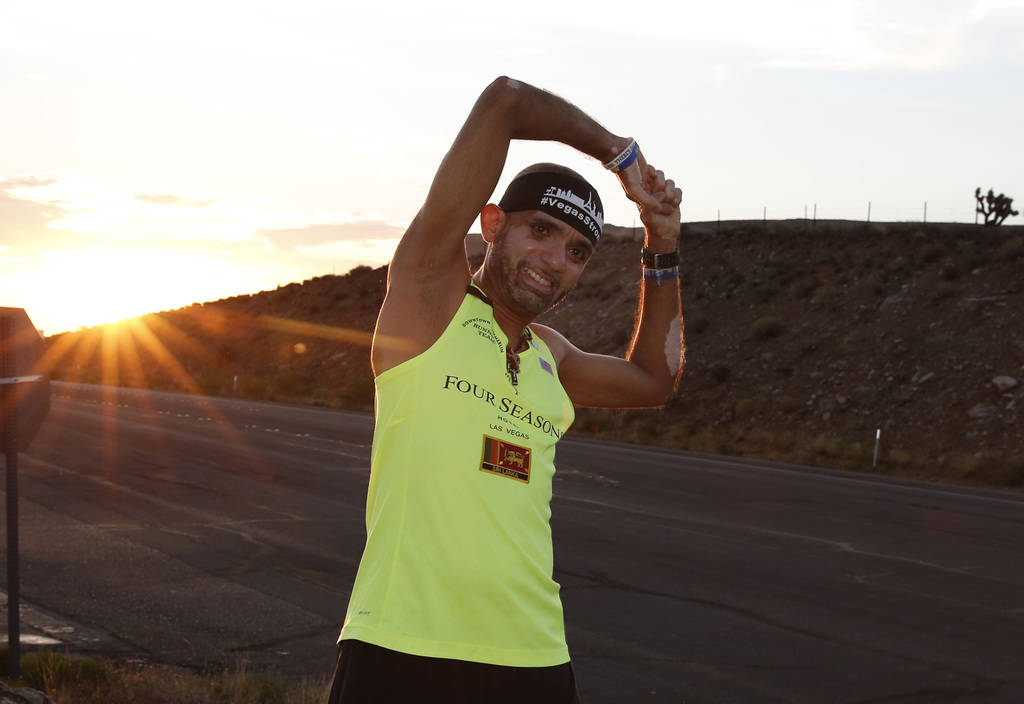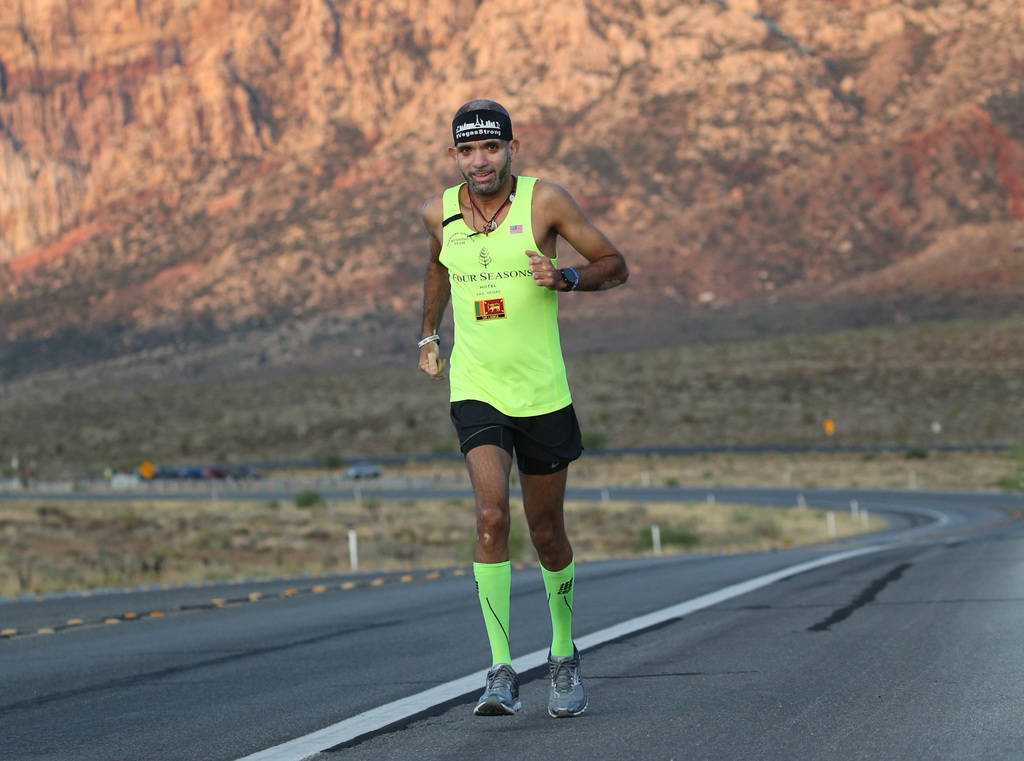 Gamini Sugathadasa, a Four Seasons bellman and Sri Lanka native, was greeting guests following the 2009 Rock 'n' Roll Las Vegas Marathon when he noticed something he found strange — medals around their necks and smiles on their faces.
"I didn't know what a marathon was," Sugathadasa said. "They started announcing people who did a half marathon — those who did a full — I asked someone what the difference was and they told me the distance for each. I couldn't believe those people were coming back happy after two to three hours of running. And they had those medals. I said, 'You know what — everyone seems happy. I can be happy, too.' "
Sugathadasa left work that day with a desire to run, and he did — for about five hours. With no running experience, he ran from when he got home from work until about 9 p.m. He later drove the route in his car, realizing he'd run almost 11 miles.
"I just had so many things on my mind," he said. "The next day, I couldn't even stand up. Everyone at work was asking if I was in that marathon. I told them no, I just went running. They were all laughing. After two days, I felt great and I went running again."
Not long after that initial run, Sugathadasa, now 47, signed up for his first endurance test: the 2010 Arizona Rock 'n' Roll Marathon. He would go on to run in several more, including the Rock 'n' Roll Mardi Gras in New Orleans and several charitable races. His first major race was in Berlin, six years later.
His most recent accomplishment was completing the Abbott World Marathon Majors. Originally known as the World Marathon Majors, the series consists of six of the largest and most acclaimed marathons in the world, taking place in Chicago, Boston, London, Tokyo, Berlin and New York City.
One of only four Nevadans to complete the series, and the first from Southern Nevada, Sugathadasa ran them starting with Berlin in 2015 and ending this year in London. He dedicated the London race to Mark Hellrug, a former Four Seasons general manager who died in March.
"(Hellrug) always made a point, before Gamini went on trips and races, to check in with him," said Angelica Palladino, hotel manager at Four Seasons. "When he came back, he'd sit down with him to see how it went. That was always very important to Mark. He was an iconic general manager."
Originally from Germany, with experience working at Four Seasons hotels nationwide, Palladino met Gamini two years ago when she began work at the Four Seasons in Las Vegas.
"He's just an exemplary employee," Palladino said. "He's so guest-centric — always concerned about the well being of the guests and assisting them. It's a true joy to work with him, have someone like him on our team. Completing the marathon is a huge accomplishment and him choosing to represent Four Seasons means so much to us."
A single father of 10-year-old Hannah, Sugathadasa came to America in 1999. He lived with his sister in Northern California before his move to Vegas, where he found work for a short time at Pizza Hut. He became a U.S. citizen in 2010.
"I always say don't give up and move forward," Sugathadasa said. "If you have a dream or a goal, go for it. Whatever you do, don't stop."
It's been a long road, as Sugathadasa has done all of his races in his 40s. He plans to retire from competitive endurance running to focus on Hannah.
"I'm getting older and it's not easy," Sugathadasa said. "I don't have altitude training and I don't really have time to do that. I am not planning to race any more. But I'll never stop daily running. If I don't run in the morning before I go to work I just don't feel mentally and physically fit."
Contact Mia Sims at msims@reviewjournal.com. Follow @miasims___ on Twitter.