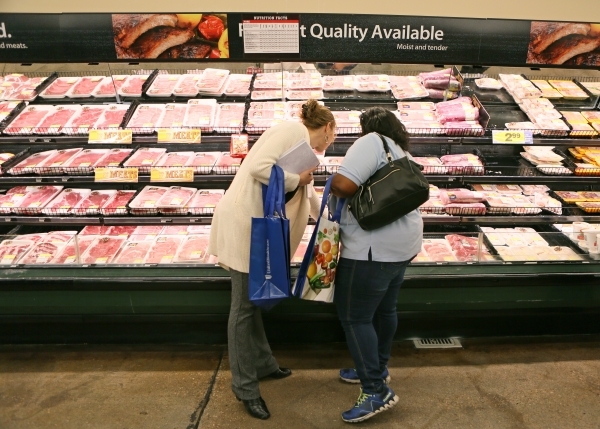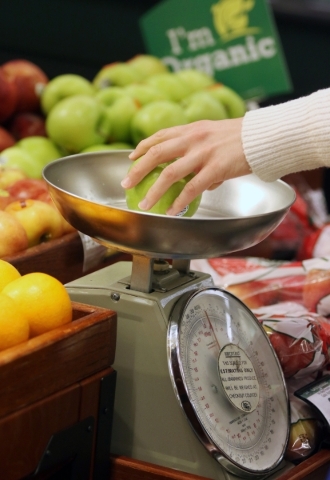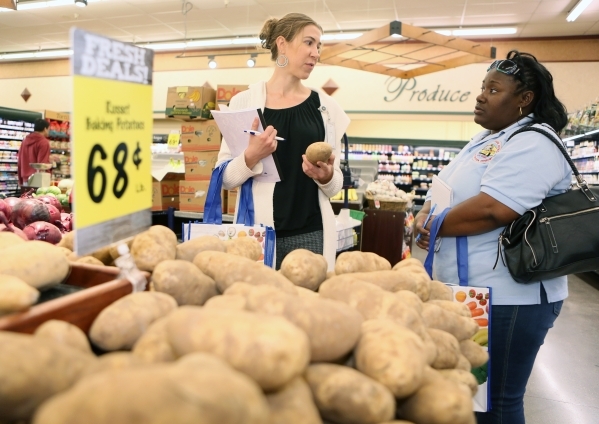 Health coach Julie Usdavin's new classroom isn't what you would call a normal learning environment.
Instead of a pencil, her student carries a reusable grocery bag, and rather than reading books, the teacher and pupil are examining products at a Smith's store, at 3160 N. Rainbow Blvd., near West Cheyenne Avenue.
"Our diet plays such an important role in our health. It's just like becoming healthy from the inside out," Usdavin said during the Thursday grocery store lesson.
The registered dietitian with UnitedHealthcare's Health, Education and Wellness program leads a two-part course on healthy eating. The first part of the course is an explainer on how to read a nutrition label, what ingredients make food unhealthy and more. The second half is a grocery store tour, during which Usdavin walks students through the store and addresses their diets, suggesting healthy alternatives to any foods lacking in nutritional value.
As they stroll through Smith's, 34-year-old Sparkiel Haley, the only student on last week's tour, peppers Usdavin with questions.
Is the flavored water she's drinking healthy? What about the Thousand Island dressing she buys?
The mother of two who has struggled with high blood pressure and high cholesterol says her husband is the only one in the family who consistently eats healthy foods. She said she's motivated now to change that.
"When you're trying to do something, you need to start at the beginning," she said.
One of her biggest challenges has been the lack of flavor in some health foods, Haley said.
Usdavin dismissed the notion that healthy food doesn't have enough flavor as a myth.
"It just has to do with how you prepare the food. Any food you make can taste good," she said.
As the pair strolled through the aisles, picking up packages in several aisles to compare labels, Usdavin offered tips.
Season with herbs and avoid ingredients, such as garlic salt and lemon pepper salt, that add unnecessary sodium.
Making some foods at home can cut down on unnecessary ingredients, she said.
For instance, she suggests putting a small amount of natural orange juice in a bottle then filling the container with water rather than buying sugar-laden juices at the store.
Near the Greek yogurt section, Usdavin suggests mixing cilantro, garlic powder, onion powder and parsley with yogurt for a quick dip.
"We used to use Yoplait, but now we're onto the Greek," Haley said, earning a thumbs-up from Usdavin.
When Haley pointed out the Multigrain Cheerios she likes, Usdavin suggested a compromise: Mix it with Fiber One.
"If you buy a whole-grain cereal, you can at least do half and half," she said.
That's one of her tricks.
Avoid foods and drinks that have little nutritional value, and instead mix a healthier, tasty option with the most nutritious option available.
The key thing is to look at the label and digest all the information, Usdavin said.
"It's hard, but it's baby steps," Haley said.
Contact Pashtana Usufzy at pusufzy@reviewjournal.com or 702-380-4563. Find her on Twitter: @pashtana_u