Las Vegas counselor helps patients determine their genetic risks for cancers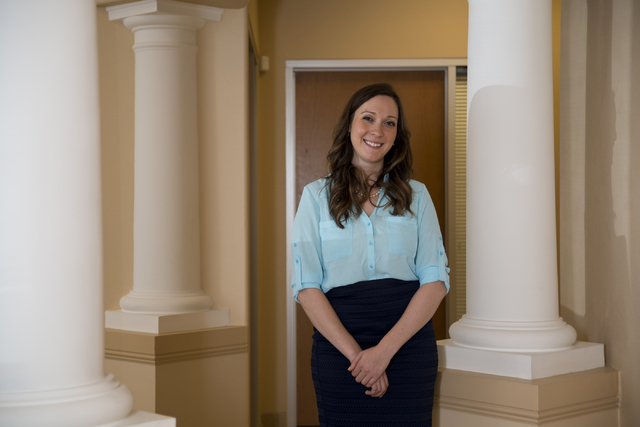 As a genetic counselor, Anna Victorine helps her Las Vegas patients identify their predisposition to diseases such as cancer.
By accessing their medical and family histories, she helps determine whether genetic testing is the right option for them.
Victorine is the new full-time genetic counselor at Provenance HealthCare, 5115 S. Durango Drive, No. 103. According to her, she is the only cancer genetic counselor in the city of Las Vegas, and there is only one other cancer genetic counselor in the state, in Reno.
Originally from Chicago, she moved to Las Vegas in 2014.
Victorine, 26, chose her career path when she was a sophomore at Indiana University after talking with her next-door neighbor, who was going through genetic counseling.
After doing some research, she started adding more medical and genetics classes to her undergraduate program. She decided to become a genetic counselor because she said she wanted a career that allowed her to work one-on-one with patients. She also wanted to take a path in medicine that had a significant teaching component and a career that made her feel like she was making an impact on an individual's life.
"Genetic counseling is using medical and family history and integrating those two pieces together," she said. "We help tailor a discussion with the patient about their risks for a genetic disease. Using that information, we can assess the need for genetic testing, the benefits and the limitations. We can help order the tests and interpret the results."
In a counseling session, Victorine discusses things such as the impact of treatment on a patient's life. She also provides family counseling.
Then, if the patient appears to be predisposed to a particular disease, the doctor recommends more screening, a genetic test, or perhaps, a set of extra MRIs to help detect something faster.
"The majority of what we see now is reactionary testing," said Provenance's Dr. Robb Rowley. "If some event happens in the family — let's say someone is diagnosed with breast cancer early or if someone has an illness that they can't figure it out — that's usually the patients we are seeing. In the long term, the goal is that we can actually know people's genetics before they have an illness, in order to perform targeted prevention."
Even though Victorine is filling the new full-time position at Provenance, she had been working for the company for a year part time and has been in the practice of genetic testing for more than two years. She has even had genetic testing done on herself.
She went through pharmacogenetic (drug gene) testing, which helps doctors target treatment and medications to a patient's genetics. Victorine recommends this kind of testing because, "when knowing the results, you are able to decrease the risks of adverse drug reactions. If you can hand your doctor a list of medications that your body is apt to metabolize correctly, your doctor can use the list of what medications your body responses to and better prescribe you," she said.
According to the Food and Drug Administration, adverse drug reactions are one of the leading causes of morbidity and mortality in health care.
Victorine said patients have written her letters of gratitude for the impact she has made. In one of those letters, a patient thanked her for the emotional support and the time she dedicated to the patient throughout her miscarriage.
Her patient said she was inspired to go back to school and complete her nursing degree and that, ultimately, she wanted to become a prenatal genetic counselor.
Today, Victorine specializes in cancer and adult genetics. Before that, she was a prenatal genetic counselor. In prenatal counseling, it was common for her to work with expecting parents who wanted to discuss the chances of having a baby with a birth defect or a genetic disorder, and if so, what to do.
She also worked with soon-to-be mothers who were 35 or older and wanted to know the chances of having a baby with a chromosome condition, such as Down syndrome.
"Most of my patients are just trying to prepare," Victorine said. "People across all socioeconomic backgrounds come here because everybody has a family history."
David Lee, 65, has prostate cancer and is a patient at Provenance. He said that in the event his insurance wouldn't have covered genetic testing, he would have paid out of pocket.
The cost of genetic testing ranges from $100 up to more than $2,000 depending on the intricacy of the test. Usually, health insurance plans will cover genetic testing only when it is recommended by a doctor, and not all genetic tests are covered.
Lee said he was concerned about his grandchildren and the future of his younger son, after he was diagnosed with lymphatic cancer.
"I've had enough instances of cancer in my extended family," he said. "I just wanted to see if there was indeed a genetic link to all of those episodes. It gave me a great sense of relief to know that I am not a carrier and that my genetic makeup is not linked to what happened to my son. It provided a faith line," he said.
On a day-to-day basis, Victorine can help patients identify conditions for which they did not know they were at risk but said it greatly satisfies her when she tells someone they are not at risk for something they thought they were.
For more information about Provenance, call 702-478-2524 or visit provenancehealthcare.com.
Provenance HealthCare
Address: 5115 S. Durango Drive, No. 103
Information: Call 702-478-2524 or visit provenancehealthcare.com.