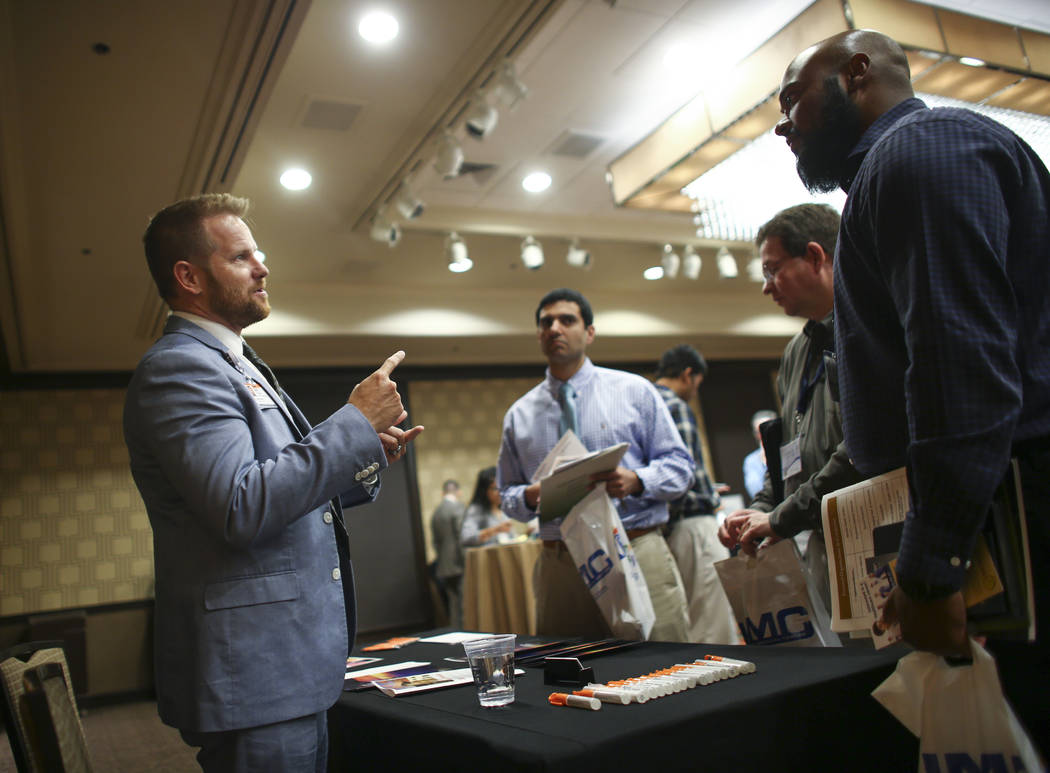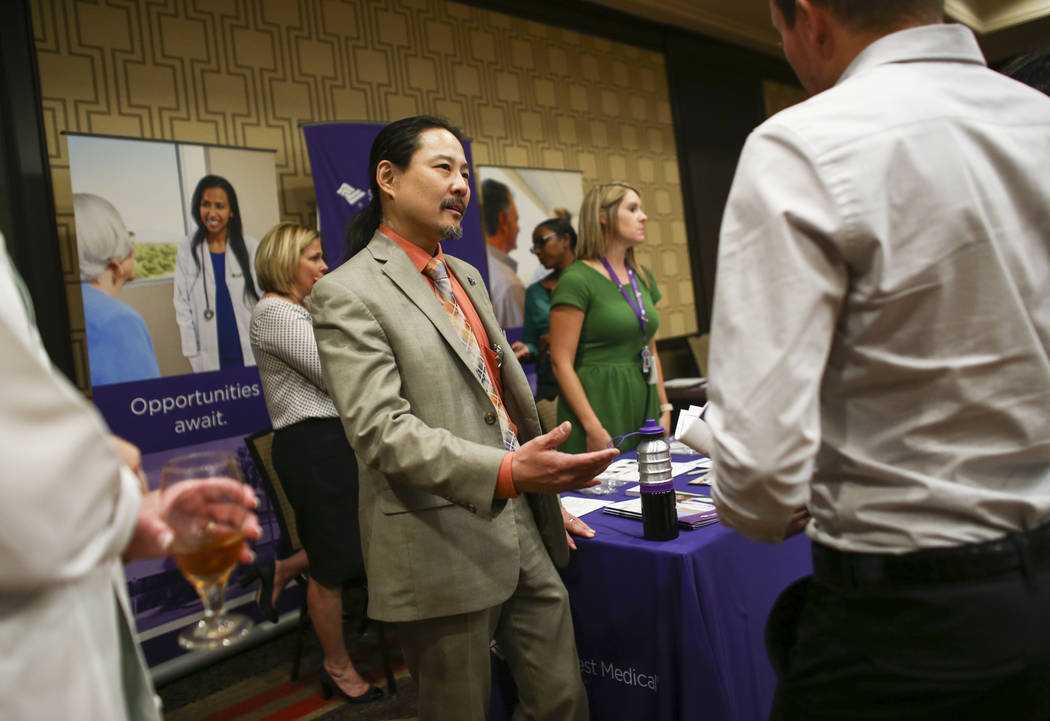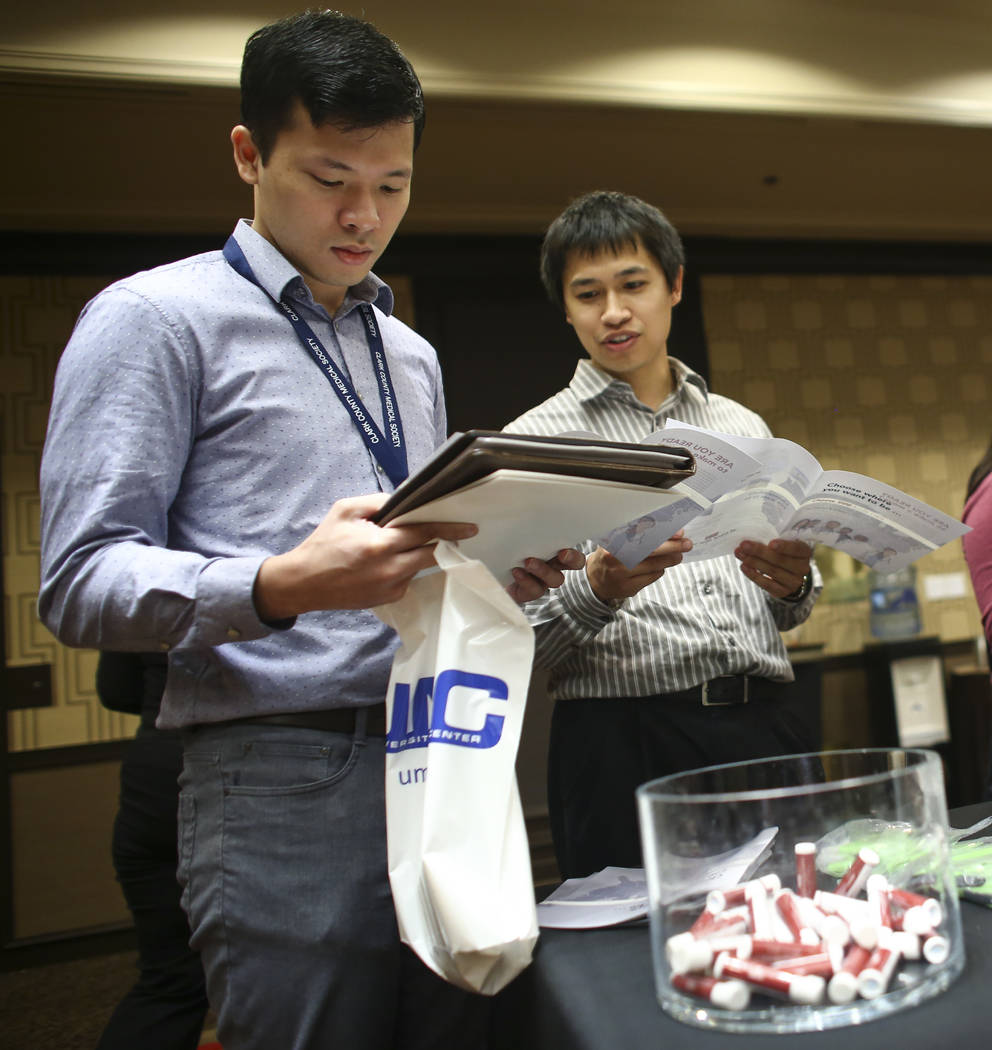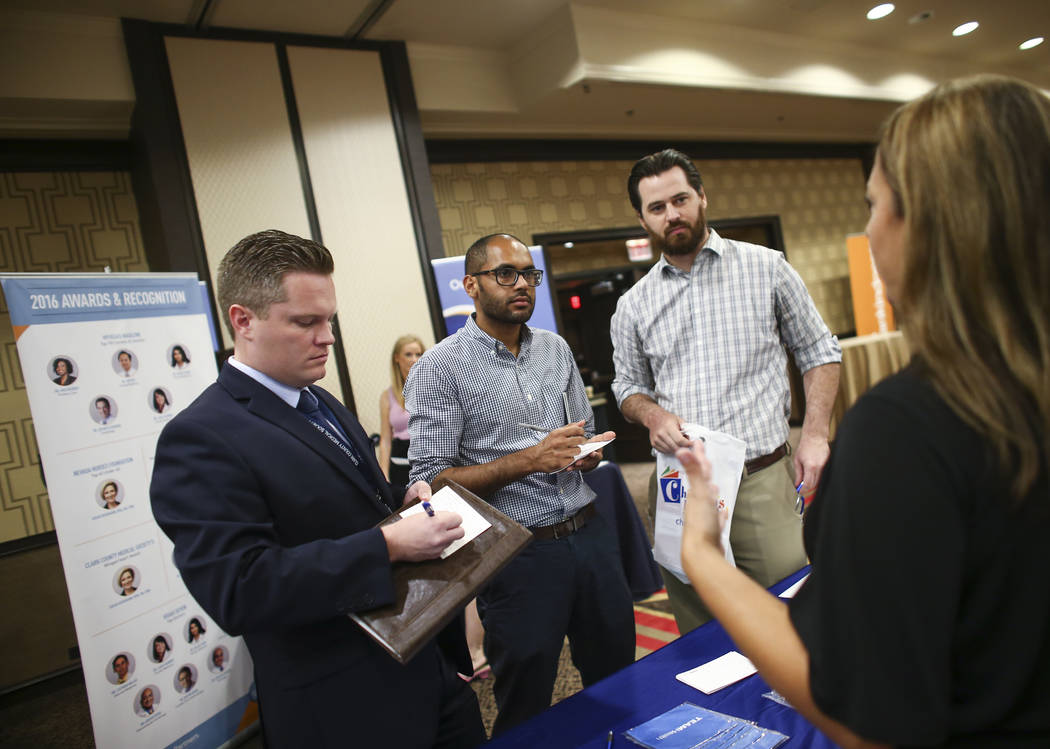 Nevada health officials say it's all about who you know when it comes to ending the state's doctor shortage.
At the fourth annual Clark County Medical Society job fair Thursday evening at the Golden Nugget, about 50 residents from three valley graduate programs in search of work after graduation in June introduced themselves to recruiters from hospitals and health centers.
Recruiters, meanwhile, were in search of local candidates to fill vacancies.
"Our goal is to keep our doctors here in Nevada. We want to have more options for them, so if I don't fit in with 'A,' I'll fit in with 'B,' said Lupita Abrews, a spokeswoman for the county medical society.
Michele McKiernan, a physician recruiter for Valley Health System, has more than 30 openings for doctors of all specialties. McKiernan could offer those jobs to June graduates now, but many residents don't know they can apply to jobs 10 months before finishing their programs, she said.
"Our reach hasn't been what we want it to be," she said. "There's a gap between … the (graduate medical) programs knowing that there are people in town that can help them find jobs here … and then I don't think we've done a great job in the past of being a great partnership with the (graduate medical) programs."
While McKiernan said the residents she talked to at Thursday's fair seem to know what they want when it comes to their ideal job, Alexandra Silver, the medical society's executive director, said many lack skills that can help them land a position: interviewing and cover letter writing skills, along with financial planning knowledge.
Doctors and health representatives led seminars on those topics Thursday before the job fair. Medical school, Silver said, doesn't address those real-life skills.
Shortage a double-sided coin
The promise of work brought Siamac Salehy, 35, to Las Vegas last year to finish his internal medicine residency at MountainView Hospital.
"I had this perception of Vegas being the desert and the Strip. That's it," Salehy said. But while visiting a friend, he fell in love with the city.
The shortage adds an incentive to stay, Salehy said.
"That's what you want, right? Low supply, high demand," he said.
While patients might wait a couple of months to half a year just to see their family doctor, delaying treatment and prolonging sickness, high demand means an open job market.
But research shows residents often stay in the same geographic area for their first jobs after graduating, and programs like those offered by MountainView are only about a year old.
Silver blames the physician shortage, in part, on the dearth of doctors-in-training.
In addition to reaching out to the almost-licensed, the medical society partners member doctors with Clark County high school students interested in medicine for a week of shadowing in an effort to convince them to study in-state.
"The thought is that, if you have someone who already considers Nevada home, they're already going to be invested in our community, so when they get out of medical school and they get out of residency, they're coming home and giving back to our community and taking care of our neighbors," Silver said.
Contact Jessie Bekker at jbekker@reviewjournal.com or 702-380-4563. Follow @jessiebekks on Twitter.