Las Vegas lemonade event targets childhood cancer research
Updated June 4, 2018 - 9:45 am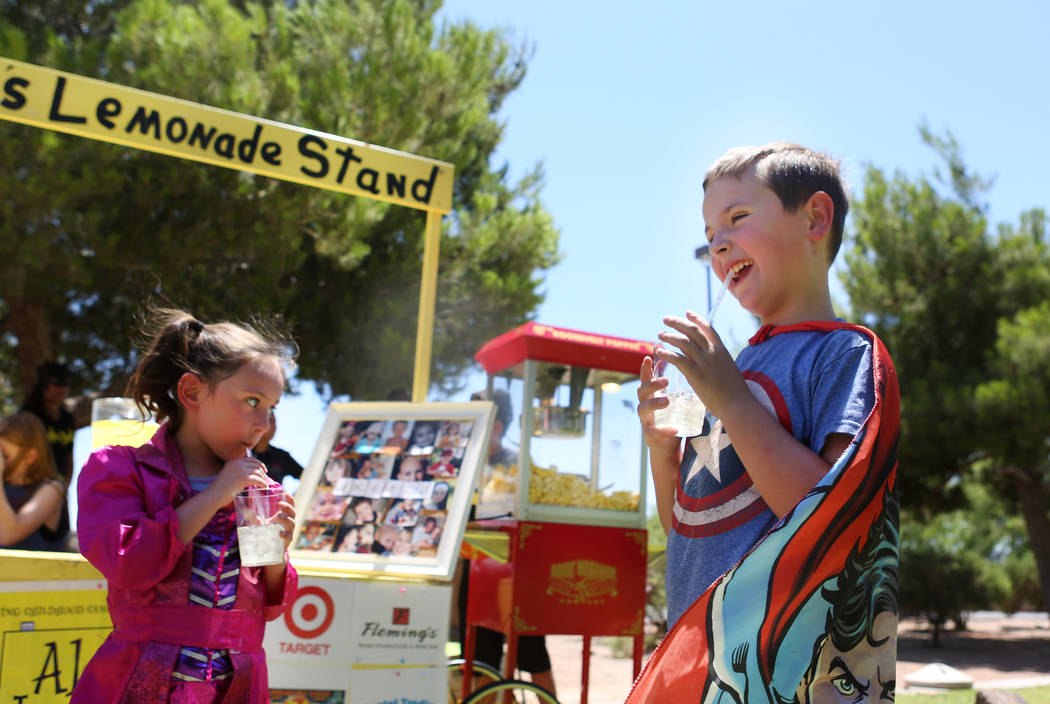 Years ago, when Felicia Nakhla of Las Vegas heard the story of 8-year-old Alexandra Scott, she was moved. The Connecticut girl who was fighting cancer also had set up a lemonade stand in her yard to raise money for research efforts.
"I saw her on Oprah," said Nakhla, now 36 and a server at Planet Hollywood. "I was moved by her story and I always told myself that was something I wanted to do — have a lemonade stand."
Alex's appearance on Oprah stayed in Nakhla's mind over the years. She'd been wanting to get involved, but couldn't remember Alex's name. At a Toys-R-Us years later, an attendant asked if she wanted to donate to Alex's Lemonade Stand Foundation for Childhood Cancer.
"I'm like 'oh my gosh, it's Alex,' " Nakhla said. "I rewatched her video on YouTube and was touched again. I knew it's what we should do."
On Sunday, Nakhla and her niece, 16-year-old Alexandra Elliott, will host their fifth annual Alex's Lemonade Stand in a daylong event at Sunset Park.
"Our first stand was big, but not as big as now," said Elliott, who will be a junior at Palo Verde High School this fall and aspires to become a pediatrician. "I was in the National Honor Society and my aunt wanted me to do the lemonade stand. So I told all of my friends about it and they came to help. It was fun. There were a lot of people, everyone was donating. This brings the community together."
Nakhla and Elliott say everyone in that community is a hero — parents, children, firefighters, anyone "taking a moment out of your life to show up and make a difference," Nakhla said. "You're a hero."
"We wanted children to come and be equally a part of the event," Nakhla said. "We let them serve the lemonade, they all take turns and they love it. It's so cute to see."
They've raised $19,000 to date, according to Nakhla, who says the initial stand drew about 25 people. She expects more than 100 on Sunday, with a goal to raise $5,000 at an event that's considered a "grandstand" — more of a community day with activities, entertainment, food, games and more. The event is in memory of 2-year-old Brady Louviere, the son of Nakhla's co-worker Brian Louviere, who died a little more than a year ago from complications of cancer treatment.
What started as a young girl's desire to help others has become a nationwide effort.
Alexandra Scott, who was born in 1996 in Manchester, Connecticut, was diagnosed with neuroblastoma, a type of childhood cancer, just before her first birthday. In 2000, at just 4 years old, she told her mother she wanted to raise money to help children like her. Her first front-yard stand raised $2,000, and she later set a $1 million goal for cancer research.
"She believed that if every kid all over America could have lemonade stands, she would be able to raise $1 million for childhood cancer research," Nakhla said, "and it's gone on to raise more than $150 million."
Scott died in 2004, but her effort continues to help children and families who are struggling with the effects of childhood cancer. The foundation, according to its website, has funded more than 800 research projects at more than 135 hospitals since 2005. Lemonade Days is now a weeklong annual effort (this year is June 2-10) in which thousands of people set up stands or sponsor other fundraising events.
"She shows us that no hands are too small to make an impact," Nakhla said. "She believed that everyone together can make a significant difference, and it has. My niece, Alex, and I are honored to be a part of her foundation and carrying on her legacy. We want to share her story with others so people are touched the same way that we have been."
Contact Mia Sims at msims @reviewjournal.com. Follow @miasims___ on Twitter.
If you go
What: Alex's Lemonade Stand
When: 11 a.m. to 5 p.m. Sunday, June 10
Where: Foxtail area of Sunset Park
Cost: By donation Blind donation
Other activities: Carnival games, face-painting, food and more