Las Vegas rally brings attention to high rate of cesarean births
September 3, 2012 - 4:36 pm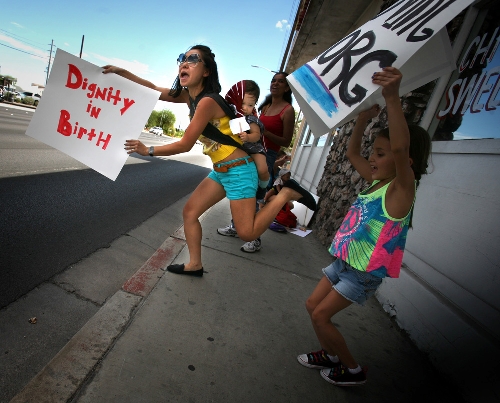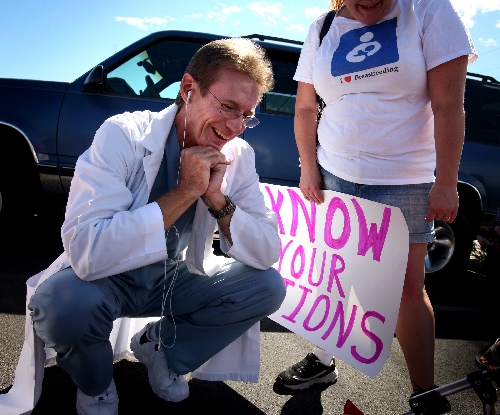 Anna Glenn was 37 weeks into her pregnancy when she went for a routine visit to her obstetrician.
Her pregnancy had been fine, but she said her doctor then told her that her baby didn't appear to be growing properly and might weigh 2 pounds, at best. She said he also told her that the child was nearly certain to have major problems if he didn't do a cesarean, or C-section, the delivery of a fetus by surgical incision through the abdominal wall and uterus.
"He said I needed it right away for the baby's safety," she recalled at a Las Vegas rally that was part of a nationwide Labor Day effort by women to bring attention to a C-section rate more than double the rate promoted by the World Health Organization.
Glenn, 24, said she feared for her baby's welfare and went through with the C-section, major abdominal surgery that, when necessary, can save a mother and her child from injury or death.
"But Sophia was born at Spring Valley Hospital at right about 6 pounds, with no problems," the mother of two said. "I found out later the reason he was in such a hurry to do a C-section is that he was going on vacation. I was furious. I got a severe infection in the scar from the C-section that took me a year to get rid of. I fired that doctor and got another one for my second baby."
More than 100 women and their families rallied Monday morning outside the Pinkpeas Pregnancy and Parenting Care Center at the corner of Valley View and West Charleston boulevards. At the rally, it wasn't difficult to find young mothers who believe doctors are performing C-sections as a matter of convenience and for profit rather than medical necessity.
Repeatedly, they pointed out to government statistics that show C-sections pose a greater risk of surgical complications and a greater chance of problems or death for both mother and baby. The March of Dimes has suggested that healthy pregnancies should go to at least 39 weeks.
"It's a shame many women feel they can't trust their doctors," said 27-year-old Jackie Watson, who said she was also talked into a C-section she later found out was done for the doctor's convenience. "It's hard to know when they're telling you the truth."
One obstetrician, Dr. Steven Harter, also showed up at the sun-lit rally where women carried signs with messages that included "Know Your Options" and "Women Are Not Broken Don't Try to Fix Them."
"I think it's great women are becoming more educated about options," said Harter, one of the few local doctors who encourage women to have a VBAC, or vaginal delivery after having a C-section. "They need to feel empowered to ask questions."
Nationally, about one in three deliveries is now done by C-section, with the number slightly higher in Nevada at 36 percent. In 1965 only 4.5 percent of births nationwide came by cutting a baby out of a mother's belly.
Women don't want to be in an adversarial relationship with doctors or hospitals, said Jessica Sullivan, local organizer for the event sponsored by Improvingbirth.org, a California-based organization dedicated to improving maternity care.
Sullivan said there are times, of course, when an emergency C-section is necessary, but she believes there are financial incentives for the surgery to be performed far more often.
A Las Vegas Review-Journal series on C-sections published in April found support for Sullivan's contention. In 2010, for instance, moderate C-section deliveries, those with no major challenges, ran up hospital charges at Sunrise Hospital and Medical Center of more than $25,000 each, compared with vaginal deliveries at about $12,000.
Dr. Jerry Reeves, an executive with Health Insight, which is dedicated to improving the quality of health care, pointed out that C-sections – now the most common surgical procedure in the nation's hospitals – have become a major profit center in many hospitals, so there's not much incentive to reduce them.
Ninety percent of patients who received a C-section in Clark and Washoe counties in 2010 were insured while just 29 percent of uninsured patients received C-sections. C-section rates at Spring Valley, Summerlin, Southern Hills and St. Rose Domincian Hospital-Siena – all Las Vegas Valley hospitals that largely cater to insured patients – were higher than 41 percent.
University Medical Center, which sees more low-income patients, had a rate of 29 percent.
"It seems obvious that the better off a woman is, the better her chance of receiving a C-section," Reeves said.
Although physicians may make only a few hundred dollars more off a C-section than a vaginal delivery, elective C-sections can be scheduled well in advance, allowing the doctor to see more patients to increase the doctor's bottom line, Reeves said.
Though the ideal rate of cesareans is unknown, the World Health Organization and U.S. public health agencies suggest a number no higher than 15 percent, largely because C-sections pose a greater risk to mother and baby. During a six-year period ended in 2010, Nevada hospital discharge data show that vaginal births resulted in a 4.5 percent complication rate, compared with a 9.5 percent complication rate from cesarean sections.
Over that same time frame, when nearly 97 percent of C-sections and vaginal births were in the mild or moderate severity categories, 10 women died during 55,940 cesareans and four died during 100,275 vaginal deliveries.
Though a 2010 government report suggests 37 percent of annual deliveries should be VBACs, more than 46 percent of the 12,000 C-sections in Nevada in 2010 were repeats. Just 261 Nevada women who had prior C-sections, or 0.77 percent of total deliveries, gave birth without surgery.
Anna Glenn couldn't stop smiling Monday about the VBAC birth of Silas at Summerlin Hospital 10 months ago.
"I'm so grateful to Dr. Harter for making it possible," she said. "There were no problems at all."
A VBAC carries a small risk. Less than 1 percent of the time in such deliveries a life-threatening rupture can occur along the scar left by the previous cesarean. During a VBAC, a surgeon and anesthesiologist should be immediately available at the hospital, according to guidelines stipulated by the American College of Obstetricians and Gynecologists.
Harter stressed Monday that he believes fewer C-sections would be done if doctors didn't have to worry about lawsuits. He believes that doctors seldom get sued for doing a C-section when it appears that there could be trouble with a pregnancy, but doctors will often be sued if they don't.
"That's one reason so few doctors don't do VBACs," he said.
Because she couldn't find a doctor who would perform a VBAC, Phelicia DeRosier said Monday that she had her child at home almost a year ago with a midwife.
"It was very easy," she said as she held 11-month-old Cross.
Dr. Jeffrey Wrightson, the chief of obstetrics at UMC, whose office is just a few blocks from where the rally was held, said Monday that he hopes the women who attended the rally will put pressure on insurance companies.
"The way it is now, there is no financial incentive for doctors to do more vaginal deliveries," he said.
Wrightson does VBACs because he thinks women should be able to experience the joy of a more natural delivery.
"But if you practice ethical medicine, you should not get paid less," he said.
Contact reporter Paul Harasim at pharasim@reviewjournal.com or 702-387-2908.