Las Vegas studio combines yoga, petting zoo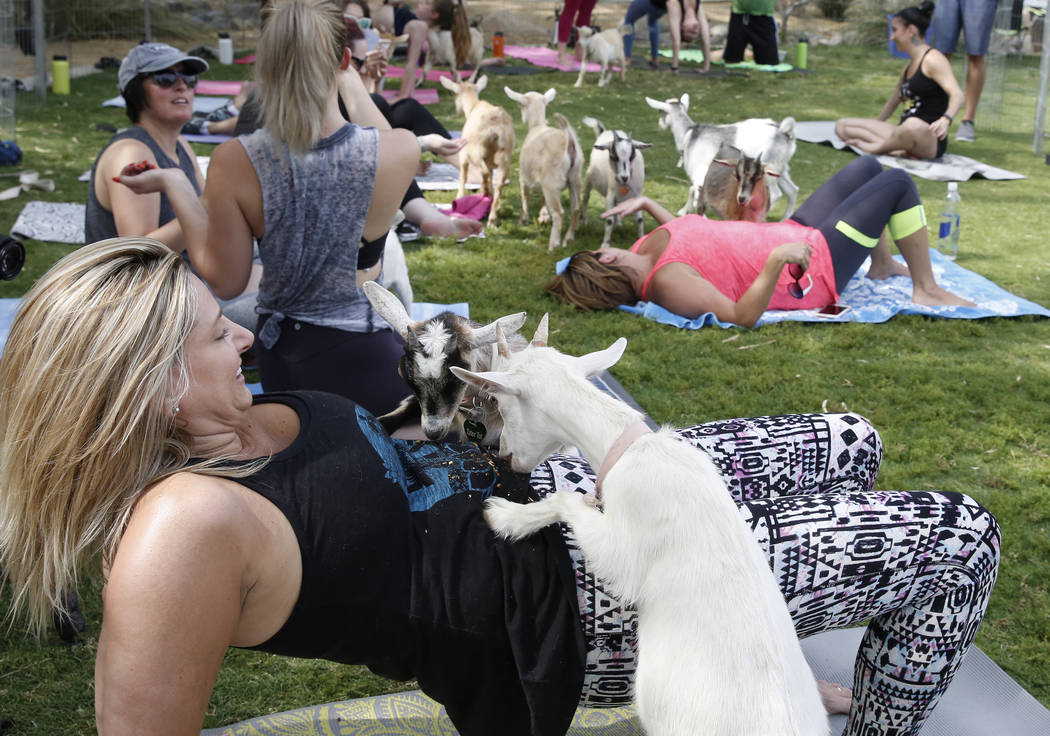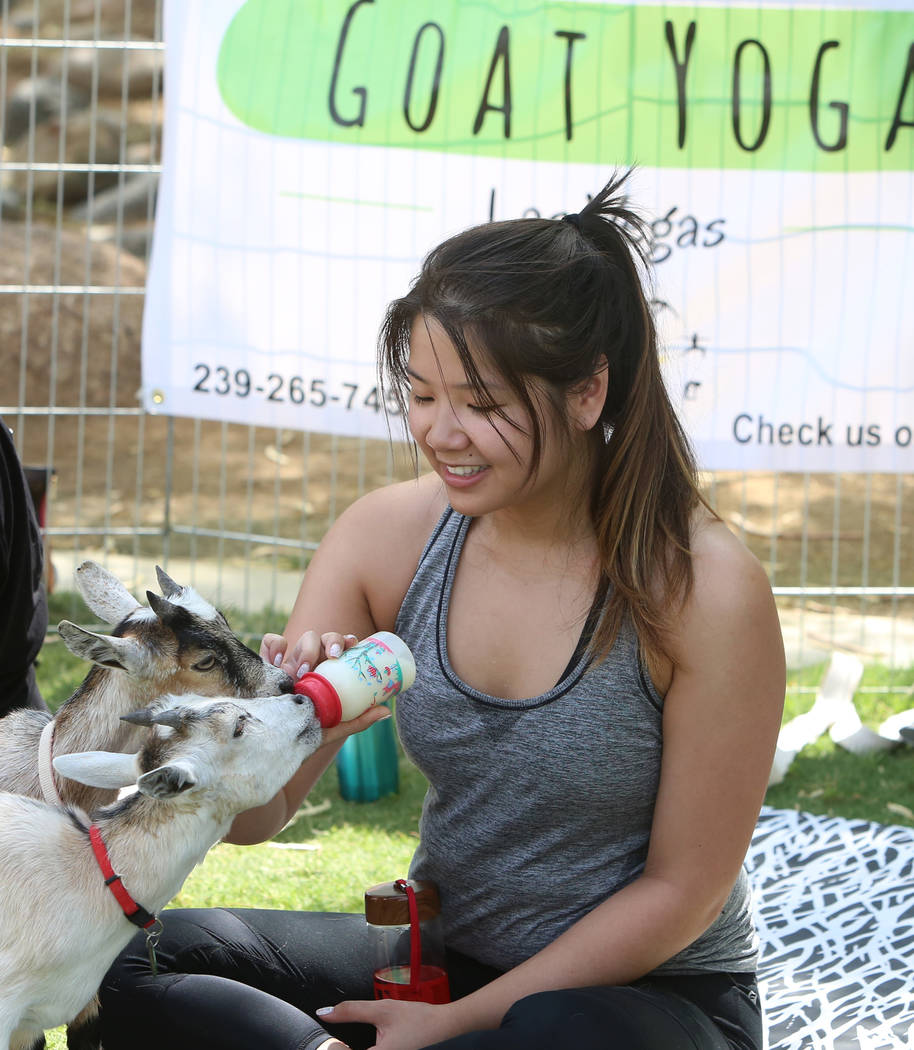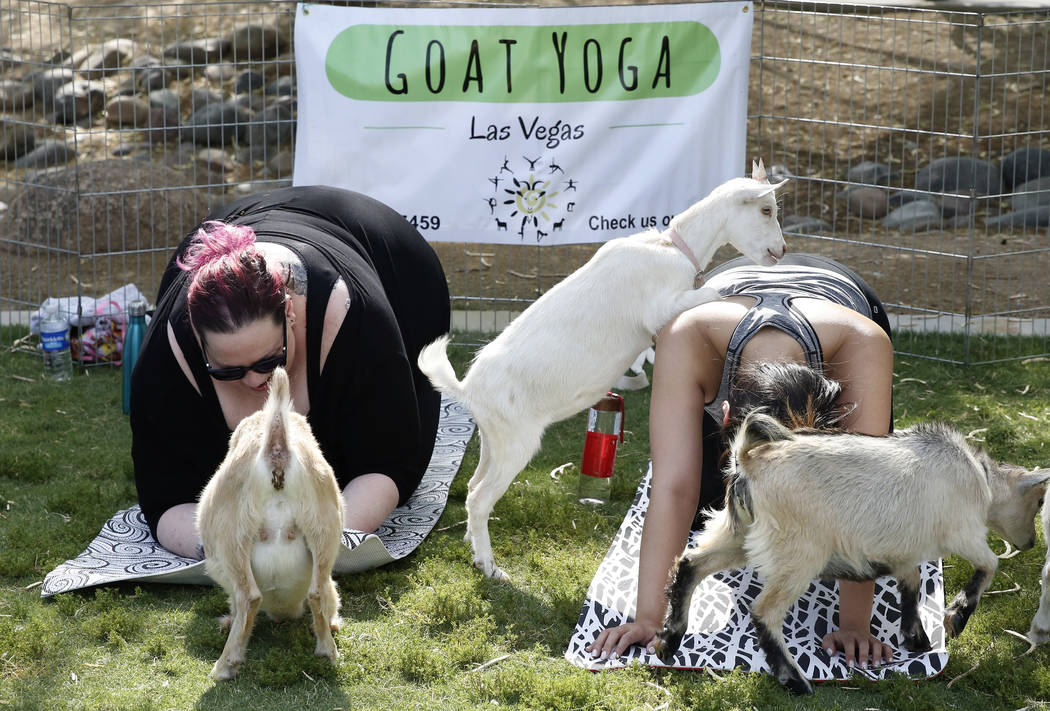 First, we rename some of those poses, because doing a "downward facing dog" when your yoga companions are a swarm of baby goats just seems rude.
Then, we come up with a snappier name — "Goga"? — for Goat Yoga Las Vegas' irresistible melding of outdoor yoga class with a passel of the cutest baby goats you've ever seen.
Goat Yoga Las Vegas — the name says it all — has been offering its yoga classes-cum-petting zoo sessions for about three months, and if the classes aren't necessarily the most rigorous yoga sessions in town, they offer both a fun break from the routine and undeniable proof that there's nothing in life that can't be improved by the addition of baby goats.
"Most people associate exercise with pain or discomfort, things that no one really wants to do except for a special niche of people," explains Brandon Nobles, a co-owner of Goat Yoga Las Vegas.
"The goats are warm and fuzzy. Anytime you see a baby goat — or any baby animal — you get that warm, fuzzy feeling. Add to that being outside and not at work, and there are trees and grass, and it's a whole new experience, which is really awesome."
The 60-minute classes cost $20 each and include post-workout time for selfies and bottle-feeding of the younger goats. Nobles says every class so far has been filled to its 15-student limit, and students have included both experienced yoga practitioners and beginners.
"We have kids and adults and older adults," he adds. "Everyone comes."
Nobles laughs. "But most people come for the goats. Let's be honest. And it's completely OK to sit on the ground with the goats. We're OK with that."
Student, meet goats
When students arrive for a recent Saturday morning session at a southwest valley park, a dozen goats are lazing in a fenced-in enclosure, next to a similar enclosure where students congregate. When class begins and the gate between the two is opened, goats scamper over to the students in the cutest stampede ever.
Each student receives a handful of treats, which the goats immediately begin to root around for. Over the next hour, the goats and students interact however they'd like. Some students attempt yoga poses for as long as they can — it turns out baby goats love crawling under or atop arched bodies — before succumbing to the cute bomb exploding all around them.
The session even includes a few selfie breaks during which humans and animals can cuddle and pose. "My dog is going to be so jealous," one student says.
"Have you ever seen so much smiling?" Nobles says, looking on. "Amazing, isn't it?"
Instructor Nicki Taylor, a certified yoga instructor who also teaches at studios around town, concedes that leading a goat yoga class isn't your standard yoga class. "It's my favorite, though," she says, smiling.
There are … challenges
Goat yoga is "kind of challenging because a lot of people don't come for the yoga, obviously," Taylor says. "So you have to find moments for them to have fun and then still do the the class. That's the challenging part. But, besides that, the goats do all the work."
Another challenge to both students and instructors: What are, for class purposes, referred to as "raisins," or the inevitable excretory byproducts of all of those treats the goats enjoy during class. Based on how often Nobles' dust pan and tiny rake are put to use, goats apparently have digestive tracts that'd rival a Switch watch in regularity.
Taylor also remembers the time when a goat climbed up onto a horizontal student "and just decided to use the restroom at that moment. … She didn't mind, thank goodness."
But such concerns are no issue to this morning's students. Tara Randolph loves both yoga and animals and has been doing yoga for about three years, but this is her first class with goats.
"Definitely, you can't take it too seriously because the next thing you know, you're going to do a pose and there's a goat in your space. Or goat droppings. Or several," she says. "It's just a fun thing to do."
It's also Dawn Messick's first goat yoga class; in fact it's her first-ever yoga class. She happened to see a goat yoga class in session the week before while walking her dog, asked what it was all about, and immediately signed up.
Her only previous yoga experience was watching a yoga video at home, and "I never did it really well," Messick says. "But, then, I thought: Goats. Even if I don't do the yoga, I'm here for the goats."
"I loved it," Messick says afterwards. "These guys are awesome. It's a lot of fun to be able to interact with them like that."
Plans for expansion
The goats come from Petting Zoo 2 U, a Las Vegas mobile petting zoo. Nobles says the yoga sessions help to socialize the baby goats for their adult careers as guests at birthday parties and other children's events.
Nobles says Goat Yoga Las Vegas also has started doing corporate events, and that future plans may include offering yoga sessions with cats, dogs and rabbits as fundraisers for local animal rescue organizations. He knows of nobody who has arrived at a goat yoga session and left disappointed because it wasn't, well, more serious about the yoga.
The name is "pretty self-explanatory," he says, laughing. "Everyone is smiling the entire time. I've never seen anyone not having a good time."
Contact John Przybys at reviewjournal.com. or 702-383-0280. Follow @JJPrzybys on Twitter.
If you go
Goat Yoga Las Vegas offers several classes each week. Classes are $20 per session and mats can be rented for $3. Registration is required — no walk-ups are accepted — and information can be found at GoatYogaLV.com.