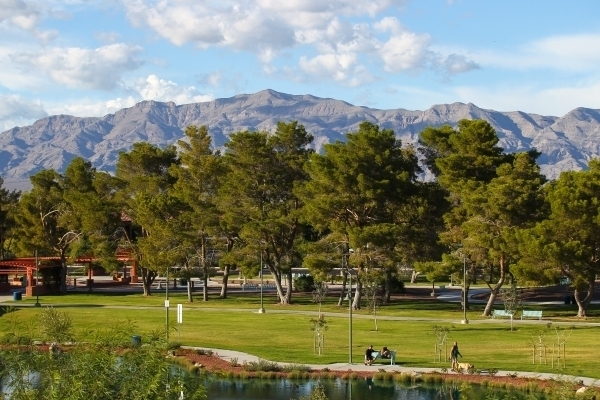 The Las Vegas area tumbled 10 spots this year to land near the bottom of a list ranking the health and community fitness of the nation's 50 most populated metropolitan areas.
The ninth annual American Fitness Index, released late Tuesday by the American College of Sports Medicine, ranks the area including Las Vegas, Henderson and Paradise as 41st overall.
Researchers assessed each area's health and fitness status by accounting for factors including self-reported exercise rates, the prevalence of health issues including obesity and diabetes, the presence of golf courses and swimming pools, investment into parks, and childhood physical education requirements.
"It's not just what we call personal health indicators — a desire for somebody to be healthy — but also, does the environment in cities support someone to be healthy," said Walter Thompson, advisory board chairman for the index and a professor of kinesiology and health at Georgia State University.
The Las Vegas area experienced the greatest drop on the list from last year to this year, falling from 31st place partly because of the area's obesity and smoking rates, which are at 31 percent and 17 percent, respectively, Thompson said.
Though 76 percent of area residents reported some exercise in the last 30 days, a five percent improvement over last year's numbers, only 26 percent said they exercise regularly, he said
Other cities have improved their personal health indicators, which also caused Southern Nevada to fall in the rankings.
In Washington D.C., which ranked No. 1 for the third year straight, 96.3 percent of the population lives within a 10-minute walk of a park, compared with 46 percent of the Las Vegas-area population.
"So half of the population in Las Vegas has to hop in their car to go to the park to exercise," Thompson said.
Professor Courtney Coughenour in the UNLV School of Community Health Sciences, who studies the influence of community design on health behaviors, called the report a great insight into the community's health.
"More and more people are realizing that health is more than people taking the initiative and going to the gym every day," she said.
Contact Pashtana Usufzy at pusufzy@reviewjournal.com or 702-380-4563. Find @pashtana_u on Twitter.