Las Vegas woman becomes first patient in US to receive cancer drug after federal approval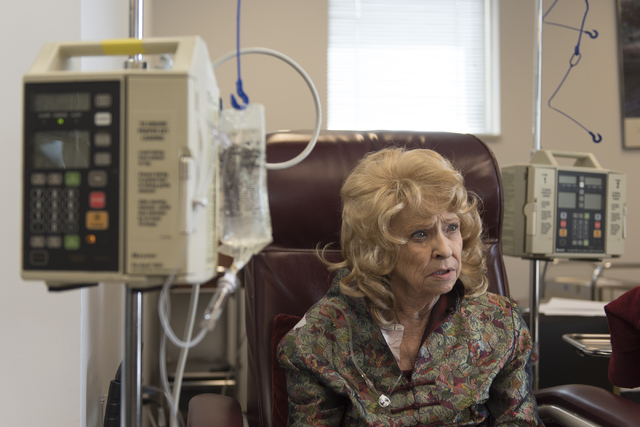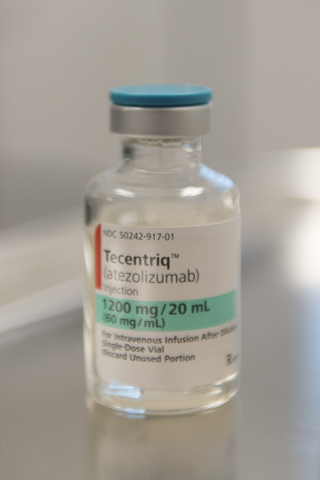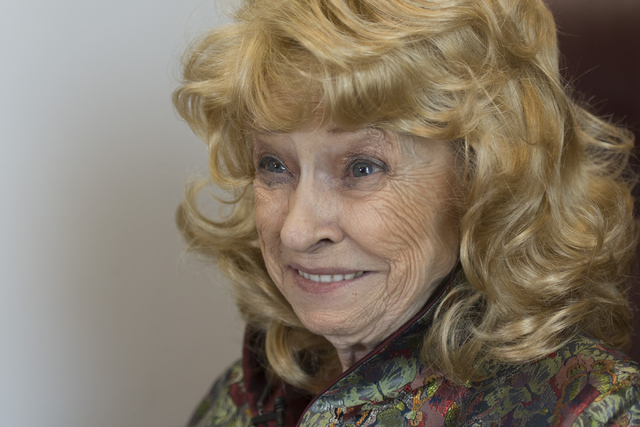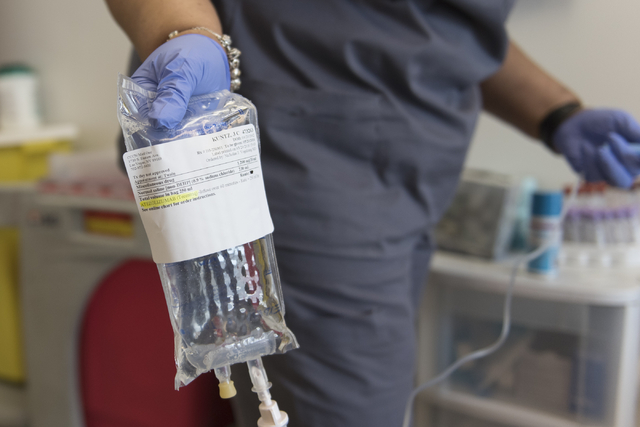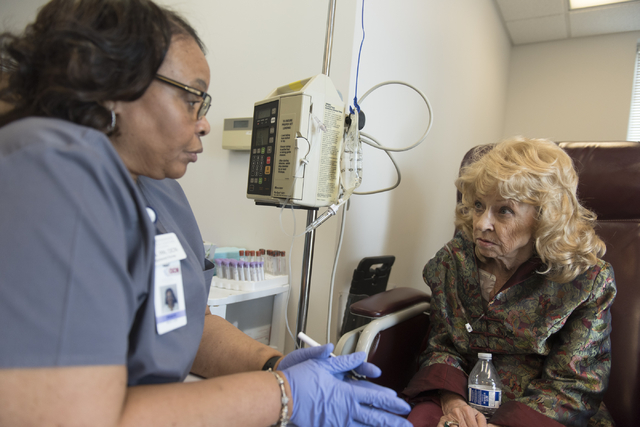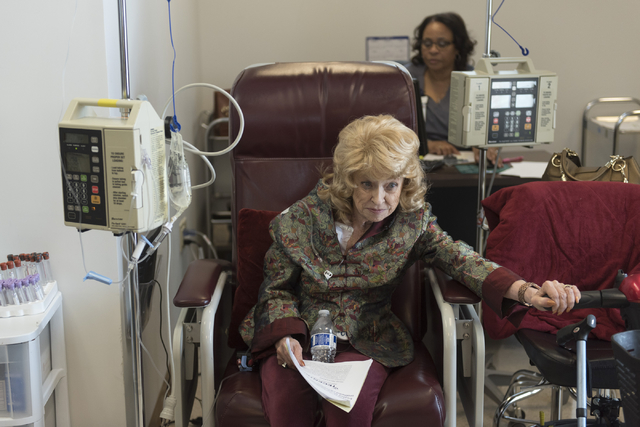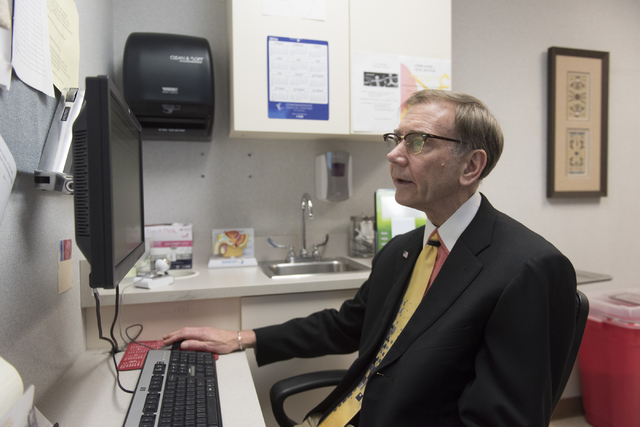 Despite a five-week hospital stay after surgery and multiple failed rounds of chemotherapy, 74-year-old Las Vegas resident J Carole Kuntz is still smiling.
"You're letting it win by being moody all the time, down all the time," Kuntz said, sitting with an IV poking into her arm at the Comprehensive Cancer Centers of Nevada.
At the center's central valley location Friday, Kuntz grinned often as she became the first cancer patient in the country to receive the drug Tecentriq since its U.S. Food and Drug Administration approval last week.
The immunotherapy drug, which was fast-tracked for approval based on what the FDA called its "potential to benefit patients with serious or life-threatening conditions," can now be sold to those suffering from urothelial carcinoma, the most common type of bladder cancer.
UCLA urologist Arnold I. Chin said the drug benefits certain patients by enhancing the anti-tumor immune response.
Medical oncologist Nicholas J. Vogelzang, who is treating Kuntz, said the drug works by preventing the cancer from signaling to the immune system to "put the brakes on" itself, he said.
This allows the immune cells to execute their functions.
"We're still not sure why it doesn't work for everybody because when it works, it works great," Vogelzang said.
Overall, about 15 percent of patients in a 310-patient trial "experienced at least a partial shrinkage of their tumors, an effect that lasted from more than 2.1 to more than 13.8 months at the time of the response analysis," according to the FDA.
The immune cells can be scored to "roughly predict who is more likely to benefit and who is less likely to benefit" from the drug, Vogelzang said.
He praised the drug as a major advancement in the field and said it can also prevent additional growth by tumors in some patients.
When the drug received approval Wednesday, Vogelzang quickly relayed the message to Kuntz, who happened to be in his office when he received the news.
"She's sitting there. Literally, there," he said, pointing to a chair in his office, "and I said, 'Would you like to be treated?'"
Tecentriq is given by IV, and common side effects include fatigue, nausea, decreased appetite, urinary tract infection, constipation and fever, according to the FDA.
The medication can also lead to infection and serious side effects that affect healthy organs including the lungs and colon.
The drug, which is for now FDA approved only for patients with advanced cases, works similarly to other targeted drugs approved for cancers including melanoma and lung cancer.
Calling these drugs disruptive is an understatement, said David McConkey, director of the Johns Hopkins Greenberg Bladder Cancer Institute.
"It creates so much hope and enthusiasm for us," McConkey said. "For decades, there hadn't been much light at the end of the tunnel."
Kuntz, who spent more than 20 years in the Navy, said the cancer now in her hip and femur hasn't prevented her from living her life. She still has goals she's hoping the new drug can help her reach.
"I want to see my granddaughter walk down the aisle," she said, "and she's only 8."
Chin said the drug's development is positive but there's still more work to do in the field. The National Cancer Institute estimates there will be 16,390 U.S. deaths from bladder cancer this year and 76,960 new cases.
"We still need to look for other therapies, combinations," Chin said.
Contact Pashtana Usufzy at pusufzy@reviewjournal.com or 702-380-4563. Follow her on Twitter: @pashtana_u