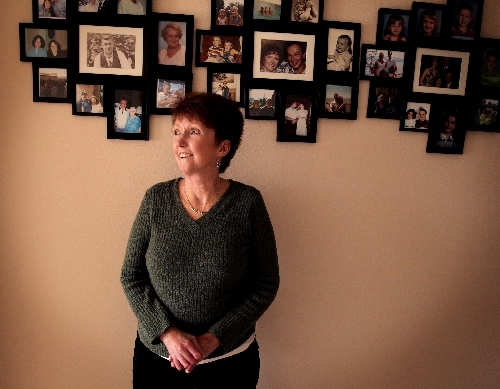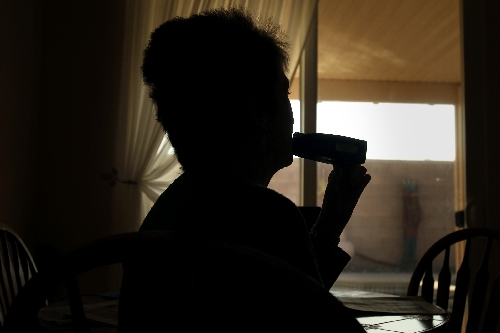 She woke up one morning with swollen hands that had turned blue.
That was 10 years ago, before her skin turned rock-hard and before her hands were twisted into what she now refers to as claws.
Doctors diagnosed her with systemic scleroderma, a connective-tissue disease that afflicts 40,000 to 165,000 Americans.
About two years ago, she became so tired from taking a shower that she needed to sit down and get an oxygen treatment.
Doctors diagnosed her with pulmonary arterial hypertension, a progressive and often fatal lung disease that affects approximately 100,000 people in the United States and Europe.
At 54, Elizabeth Gorka is a rarity of rarities — she's battling two of the 7,000 diseases that the world's top health officials classify as rare. There are no cures for what ails her, and doctors often try new drugs and treatments to manage her symptoms.
As she sat recently in her Centennial Hills home, Gorka described what she does to stay alive — she takes eight pills in the morning, six pills in the middle of the day and three at bedtime.
And she takes inhalation treatment six times a day that costs $15,000 a month.
She also tries not to worry because stress makes her conditions worse.
"I'm just glad," she said as she stared at cupped hands that were a raw-looking red, "that my husband, Phil, has good insurance."
He's a firefighter at the Nevada National Security Site.
She's also glad that officials with a California-based nonprofit organization known as the Rare Project have begun in recent months to aggressively educate people about rare diseases and to work with corporate America in an effort to raise money for research into rare diseases.
Dean Suhr, a development officer for the project, said that officials with the project — many of who have lost loved ones to rare diseases or had their lives severely compromised by them — hope to have corporations match dollar for dollar what people raise on behalf of a condition.
"So if there's a disease-specific support foundation that's raised $100,000 for research, we plan on getting corporations to donate $100,000 so the research effort can go faster," said Suhr, who noted that while lobbying efforts have just started, some corporate leaders "seem very interested."
Suhr said it is critical for the Rare Project to raise the public consciousness about the scope of the rare disease problem. Statistics show that one in 10 Americans, or about 30 million people, suffer from a rare disease.
In the United States, the Rare Disease Act of 2002 defines rare disease as "any disease that affects (fewer) than 200,000 people." Other countries have different definitions. Japan, for example, defines a rare disease as one that affects fewer than 50,000 patients.
All 7,000 rare diseases are listed at rareproject.org.
There are approved treatments for only about 200 rare diseases, sometimes called orphan diseases. The Orphan Drug Act of 1983, a federal law written to encourage research into rare diseases and possible cures, has produced 326 new drugs approved by the Food and Drug Administration. More than 95 percent of rare diseases have no therapy or drug. Dispensing pain medication is too often the best doctors can do.
Gorka said that although her rare disease drug treatments are FDA-approved, there is no way of knowing how long they can manage her diseases so she can stay alive.
She was a registered nurse working in Valley Hospital's intensive care unit when she was diagnosed with scleroderma.
"I figured I was going to die right away because I had treated someone who had it and that patient died from kidney failure that was a complication of scleroderma," Gorka said.
Scleroderma is an autoimmune disease, which means a person's immune system works against itself. In scleroderma, cells start making collagen as if there were an injury that needed repair. The cells do not turn off, making too much collagen, a process that can prevent the body's organs from functioning normally.
The changes that Gorka first saw in her fingers were caused by excess collagen that narrowed the blood vessels and reduced blood flow to her hands.
She said that despite the best efforts of Dr. Scott Harris, who has managed to keep Gorka's kidneys from shutting down, medications couldn't stop her hands from "turning into claws" or making her skin so taut that opening her mouth is a struggle.
Despite the struggle with the disease, Gorka continued to work as a nurse, though not at the bedside. Her hands wouldn't even allow her to dispense medications.
First, she trained other nurses, and then worked with statistics in quality improvement programs.
"I really loved nursing," she said. "It made me feel so good to help other people."
When the medications for scleroderma couldn't keep her from developing pulmonary arterial hypertension, which is abnormally high blood pressure in the arteries of the lungs, she had to quit the profession she loved.
The right side of the heart began to work harder than usual and she quickly became short of breath and tired easily.
Because of the nature of sclerodema, which can cause arteries to narrow, patients are at high risk of developing pulmonary arterial hypertension.
Dr. George Tu, a pulmonologist who had been staying abreast of her case because of that risk, said he realized he had to treat Gorka aggressively with oral medications and inhaled medicine. "She was deteriorating rapidly," he said.
Instead of putting her on one medication, the normal protocol, he had her on three at once.
"Fifteen years ago there would have been nothing for her," he said. "What we're doing now is trying to relax the blood vessels in her lungs to keep her from ending up with heart attacks or heart failure."
Gorka's health remains fragile. She often has to use oxygen to get through the night.
Tu, who's been impressed with Gorka's positive attitude, said he and other physicians who treat patients with rare diseases need more treatment options.
"The problem is that if pharmaceutical firms spend a lot of money on research to come up with a treatment, they want a return on their investment," he said. "But that's difficult when only a few people have a disease."
There may be as many as 50 people who suffer from the same conditions as Gorka in Southern Nevada, Tu said.
Though her conditions have severely limited her life — reading is now what she does most — Gorka feels lucky.
"I have a wonderful husband who helps me do everything," she said. "I'm looking forward to him driving me to Michigan this summer. I've got grandchildren to see. I've got a lot to be thankful for. Other people haven't made it this long."
Contact reporter Paul Harasim at pharasim@reviewjournal.com or 702-387-2908.
What are the odds of having a rare disease?
■ 10 percent of Americans suffer from a rare disease (approximately 30 million people)
■ Europe also has approximately 30 million with a rare disease
■ More than 350 million people worldwide have a rare disease
■ If all of the people with a rare disease lived in one country, it would be the world's third-most populous country
■ 80 percent of rare diseases are genetic in origin
■ 75 percent of rare diseases affect children
■ 30 percent of children with rare disease will not live to see their fifth birthday
■ Rare diseases are responsible for 35 percent of deaths in the first year of life
■ There are more than 7,000 different types of rare disease
■ 80 percent of all rare-disease patients are affected by just 350 rare diseases
■ 95 percent of rare diseases have no FDA approved drug treatments, according to data published by the Kakkis EveryLife Foundation
■ More than 95 percent of rare diseases have no therapy or drug
■ 50 percent of rare diseases do not have a disease-specific support foundation
SOURCE: www.rareproject.org