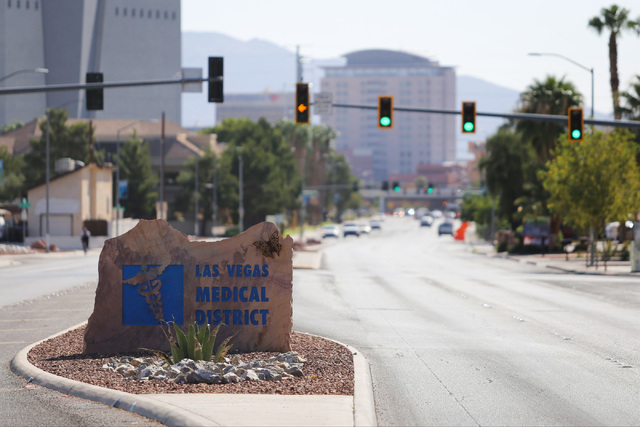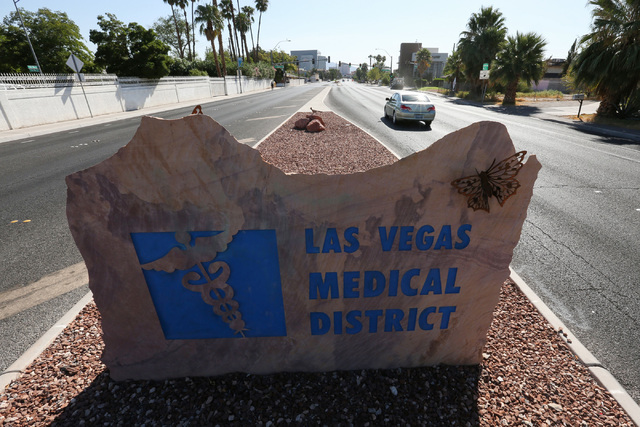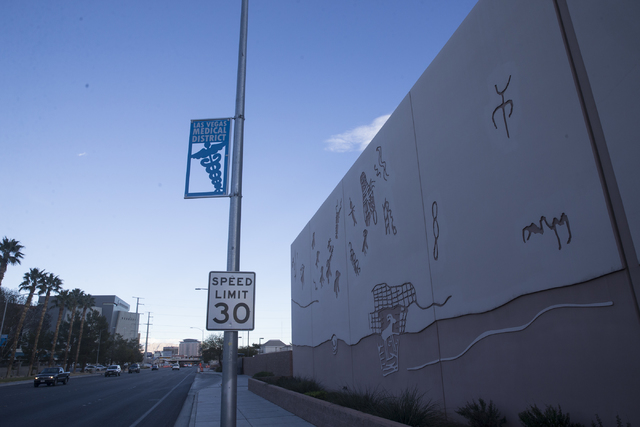 University, health and city officials gathered for a town hall event Tuesday night looking forward to the development of the UNLV School of Medicine and the medical district surrounding it.
The event at Las Vegas City Hall offered an in-depth review of the UNLV School of Medicine's progress in establishing the first allopathic medical school in Southern Nevada, but it also showed that city officials believe the school is integral to their efforts to develop a sprawling medical district in the central valley.
"The reality is you can never have a world-class city without world-class medical care and without medical research," Las Vegas Mayor Carolyn Goodman told the gathered crowd of about 100 health care professionals, university employees and members of the public.
The UNLV School of Medicine, which is so far housed in two locations within the Las Vegas Medical District and is expected to construct a permanent campus in the area, will begin classes July 17.
The school, which received preliminary accreditation in October, began student interviews within two weeks of that notice and drew 905 applicants for 60 positions. In step with Dean Barbara Atkinson's brisk timeline, the school is expected to have its full class of students selected by the end of March.
"When I first came everybody told me, 'The most important thing: This is Las Vegas, you have to do it fast. People lose interest if you don't do it fast,'" she said.
The district, established in 1997 to create an area of concentrated medical activity in Las Vegas, covers 684 acres with a core 214-acre area between Charleston Boulevard and Alta Drive, from Rancho Drive to Martin Luther King Boulevard.
Though it's been a thought of local medical professionals and leaders for years, ideas for the district and its development have boomed since the establishment of the UNLV School of Medicine.
City officials have worked with the Regional Transportation Commission and other entities to ensure quick roadway access to the district, and they also have worked to widen sidewalks and beautify the landscape. They have invested more than $36 million in infrastructure in four years and expect to pump in another $97 million in 2018 and beyond, said Betsy Fretwell, Las Vegas city manager.
The investment in the medical district and the medical school is expected to pay off, city and university officials say.
By 2030, the medical school is projected to have an economic impact of $1.2 billion, according to a December 2013 report by consulting firm Tripp Umbach. Combined with the growth of the medical district, that impact increases to $3.6 billion within the next 20 years.
Atkinson said that the growth of a new medical school in a new medical district provides opportunities for collaboration with local physicians and allows the homegrown medical community to grow alongside the needs of the area.
"The good news about a new medical school is we can do it different ways," Atkinson said.
Contact Pashtana Usufzy at pusufzy@reviewjournal.com or 702-380-4563. Find her on Twitter: @pashtana_u