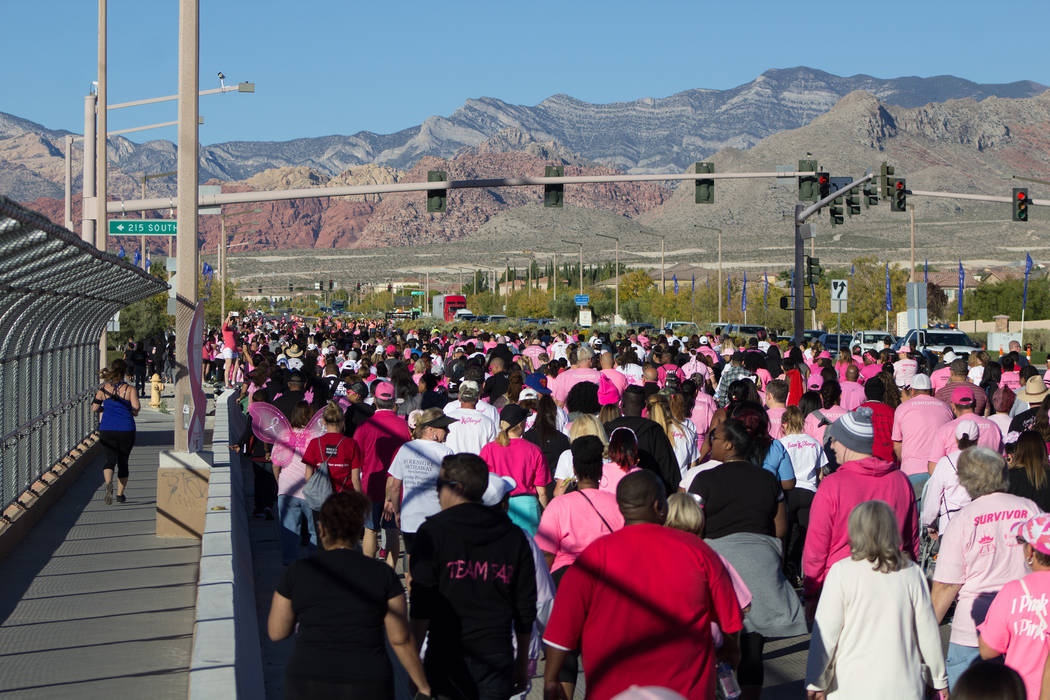 On Sunday, thousands of survivors, families, friends and individuals who never met each other — but are united in one goal of finding a cure for breast cancer — will turn out to physically and vocally show their support in the American Cancer Society's annual Making Strides Against Breast Cancer walk.
This noncompetitive 5K fundraising walk kicks off from the Red Rock Resort at 8 a.m. when participants head west up Charleston Boulevard, crossing over the 215 Beltway into the western portion of the Summerlin community and then heading back to the resort.
Some 26,000 walkers participated in the 2017 event, raising not only awareness of breast cancer, but $700,000 through individual contributions and corporate sponsorships. This year the goal is $850,000.
Entertainment and activities planned at the Red Rock Resort staging area include kids activities sponsored by The Home Depot, DJ Jodi of Sight &Sound Events, emcee Steph Mackenzie and a VIP survivor area.
"If you want to celebrate life and show your support for people fighting cancer, then this high-energy event is for you," said Josiah LaRow, community development manager of the American Cancer Society Western Region. "This walk is a great opportunity for the community to come together and show their support. If you wear pink, this will inspire other people, too."
LaRow said registration is free and can be completed online at MakingStridesWalk.org/LasVegas. People can also call LaRow at 702-891-9015 or register on-site at 7 a.m. the day of the event. Individual teams are encouraged to participate and can call LaRow for advice on raising money. All donations are tax-deductible.
Flagship corporate sponsorships of $40,000 also are a large part of the Making Strides Walk. Companies participating this year include Station Casinos, Red Rock Resort, Caesars Entertainment, Smith's Food &Drug, Molly's Gaming and Spirits, and the OptumCare Cancer Center.
Corporate opportunities for the 2019 Making Strides Against Breast Cancer walk will be available in November. Interested companies are encouraged to contact LaRow at Josiah.LaRow@cancer.org or call 702-891-9015.
Crystal McCann, 60, is a fourth-year participant in the Making Strides Against Breast Cancer walk. She is a two-time survivor of breast and ovarian cancer.
"I am very passionate about Making Strides," she said. "I want to educate women to make sure they get mammograms. Cancer can hit any woman. There are so many women out there who don't get a checkup, and that's why this walk is so important because it brings attention to breast cancer."
McCann is the general manager at Molly's Gaming and Spirits and said she is proud that her company is a flagship sponsor of the Making Strides walk. She encourages other local businesses to become sponsors.
McCann's support for Making Strides stems from the fact that its donations help cancer patients in Southern Nevada. She said the local American Cancer Society organization provided rides for her during cancer treatments, and women are given wigs and makeup guidance following chemotherapy.
Cindy-Lou Wooten, 62, participated two years in the Making Strides Against Breast Cancer walk, but this year she is lending her support as a volunteer photographer. She is a 12½-year breast cancer survivor.
"I get very involved with the American Cancer Society because they helped me when I did my treatments," Wooten said. "This event is a chance for everybody who has gone through cancer to be together in support of each other."
Tena Lester, who has been participating in the walk since 2010, said she got involved because her sister developed breast cancer, which is currently in remission, and the American Cancer Society has been a valuable resource in fighting the disease.
"I did a lot of research on the American Cancer Society, and the majority of the money they raise does go toward research and helping people who can't afford treatment," Lester said.