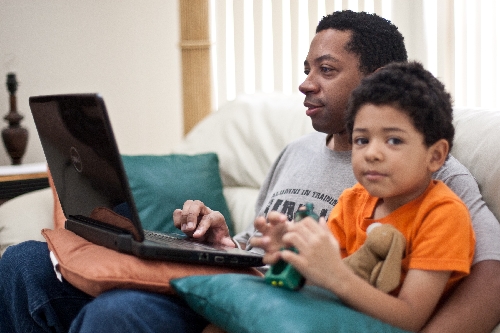 When someone does you a favor, don't pay it back, pay it forward.
That's part of the vision of northwest Las Vegas resident Marcus Mitchell, founder of the Stomach Cancer Relief Network, headquartered at 6069 S. Fort Apache Road, Suite 100. He is on a two-pronged effort to do good. Part of it follows the "pay it forward" mind-set. The other gives monetary grants to those facing stomach cancer.
In September, Mitchell was honored with an Ordinary People, Extraordinary Measures Award by the Nevada chapter of the Community Associations Institute.
The road to this point has been a long one for Mitchell, who lives just north of Summerlin.
Mitchell and his wife, Yanira, welcomed their first child, Noah, in March 2007. With the joyous welcome came equally emotional news: Yanira was diagnosed with Stage 4 stomach cancer. The pregnancy had masked her symptoms.
"At first I thought, 'Hopefully it's something simple and can be taken care of,' " said Mitchell, "until I got home and got on the computer and looked up linitis plastica, and I was like, 'This is not good. This is not good,' and I just started praying."
Doctors gave his wife six months to live, and she was admitted to a hospital in California. Mitchell had to keep working in Las Vegas to keep the family's health care coverage. His mother, Gwendolyn Smith, took care of their newborn son as he flew to be with Yanira each weekend. The travel expenses, combined with the medical costs, put a strain on the family's finances.
More prayer brought him a vision for doing good.
"It just came to me: We need to help other people in our situation," he said. "We need to give them some little grants, a little financial assistance because we saw (how) it was. All of a sudden, the little things became big things (in a medical crisis). A simple little $100 when you're working is nothing, but when you stop working, and you don't have access to an income like that, $100 is huge. We can help people, and we can donate for better research for stomach cancer."
Yanira never got to see his vision come to fruition. She died Sept. 6, 2008.
After a period of mourning, Mitchell focused first on paying it forward through his Twitter account, @GuyNSinCity. The first thing he gave away was more than a dozen pizzas at Santa Fe Station's food court. Although he had tweeted the location for the free pizza, no one showed up, so he handed them out to random families leaving the activities area. All he asked in return was that the recipients did a good deed for someone else without expecting anything in return.
He said a lot of people never saw the movie "Pay It Forward," so he often has to explain the concept. He said it makes him "feel great and all warm inside to give these things away."
"You put these ripples out, and that's the most important thing," he said, "because I will never know the impact of any of these acts that I've done the last three and a half years … how far it's been paid forward and will ripple into more kindness. And that's beautiful. People will go home and tell everyone, 'Hey, I got these tickets, and they were free. They were like $200, $300 tickets.' You're not going to forget something like that."
He has stood on the street and given away show tickets, meals and gift cards. A gut feeling, said Mitchell, tells him which people to approach.
His Twitter account began with 50 followers and now has 21,000. In September 2009, Melissa Shipworth received free rodeo tickets.
"I met him on Twitter, and I know a lot of my friends followed him … When I won, and he wasn't asking me for credit card information, I figured it was pretty legit, and I thought it was kind of cool that someone would do that," she said. "I didn't realize he did it as a 'pay it forward' thing until I met him. I thought it was an online contest. I thought it was cool. Not a lot of people are like that, in fact, most are just the opposite of that, so I thought it was cool that he was doing something nice for someone else."
He estimated he has helped more than 1,000 people and given away more than $30,000 worth of items.
The other part of his vision is to support the Stomach Cancer Network. He has handed out $150 to $200 one-time grants to about two dozen people facing cancer. He recently wrote a $500 check for stomach cancer research being done in Las Vegas at the Nevada Cancer Institute, which led to his award.
Donna Houle, chairwoman of the Community Associations Institute sub-committee that put the event together, was the one to nominate him.
She said she kept seeing his tweets about "giving away a $75 gift certificate to whatever. … So, I looked more into it, and I saw what he was doing, and I read his story. … He does things like the two little girls that were hit by a bus a while ago and one of them passed away … one of the little girls has to go to therapy all the time, so he's given them money, given them rides because they have no car. He's really humble."
Mitchell said his method for getting monetary support can only be called divine intervention. Strong in his faith, he prays daily. About once a week, he said, a feeling comes over him as he prays. That feeling means he should go play the craps tables, he said, and it never fails that he leaves the casino a winner. If he goes to the casino without that good intention vibe, he invariably loses, he said.
With each win, he pumps half the money into the network and "pay it forward" deeds.
Mitchell could have used the money himself after losing his house in Aliante but said that is not what he is about.
Even the expense of renting an office near Southern Hills Hospital & Medical Center felt right, he said, although it didn't make sense to him. He prayed and kept getting the same answer: Don't worry about it.
It's small, only about 300 square feet, and costs $800 a month. Somehow, he said, the rent money always comes to him.
"I always found a way," he said. "It's been two years, and I still think it's a waste of money, but then, I feel if it's not my money because I get it, and then I give it back."
For more information about the network, visit scrnet.org.
Contact Summerlin/Summerlin South View reporter Jan Hogan at jhogan@viewnews.com or 387-2949.
Stomach Cancer Relief Network
For more information about the Stomach Cancer Relief Network, visit scrnet.org.