Medical librarians help students, professionals keep abreast of latest research, information
October 24, 2016 - 9:07 pm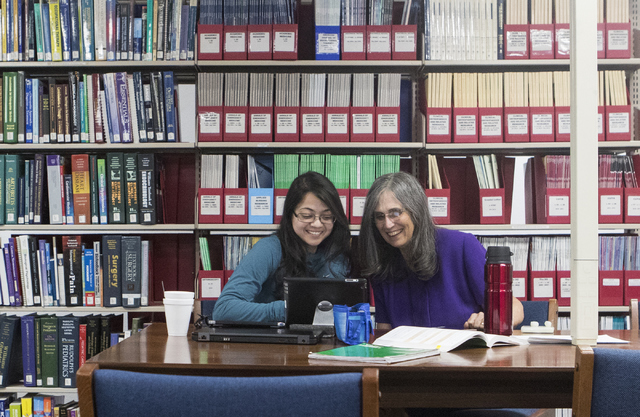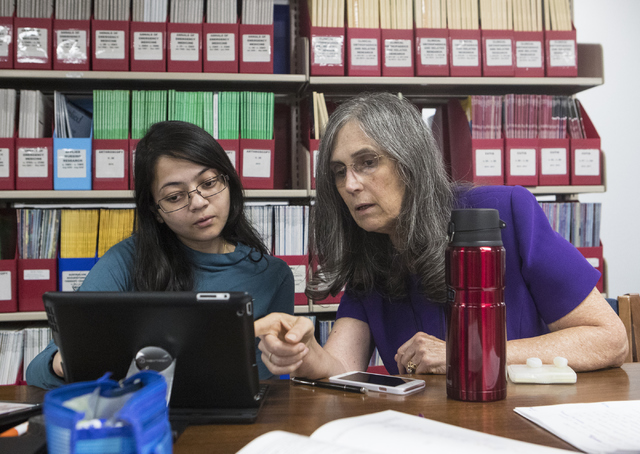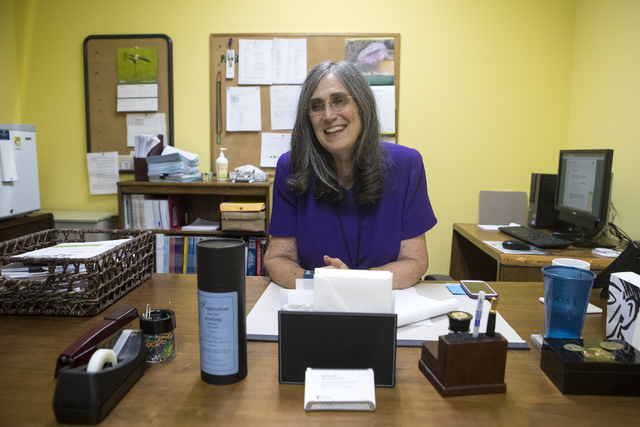 June Simms doesn't wear a white coat, she doesn't use a stethoscope during her workday, and she probably won't ever be called upon to perform an emergency appendectomy.
But Simms is as much a part of Southern Nevada's patient care landscape as any doctor, nurse or medical professional, and the one member of your health care team you've surely never met.
Simms is an assistant professor at Touro University Nevada College of Osteopathic Medicine and library director of the medical school's Jay Sexter Library. As library director, she helps keep physicians, staff and the school's doctors-in-training up to date on the latest medical research and teaches them research skills they'll use throughout their careers.
Medical librarians are celebrating their profession during October, National Medical Librarians Month, and the Medical Library Association offers evidence that, while patients may never meet a medical librarian, the work the librarian does has a direct relationship on the quality of health care patients receive.
For example, according to the association, one study reported that 86 percent of health professionals surveyed said information that medical librarians had provided to them had a positive effect on the care patients received. Other studies indicate that medical librarians' services have helped avoid such adverse events as misdiagnoses, drug reactions, medication errors and patient mortality, the association said. Another study said information provided by medical librarians helped prompt changes in patient care, drug choice and diagnoses.
Medicine is, at its base, a constantly evolving and expanding body of knowledge that physicians and researchers must stay on top of long after they graduate from medical school.
"I think that, sometimes, people have the idea that clinicians just know — just have — the right answers," says Joanne Muellenbach, founding director of the Health Sciences Library of UNLV Libraries.
But keeping current in medicine — keeping up with new drugs, procedures or treatments — can be a struggle for busy health professionals, she says, and that's where medical librarians can help.
Simms' professional focus is on the students, faculty and staff of Touro. She works in a library that's most surprising for its dearth of printed materials. A few lonely bookshelves hold a small number of books and bound volumes, but most of the information medical students and physicians seek today is contained in digitized form via electronic books, digital journals or websites.
Simms has been at Touro University Nevada since it opened in 2004, and says the migration from paper to digitized materials has been the most noticeable change her profession has experienced during the past couple of decades.
The migration has made the job a little more streamlined, as far as processing things, she says, and also "makes it easier for us to deliver information outside our physical boundaries to people wherever they are. If they have internet access, we can deliver it to them."
Just as public libraries purchase materials their customers may borrow, medical libraries offer health professionals access to research, studies and journals that can be too expensive for individual students and physicians to obtain, Simms says.
"It's not just providing access, but then having them navigate through all of the different interfaces and platforms and provide help to them so they can become lifelong learners," Muellenbach says. "We want them to be able, wherever they end up in life and in their practice, to have the skills to find the information they need."
The UNLV medical library is the third medical library that Muellenbach has founded. Today, she says, "at least 95 percent of information is online. As a result, we need to be very up to date on technology."
Medical students and physicians are very busy, she adds, and "don't necessarily have the time to do exhaustive searches in different databases. Oftentimes, we have been able to meet with them and let them know about evidence-based (resources) or tools."
Most medical students today have been on the internet their entire lives. But medical librarians help train them in seeking out solid, evidence-based resources.
"They come in with all different backgrounds," Simms says. "Some have a really good handle on what's good information and what's not good information. Then, others are not going to necessarily have a handle on that."
As a medical student, "there's so much to know," says Ori DeVera, a Touro medical school graduate and second-year family medicine resident with Valley Hospitals. DeVera says the assistance medical librarians offers is useful in daily practice.
"They played an important role in our training," says DeVera, who had experience using online resources when he entered medical school. "But as part of our education, they pointed us to which resources are acceptable and which are not acceptable. That really shaped the way we do our research and are going to do our research going forward."
Read more from John Przybys at reviewjournal.com. Contact him at jprzybys@reviewjournal.com and follow @JJPrzybys on Twitter.