Meet this Las Vegas ambulance company's therapy dog — PHOTOS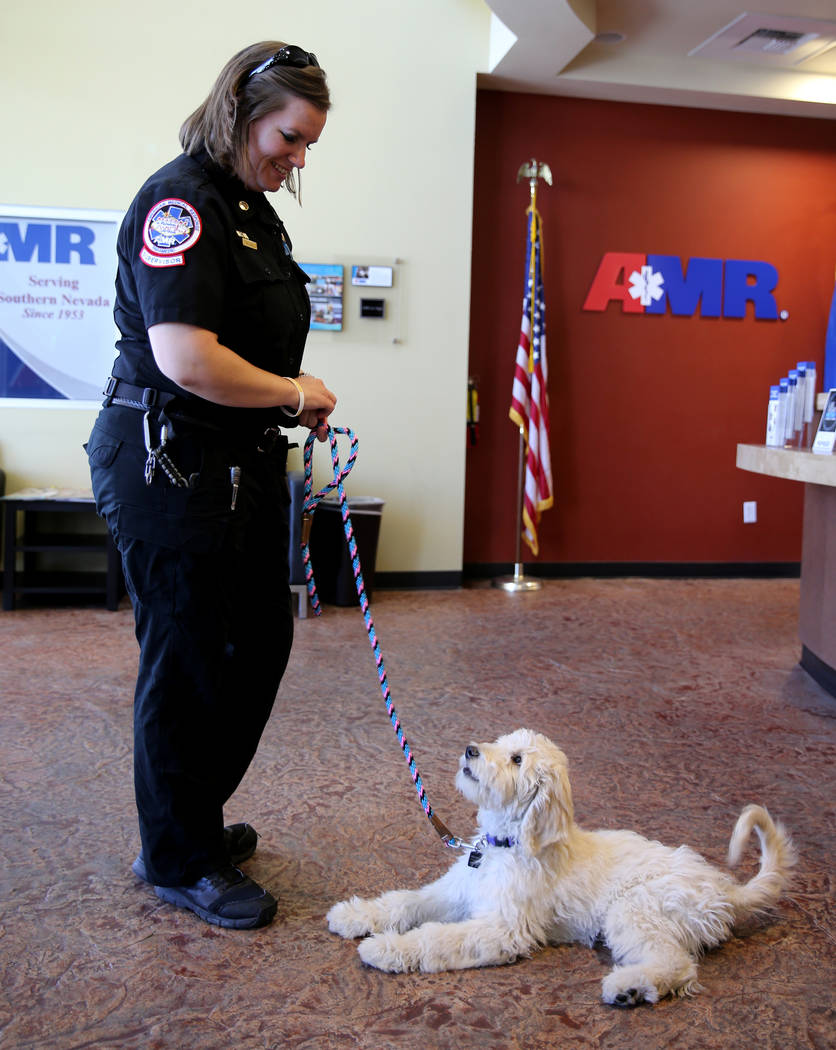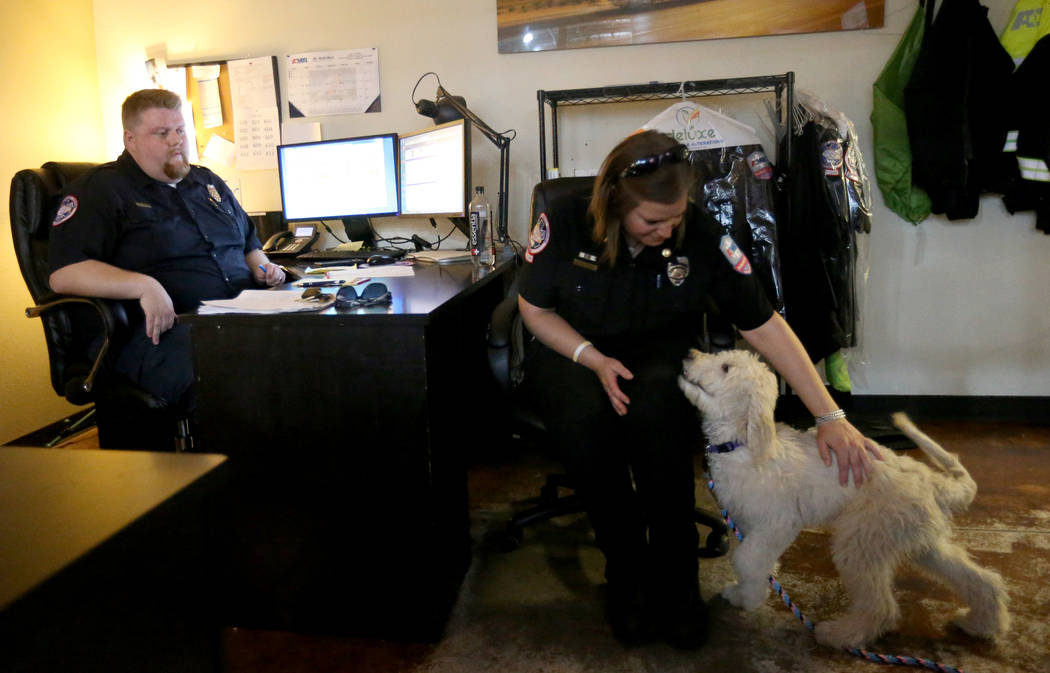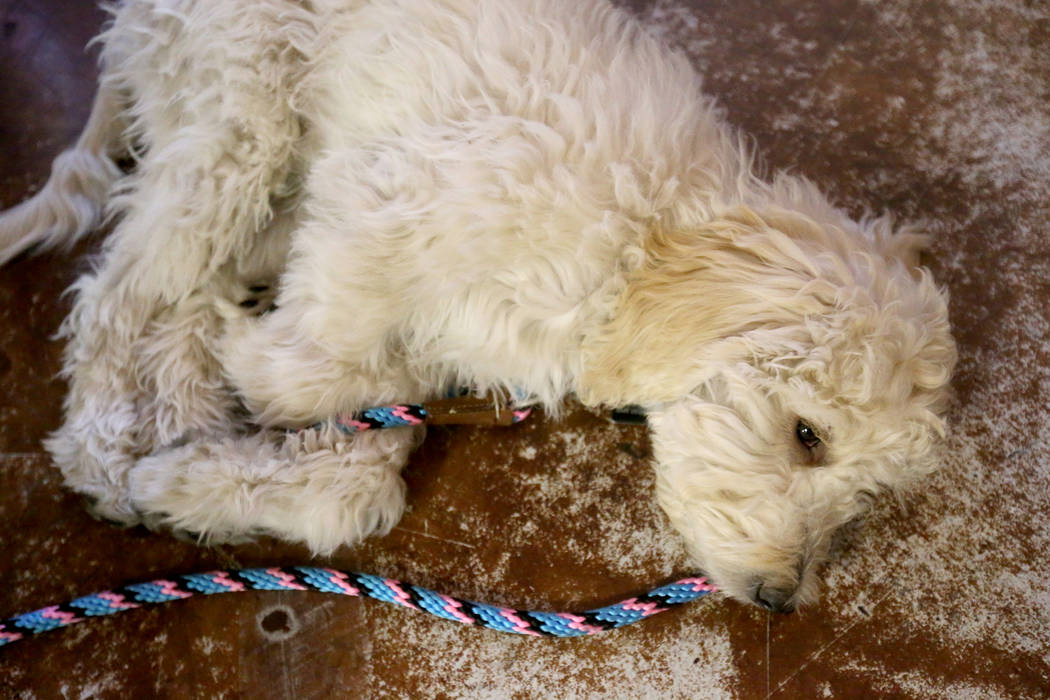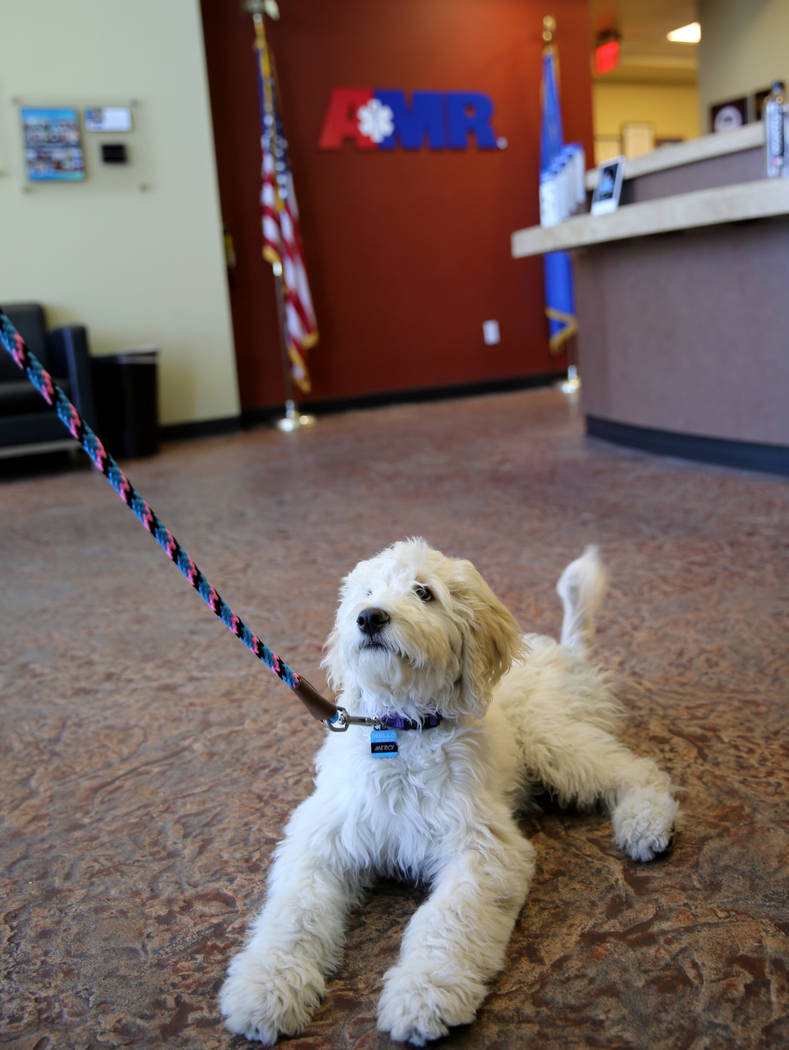 There's a new therapist in town, and she's a little, well, furry.
Mercy, a 4-month-old goldendoodle, became the newest American Medical Response and MedicWest employee in July. She'll serve as the ambulance companies' therapy dog once she's fully trained. The inspiration for adding Mercy to the team came from the aftermath of the Oct. 1 shooting on the Strip.
"After October 1, my team and I witnessed firsthand how incredibly beneficial the therapy dogs … were for our 383 first responders from AMR and MedicWest who responded that night," regional director Scott White said in a recent news release.
Mercy's mom and dad, Saydee and Bodhi, visited AMR in Las Vegas after the shooting, which killed 58 and wounded hundreds more during a country music concert outside Mandalay Bay.
Therapy dogs can help calm those coping with mental trauma, anxiety and depression. Damon Schilling, government and community affairs manager for AMR, said he watched paramedics soften around Saydee and Bodhi and process their emotions with the animals' help.
"Paramedics for the most part are those strong-faced, strong-willed individuals. Nothing can bother us," Schilling said. "These employees had to realize it was OK to break down; it was OK to cry."
Mercy, who is scheduled to complete her training within the next year, will work full-time at the AMR headquarters station in Las Vegas. Her trainer, paramedic supervisor Megan Leclair, said Mercy will likely pass her certification tests before then, but will need to mature before living at the station.
Once she's ready to work, Mercy will earn an AMR and MedicWest vest to signal she's on-duty. The ambulance company plans to hold a graduation ceremony for the pup.
Until then, she's prancing around AMR on puppy paws, learning commands like "sit" and "stay" and earning a treat from Leclair when she follows orders.
"(Therapy dogs) are really wonderful," said Leclair, a 10-year certified dog trainer. "Even if somebody doesn't want to talk, having an outlet and someone who loves you, it's very beneficial."
Related
Therapy dogs, owners comforting Las Vegas shooting victims
Students' best friend: Las Vegas school getting therapy dog
Contact Jessie Bekker at jbekker@reviewjournal.com or 702-380-4563. Follow @jessiebekks on Twitter.