Men don't let fertility problems keep them from enjoying Father's Day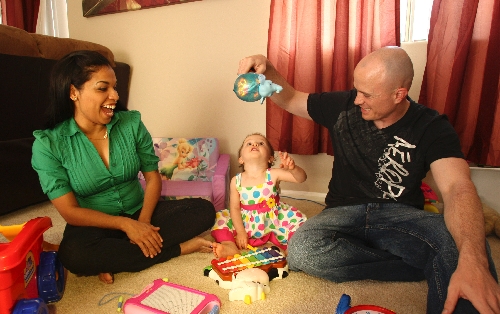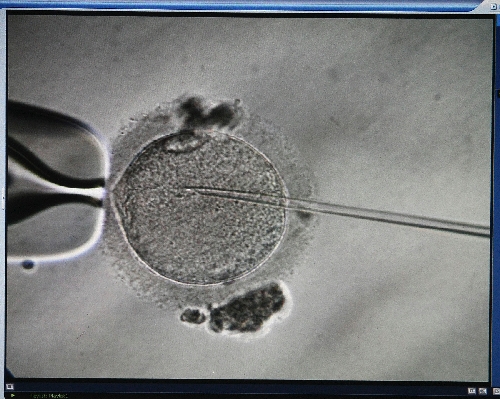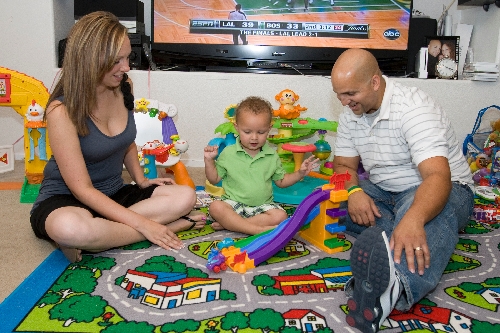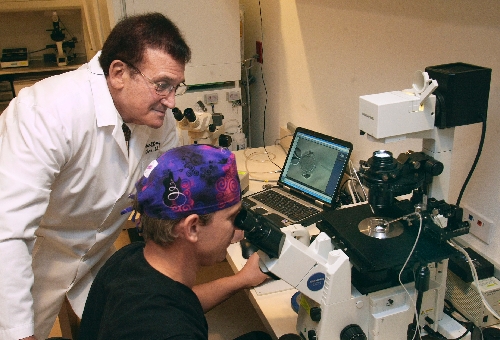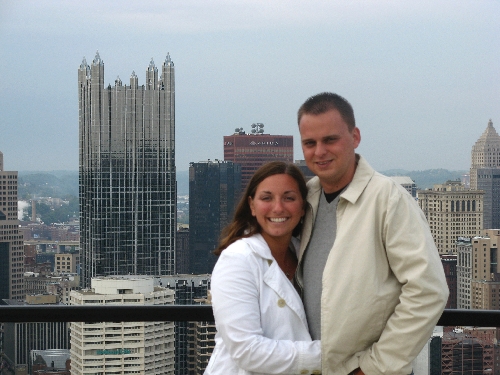 When medical tests performed on Army Sgt. 1st Class David Shackleton, Brinks armored truck driver R.J. Bailey and computer whiz Scott Mattila found that their sperm had fertility problems, they questioned their own masculinity.
Ignorance, they will tell you on this Father's Day, is not bliss.
Like many men, they hadn't questioned the prevalent macho myth that equates male infertility — "shooting blanks" — with weakness and a lack of manhood.
That belief is foolish, the two fathers and a father-to-be came to realize after being treated with their wives for fertility problems.
As his giggling 17-month-old daughter Yanessa took turns kissing his pregnant wife Yusmerys and "Daddy" in the family's northwest Las Vegas apartment, Shackleton, now stationed at Creech Air Force Base, admitted that the test results shook him.
"I felt I wasn't as much of a man," said Shackleton, a veteran of combat tours in Afghanistan and Iraq.
That sentiment about being less of a man because of dysfunctional sperm once was shared by Bailey and Mattila.
"What you've got is a medical problem, not a manhood problem," said Mattila, who traveled with his wife, Amy, from Oklahoma to Las Vegas for treatment at the Sher Institute for Reproductive Medicine. "If you want a family, you have to suck it up and be a
man. The treatment can work. I've got twins on the way."
It is well past time for men to understand that there is no connection between infertility and masculinity, according to Dr. Geoffrey Sher, medical director for seven reproductive clinics that bear his name across the nation.
"I think Father's Day is a particularly appropriate time to discuss male infertility," the 67-year-old Las Vegas physician said.
He has long been a world leader in the field of in vitro fertilization, a laboratory procedure in which sperm are placed with an unfertilized egg in a petri dish to achieve fertilization. The embryo is then transferred into the uterus to begin a pregnancy or frozen for future use.
Sher trained in London with the father of in vitro fertilization, Dr. Patrick Steptoe, before establishing the first private program in the United States in 1982.
"Many men who might like to have a family don't, because they hold on to an ill-conceived notion of what being a man is," Sher said in his office near Spring Valley Hospital.
Influential in the births of 16,000 babies, Sher has more than 200 scientific papers to his credit and has authored one of the most widely read books on reproductive issues, "In Vitro Fertlization: The A.R.T. of Making Babies." Oprah Winfrey's website (oprah.com) carries his take on infertility.
Sher said men, and often women, believe women are the main cause of infertility; but he said statistics don't bear that out. One third of infertility is because of the man, one third the woman and the remaining third, a combination of both partners.
Despite major advances in the treatment of infertility, Sher said, "One of the biggest challenges remains how to address the still prevailing reluctance on the part of many men to confront their role in the infertility equation."
"It is not infrequent to have a woman arrive for an infertility consultation without her partner," said Sher, whose Las Vegas clinic treated patients from 23 countries in 2009.
Shackleton, Bailey and Mattila were willing to get their sperm tested and then go forward with fertility treatments after dealing with what they initially saw as a blow to their manhood. But many men don't want to get involved in the process at all, Sher said.
"Many men seem to believe if they don't deal with the problem, somehow it will go away," he said.
When that happens, relationships can sour, Sher said.
"I've seen guys have marital problems because they can't talk about this," said Bailey, who now has a 2-year-old boy, Brayden, with his wife, Serenity. "A lot of women want family, and you have to talk about it or you're going to have trouble."
What makes the hesitancy on the part of men to get treatment particularly sad, Sher said, is that male infertility is 95 percent treatable.
A semen analysis will show if the sperm are shaped properly, how well they can swim and if their numbers are great enough for procreation.
The reasons for compromised sperm include: childhood viruses such as mumps; testicular trauma that could have come from something as simple as a bicycle accident; exposure to radiation or chemotherapy for cancer; toxicity from heavy metals such as lead; and glandular and hormonal problems.
Hormonal, antioxidant and vitamin therapies are sometimes enough to improve sperm function. But studies have shown that the best way to deal with moderate to severe male infertility is through a combination of in vitro fertilization and intracytoplasmic sperm injection. That's a scientific way of saying a sperm sample taken from the man is injected into the middle of each of several eggs surgically removed from a woman who has already taken medication to stimulate egg production.
That removes the male component from the fertility equation. Now the egg has become the determining factor as to whether it becomes a viable embryo and ultimately results in a successful pregnancy.
The fertilized eggs sit in a petri dish in the lab to grow from a single cell to thousands of cells for about five days. Most embryos do not survive because they are chromosomally abnormal.
The best embryos are transferred via catheter and needle into the woman's uterus. Any leftover normal embryos are frozen and stored for future use.
A week later the woman takes a pregnancy test.
According to national statistics, the national average for a successful pregnancy on the first attempt is about 37 percent. Sher said his clinics average 50 percent.
"We first went through that process when I was stationed in Hawaii, and we were successful on our first attempt," Shackleton said. "I can't believe how happy we are as a family. It's what we always wanted. I'm so proud to be a father."
When his wife was implanted with a frozen embryo that had been flown to Sher's clinic from Hawaii, the process was again successful. The couple is now expecting a second child in February.
The Mattilas had an unsuccessful attempt at pregnancy at a fertility clinic in Germany when Capt. Amy Mattila was stationed there as an occupational therapist, but they quickly became pregnant after visiting Sher's Las Vegas clinic
Bailey and his wife, who had an unsuccessful experience at another Las Vegas clinic, used donor sperm provided through the Sher clinic to quickly conceive Brayden.
"I was stunned when I found out my sperm couldn't make babies," said Bailey, who was told by a doctor that trauma from a horrific motorcycle accident almost six years ago could have created the problem.
Bailey said he and his wife considered several options, including adoption.
"But my wife wanted the experience of having a baby," he said.
As Bailey talked, his son Brayden motioned to the television where a Lakers-Celtics NBA Finals game was on the screen.
"Ball," the jumping boy said, pointing.
"You can really jump," the proud father said, grinning. "You'll be great at basketball."
Bailey's eyes glistened.
"I consider Brayden my boy all the way. I teared up last Father's Day just watching him," Bailey said. "My wife and I wanted a family and we have it. I feel like I'm the luckiest guy on Earth. There isn't a thing that I wouldn't do for him. Both sets of his grandparents spoil him so much."
The cost could cause some people to steer away from fertility clinics, according to all three men.
A single round of in vitro fertilization costs around $8,000. But most insurance policies cover only 20 percent of the costs such treatment.
In the 1990s, Sher began a plan for patients that is being adopted at other fertility clinics. While he offers a single round of in vitro fertilization for about $8,000, he offers three tries at around $15,000.
If the process works on the first cycle, the patient has obviously overpaid. But if it doesn't work on three tries — Sher says he has an 80 percent success rate on three tries — the patient gets a refund.
Women under 30 receive a 50 percent refund after three failed attempts; women between 35 and 38 get 25 percent.
Sher is trying to develop a low-interest loan program for fertility treatment.
Though his experiences with fertility at another clinic caused him to run up a total bill of near $30,000 to bring Brayden into the world, Bailey said he has seen the hand of the Lord in the creation of his family.
"I got a nice settlement after I was almost killed by somebody who pulled out in front of me," he said. "That's how I covered it. And that's how I got to be a father.
"And that's the best thing in the world."
Contact reporter Paul Harasim at pharasim@reviewjournal.com or 702-387-2908.
RELATED STORIES:
• SEEING DOUBLE ON FATHER'S DAY: Like Father, Like Son
• INSTANT DADS: Men who marry women with kids take on additional love, joy, responsibilities