Mental health workers a much-needed field in Nevada
September 7, 2014 - 6:48 pm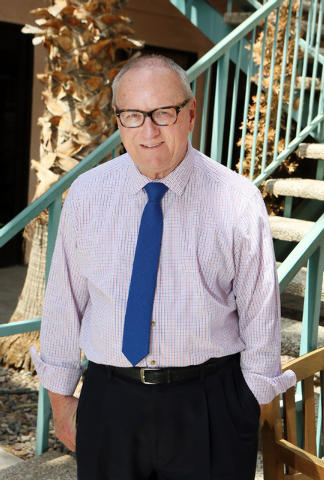 In the 1970s, Ron Lawrence's technical career was going well. Working for Westinghouse Corp. in Pennsylvania, he had seen many great advancements through the years; he himself had worked on a generator redesign for Hoover Dam.
But when many large industries began shutting down in Pennsylvania in the 1980s, Lawrence was primed for a new career. While working for Westinghouse, he began taking psychology courses at the University of Pittsburgh. It opened his technical mind to life's gray areas. More importantly, it brought him a new understanding for his Eastern European family and the life he lived with them.
"I saw the anguish around me. … My family members had been in (World War II) concentration camps and Soviet labor camps (in Poland)," he said. "I learned about their trauma and how even listening to those stories could cause secondary trauma for others."
Lawrence eventually moved West and completed his bachelor's degree in psychology at the University of Nevada, Las Vegas, then went on to graduate school in California. He eventually became a licensed marriage and family therapist.
In 1990, Lawrence founded Community Counseling Center of Southern Nevada, whose primary drive was to offer mental health services to the HIV/AIDS population at the time. Now, Community Counseling Center is a full-fledged community mental health center serving all populations, with 40 employees — a collection of marriage and family therapists, social workers, clinical psychologists, substance abuse counselors, two psychiatrists and other health professionals. At 70, after having successfully navigated two careers, Lawrence's goal now is to leave a positive legacy.
"My goal right now is to bring new people into the mental health profession in the most quality fashion I can," he said. "We have to give back and leave things in some way better than when we started."
A growing field in need
The mental health industry needs experienced recruiters like Lawrence. The Silver State serves as an microcosm of the country's mental health professional shortage.
Earlier this year, a report from the U.S. Department of Health and Human Services said nearly 4,000 U.S. geographic areas are designated mental health care health professional shortage areas. Nevada has 41 designated health professional shortage areas, including Clark County, with 59 percent of the state's mental health needs being met, the report said. That figure, while low, still tops the national average of 51 percent for each state.
Mental health professionals' job prospects are expected to grow faster than overall job growth in the country, the U.S. Bureau of Labor Statistics estimates. Popular mental health careers include social workers; psychologists; substance abuse counselors; marriage and family therapists; and psychiatrists.
In 2012, the Bureau of Labor Statistics reported that the median annual salary for psychiatrists was $173,330; $67,650 for clinical psychologists; and between $39,980 and $54,560 for social workers, depending on their area of emphasis. Psychiatric nurses had a median salary of $65,000.
Education
Most social workers can find work with a bachelor's degree, but many states also require a licensed clinical social worker designation, which demands a master's degree and additional training. Like psychologists and counselors, these social workers can diagnose and treat mental, emotional and behavioral conditions.
Most counseling positions require a master's degree, although clinical psychologists with a doctoral degree in a subfield, such as neuro, forensic or pediatric psychology, tend to have better job prospects.
Cortney Warren, a new board member with Volunteers in Medicine, a nonprofit providing free medical care to the uninsured, is a clinical psychologist. Her background is more on the research side as a former UNLV professor.
Warren says people who become clinical psychologists are interested in providing treatment and conducting research. Clinical psychologists' research tends toward more severe mental health conditions, such as bipolar disorder, major depression, anxiety and schizophrenia.
Becoming a clinical psychologist requires a doctorate, which means one can expect between five and seven years of added education and internship work beyond a bachelor's degree.
A psychiatrist's educational path can be equally long.
Psychiatrists are licensed to write prescriptions; psychologists are not. But psychiatrists will often work with psychologists for testing patients for mental health disorders or conditions.
Doctorates in psychology and psychiatry are also competitive, Warren said; many programs take only six to 10 new candidates a year.
"That doesn't mean you shouldn't apply," she said. "But I tell people to be prepared."
Warren also says there is a high need for master's level counselors (about six years of schooling and another two years of internship). Master's level counselors can specialize in areas such as marriage counseling, career, school counseling and substance abuse.
Michelle Giddings is a UNLV nursing professor and advanced practice nurse with an emphasis in psychiatry, a unique title in mental health.
"What makes us different from a psychologist, psychiatrists or other behavioral health providers," she says, "is we are nurses with academic training in psychiatric care and we do prescribe medications and other treatments."
In her position, Giddings can assess, diagnose and formulate treatment plans for patients, and work with a multidisciplinary team for holistic care. As a psychiatric nurse practitioner, Giddings can practice autonomously in Nevada, thanks to the passing of Assembly Bill 170 last year. Giddings says someone considering her field should expect six to eight years of schooling.
Most nurses, however, do not enter the field planning to focus on psychiatry.
"This is the smallest population of nurse practitioners," Giddings said. "I myself never went into nursing thinking I was going to be a psychiatric nurse practitioner. The first 12 years of my career were as a maternity nurse."
Giddings, who teaches psychiatric nursing courses for UNLV undergraduate nursing students, hopes to change that.
"I encourage students to explore mental health nursing as an option," she said. "It's also important to decrease the stigma, which is not the reality of mental health. It's nothing to be afraid of."
Entering the field
If you're considering a mental health career, Warren suggests taking a basic college class for initial understanding and then seizing volunteer opportunities.
"There are a lot of well-intended people who think they want to enter the profession because they want to help others, but know very little about what a mental health career looks like," she said.
If after classes and volunteering, you're still interested, a mental health assistant, also called a social and human service assistant position could be your next step.
These positions, which often involve offering administrative and other support to therapists and counselors, are in hospitals or private practices. They require a high school diploma. Some employers will provide on-the-job training; others may send an employee through a certification program at a local community college.
The Bureau of Labor Statistics forecasts this position will likely see the greatest job growth in mental health — 22 percent — from 2012 to 2020.
The median annual salary for a mental health assistant was $28,850 as of 2012, but it is a good opportunity to gain experience and get a feel for the field before committing to years of schooling.
Personality type
Mental health careers can be emotionally demanding and test the most selfless personalities.
Some social workers, therapists and psychologists can face overwhelming caseloads. Lawrence says 30 hours of individual counseling and/or group counseling in a week is plenty for one mental health professional.
Louise Torres, executive director of the Foundation for Recovery, has a master's degree in nonprofit management. She has overseen different types of nonprofits and recently signed on with Foundation for Recovery, the state's only recovery community organization.
"I heard someone say recently that it's not a job, it's a choice to go in this direction," Torres said. "You really seriously have to be passion-driven and really want to be able to help people. If you're going into this career just to make money, it'll kill you."
Giddings also believes a drive to help others matters.
"You get something back from what you do, apart from the financial reward," she said. "Some people just enjoy caring for people."
Self-care
Lawrence believes in continuing education for his employees, to learn about cutting-edge therapies for clients, and to learn how mental health practitioners can take care of themselves emotionally and physically.
"The profession is very open-ended. You never really quit learning," he added.
Giddings emphasizes self-awareness in the psychiatric nursing classes she teaches at UNLV. Understanding one's own limitations can help a person create healthy boundaries when it comes to work and clients.
"It's challenging being a psychiatric provider," she said. "We're not dealing with cuts and bruises."
Lawrence also said the field needs higher pay.
"We all have in our minds, 'How are we going to attract more people into this profession and how are we going to pay them better,' " he said. "The wages in this profession are not really comparable with the amount of work we have to do."
A new 'coaching' field
The Foundation for Recovery is working with state divisions of public and behavioral health to create a peer recovery support specialist certification program. The hope is that those who have gone through a substance abuse recovery program can attend the certification program to become peer recovery coaches.
"A lot of people going through mental health and addiction recovery will find themselves unemployed, sometimes with felony convictions. It's very hard for them to get jobs," said Louise Torres, Foundation for Recovery executive director. "We're creating jobs for them in the peer recovery support field."
The current curriculum involves 40-plus hours of training that goes over the basics of both mental health and addiction and the elements of recovery. The program also teaches peer coaches how to effectively listen and use positive language to build clients' self esteem, while also promoting self-directed care. The positions fall under a nonmedical model, explained Torres.
The federal government has been allocating dollars to fund the establishment of peer recovery coach certification programs across the country. Torres said more than 40 future peer coaches are awaiting state approvals to enter the certification program. Then, the goal is for Foundation for Recovery to work with local and state mental health providers, clinics and agencies to find jobs for the peer coaches.