Mobile mammograph services plan four stops in Las Vegas
November 10, 2018 - 6:55 pm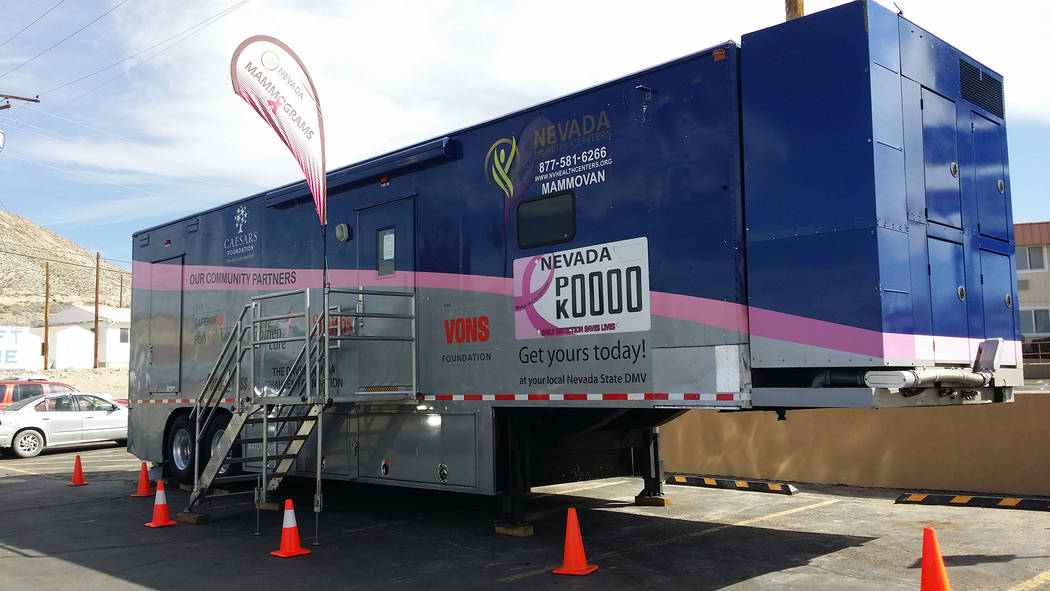 'Lion King' performance is sensory-friendly
The Smith Center will present its first-ever sensory-friendly performance of a Broadway production in a collaboration with Disney's "The Lion King." The 2 p.m. performance on Saturday will include modifications to the sound, lighting and general performance atmosphere to help make guests with intellectual or developmental disabilities feel more comfortable in a setting that would normally be overwhelming. Tickets for this performance start at $19. Call the box office at 702-749-2000.
Appointments available at several Mammovan stops
Nevada Health Centers' Mammovan offers mobile mammography services in all areas of the state. Four stops are planned in Southern Nevada in November. To make an appointment, call 1-877-581-6266. Bring photo ID, insurance card if applicable and name and phone number of your primary care physician. The van closes for lunch from noon-1 p.m. This month's schedule includes:
■ 10 a.m. to 3:40 p.m. Nov. 18: Nevada Health Centers' Henderson Clinic, 98 E. Lake Mead Parkway
■ 9 a.m. to 4:40 p.m. Nov. 20: Project Homeless Connect 2018, Champion Center, 3900 E. Bonanza Ave.
■ 8 a.m. to 2:20 p.m. Nov. 21: Nevada Health Centers' MLK Family Health Center, 1799 Mount Mariah Drive
■ 8 a.m. to 3:40 p.m. Nov. 30: Nevada Health Centers' North Las Vegas Family Health Center, 2225 Civic Center St.
Skin cancer seminar educates about aging
The Southwest Medical Lifestyle Center East will host a seminar on skin care by physician assistant Gretchen Pohaski at 1 p.m. Friday at the center, 5820 S. Eastern Ave., Suite 100. Participants can learn about how aging affects our skin, most common skin conditions of older people and the warning signs of skin cancer. An open house precedes the seminar at noon. Reserve a spot by calling 1-855-606-1424.
SoulCycle lands at Wynn with hourlong spin classes
SoulCycle, which bills itself as a "mind-body-soul indoor cycling experience" and has almost 90 locations in the U.S. and Canada, has opened at Wynn Plaza on the Strip. The 62-bike studio's workouts will be enhanced by lighting synched to music, sometimes spun by DJs. The studio will offer special hourlong classes, dubbed Thanksgiving Survivor, on Thanksgiving and the day after to help burn off those holiday calories. Classes, which cost $38, will be at 9:45 a.m. Nov. 22 and 8:45 a.m. Nov. 23. Call 702-637-3230.
Nevada Childhood Cancer's 25th annual gala
The Nevada Childhood Cancer Foundation will present its 25th annual Profile of Courage Dinner and Gala at 5 p.m. Saturday at Bellagio. Tickets are $250, and all proceeds benefit the foundation's Project ARK (Aids and Resources for Kids), the Caring Place (its adult services program) and other healing arts and wellness programs. Children who have received the foundation's services as well as supporters will be honored during the event. nvccf.org
Next Lunch & Learn series is Nov. 21
The Cleveland Clinic Lou Ruvo Center for Brain Health, 888 W. Bonneville Ave., hosts the Lunch & Learn Educational Series from noon to 1 p.m. on Wednesdays in November. Participants are encouraged to bring lunch; drinks and dessert will be provided. The program on Nov. 21 will be "Everything You Need to Know About Medicare," which is for both potential enrollees and existing recipients.
Submit event information at health@reviewjournal.com.