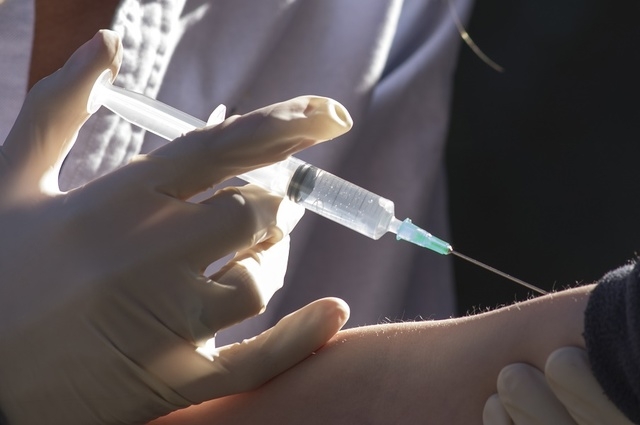 In addition to a confirmed case of measles associated with Valley High School, another case of the respiratory disease has been confirmed in Southern Nevada, and four other suspected cases are being watched in the state, public health officials said Tuesday.
Two of the suspected cases are being watched in Southern Nevada, including one adult, according to Dr. Joe Iser, chief health officer for the Southern Nevada Health District.
"The clinical presentations don't quite match measles, but they could be," Iser said.
The laboratory test for the measles virus can be performed relatively quickly, unlike some bacterial tests that take days, Iser said.
"There's now a heightened awareness," Iser said. "Physicians who are seeing possible measles signs and symptoms are asking us to make that laboratory confirmation."
Things are changing hour by hour.
The other confirmed measles case in Southern Nevada also is an adult, but the patient is not connected to the measles at Valley High. More than 30 students at Valley High who had not received the latest immunizations for measles had been identified by the Clark County School District, and those students were removed from class last week.
They all returned to campus Tuesday, officials said.
Epidemiologists have not concluded that the measles cases are linked to the Disneyland outbreak, but they probably are not, according to Stephanie Bethel of the Southern Nevada Health District. As with any contact investigation, Bethel said, if a case can be linked to a national outbreak, the information is reported to the U.S. Centers for Disease Control and Prevention. Whether or not a case is linked to a national outbreak, the health district's primary focus is stopping the local spread.
A day care center at a Southern California high school was closed and more than a dozen infants placed under three-week quarantine after a baby enrolled in the program was diagnosed with measles, a school district official said on Monday.
The move comes as public health officials reported that more than 100 people across the United States were infected with measles, many of them traced to the outbreak that began at the Disneyland.
In Northern Nevada, two patients with suspected cases of measles are being watched, one a student at Spanish Springs Elementary School in Sparks, Washoe County public health officials said Tuesday. More than 40 Spanish Springs students and faculty who have not been vaccinated will need to stay home until further notice.
State law requires students to be vaccinated, but thousands of Nevada families resist using an exemption in state law for those claiming vaccinations violate their religious beliefs.
In the 2013-14 school year, the Clark County School District enrolled 6,135 unvaccinated children, about 2 percent of the total 315,000 students. Of those unvaccinated kids, about 70 percent fell under the religious-belief exemption while the remaining 1,806 children claimed a medical exemption, which requires a doctor's note.
Reuters contributed to this report.