National nonprofit helps Las Vegas couple dealing with Alzheimer's renew vows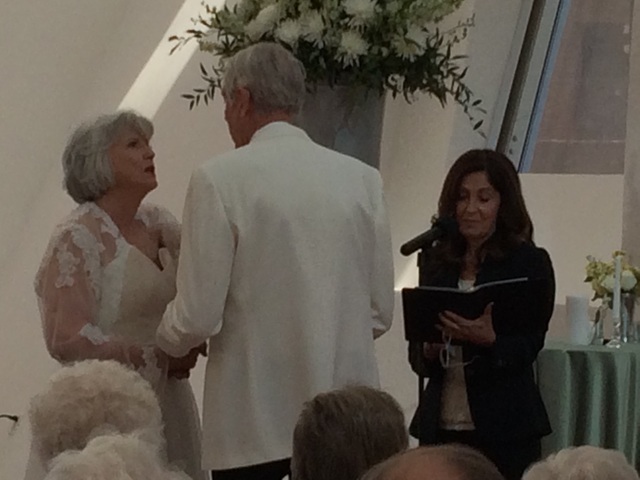 You can wish upon a star, or toss a coin into a wishing well. But there's another option for those in special circumstances who want to get married.
National nonprofit Wish Upon a Wedding allows people with life-altering situations to have the wedding of their dreams or to renew their vows.
On June 15, Summerlin-area residents Don and Jane Holkestad renewed their vows through the organization, which provided everything from the limo, preacher and flowers to the catered reception. Don has Alzheimer's disease and is being treated at the Cleveland Clinic Lou Ruvo Center for Brain Health, 888 W. Bonneville Ave., where the wedding took place.
Both do volunteer work for the center, something they began five years ago, a year before Don was diagnosed.
The bride was escorted up a petal-lined carpet to where the Rev. Linda Venniro stood.
Venniro told the 30 guests how the couple met on a double date, a blind date, in 1950. Jane was 18 and stood 5 feet, 10 inches tall.
Before the two young men approached the door, Don, who was over 6 feet tall, told his buddy that he would escort whichever girl was taller. The door opened, and they saw Jane's girlfriend. She was 4 feet, 10 inches tall.
"It didn't take a rocket scientist to figure out who Don would be paired with," Venniro quipped. The comment contained an extra undercurrent of humor to it.
Don would later be a rocket scientist on one of the teams that worked on the space shuttle program.
The couple exchanged vows. When it came time for Jane to repeat the words of the preacher, Don muttered them along with her as though unsure if they were his lines or not. The couple exchanged rings and walked back down the aisle to applause.
After the ceremony, a faux wall was pushed back to reveal the reception setup, complete with linen-draped tables, serve-yourself hot entrees and a disc jockey playing classy love songs.
Jane said when the head of the volunteers at Lou Ruvo approached her with the offer of a free wedding to renew their vows for their 64th anniversary, she was amazed.
"We went, 'Wow, you're kidding. How great is that?' " she said.
Arlene Barba, on the board of Wish Upon a Wedding, recalled getting involved with the organization after seeing a video about a 19-year-old woman who needed a double lung transplant. The woman's childhood sweetheart came to the hospital to see her every day. He had cerebral palsy and was in a wheelchair. He proposed. She accepted.
"I was so inspired that someone at such a young age, 19, proposed to a loved one even though they knew that they would probably be a widower in a very short time," Barba said. "And you knew with all the medical bills they were facing, they would not be able to have a real wedding. And everyone deserves to; they deserve (a wedding). If that's your dying wish, what do you do? It inspired me to realize everyone should have that opportunity."
Barba said the cost of this day's wedding would have come with a price tag near $50,000. The list of vendors who donated services included the venue, the Keep Memory Alive Event Center, Jeniffer LaRocca Photography, M Place Productions, Paper and Home, cakelava, By Dzign, Brianna Michelle Beauty, Brilliant Bridal, Tuxedo Junction, Earth Limos & Buses, Cut & Taste, Faithfully Yours Weddings & Events, and Good Vibrations Mobile DJ's.
After the wedding, Jane picked up their story where Venniro had left off.
On the double date, Jane was taken by Don's blonde good looks and dark eyes. At dinner, he was quiet and blushed easily. Jane described herself as outgoing and thought their personalities complemented one another.
Then they went dancing, and she was struck with certainty.
"When he took me in his arms, I knew I was going to marry him," she said. "I just knew."
He took her out for a Coke the next day and then disappeared for three months as he continued his studies in chemical engineering. But three months later, he reappeared with yellow roses with an engagement ring attached to them.
They were married two years later and went on to have four children. One of them, Daniel, was autistic, and getting him help back in those days was vexing at best. Psychologists even told Jane his condition was her fault for not being a good mother. Eventually, they got Daniel help. One of the medicines he was put on was Ritalin , a central nervous system stimulant. Another facility said it was counterintuitive and stopped the medication. The result: Daniel had a reaction — a seizure — and died. He was 19.
Jane and Don underwent counseling along with grieving parents but relied more on each other to get through it.
"When we gave our vows, it was for richer or poorer, in sickness and in health," she said. "We were dedicated to keeping it together no matter what. So, we turned to each other."
Daniel's death was not their only trial. Another child, a daughter, had to be institutionalized but, as before, the couple's commitment to one another never wavered. Again, she credited their ability to keep the lines of communication open.
Then came the day, about four years ago, when Don was confused and couldn't read a map.
A former rocket scientist who was befuddled by a simple map? Something was wrong.
He was diagnosed with Alzheimer's. Now, Jane said, she lives in fear of the day she'll lose him as he slowly deteriorates.
"Every day, you never know what you're going to get," she said about how cognizant he'll be. "That's why they call it the long goodbye."
As for Don, he said he'd marry Jane all over again.
"I can't imagine," he said as he gazed at her, "being married to anyone else."
Visit wishuponawedding.org.
To reach Summerlin Area View reporter Jan Hogan, email jhogan@viewnews.com or call 702-387-2949.