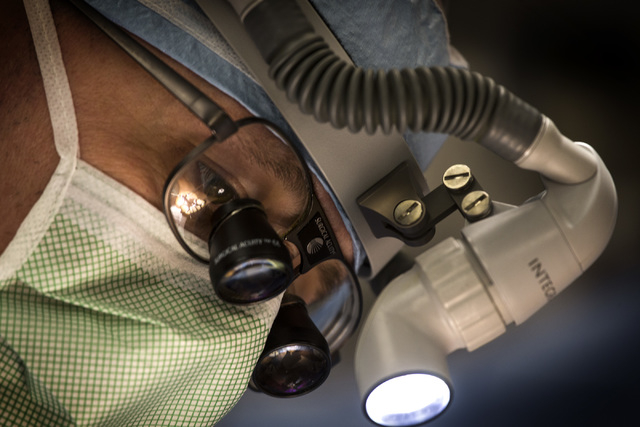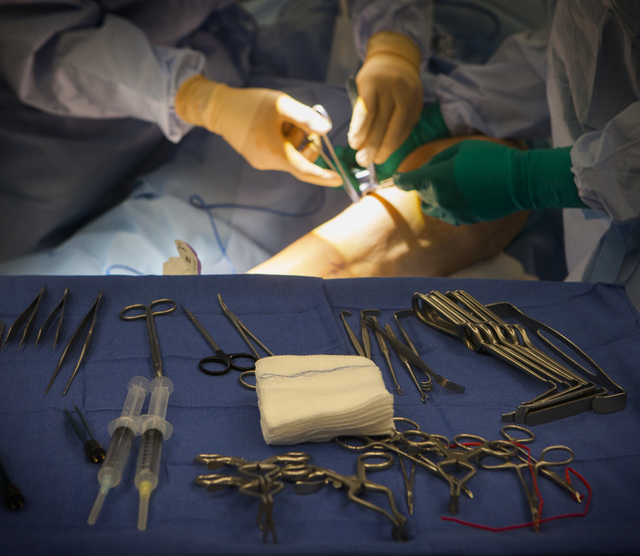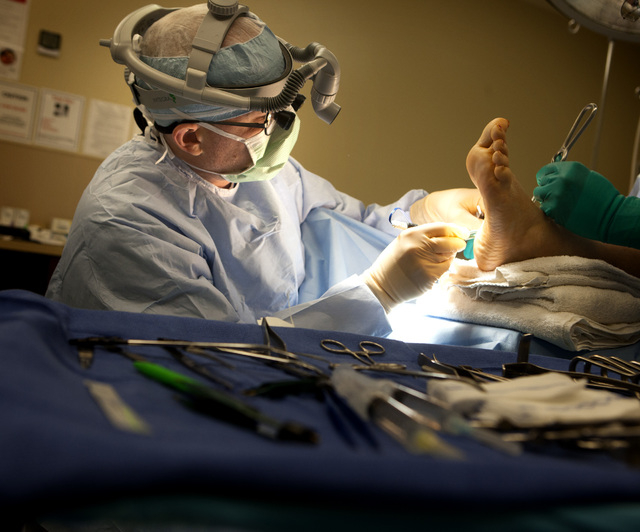 Shortly after being diagnosed with hypothyroidism, Centennial Hills resident April Anderson began experiencing numbness and burning sensations in her hands and feet.
"It got to the point where I could hardly walk. I could not fill out an application or hold a book," she said. "I went to physical therapists, chiropractors, neurologists and podiatrists, but no one could figure out why it hurt so bad."
After years of inconclusive tests and diagnoses, Anderson was examined by family friend Dr. Timothy Tollestrup, who performed nine surgeries to alleviate her pain.
"That summer, we went on a road trip to California where I swam, climbed the streets of San Francisco and walked all over Alcatraz," Anderson said. "Just the year before, we did a Northern Nevada trip, and my family had to push me in a wheelchair because I couldn't walk."
As a peripheral nerve surgeon, Tollestrup operates on the body's peripheral nervous system, which involves the nerves outside of the brain and spinal cord, to relieve chronic pain caused by nerve dysfunction known as neuropathy.
"Peripheral nerves are both motor and sensory in nature, so just as you can have sensory changes, you can develop motor weakness," Tollestrup said. "Neuropathy is a generic term that encompasses a whole lot of symptoms, like pain, numbness and weakness in an affected limb."
Neuropathy can be caused by a number of health factors, including diabetes, nerve trauma or exposure to poisons. In Anderson's case, it was her hypothyroidism.
"Neuropathy can cause the nerve to swell up to two or three times the normal size," Tollestrup said. "The actual swelling of the nerve is not typically what causes the clinical symptoms. It's the actual pinching or compression of the nerves that produces those symptoms."
Because peripheral nerve issues are primarily presented as pain, patients have historically been treated with pain medication. However, Tollestrup said only about 5 percent of his patients have benefited from medication.
"The current teaching in medicine is that neuropathy is not curable. The only thing you can do is manage the symptoms with drugs," he said. "For a vast majority of these people, the drugs don't work. Others may get some degree of relief, but there can be a lot of side effects."
Tollestrup eliminates pain through two types of surgery: peripheral nerve decompression, in which he modifies the anatomy around the nerve to create more space, and segmental denervation, which involves disconnecting a nerve to prevent pain signals from traveling to the brain.
"Unlike the spinal cord, a peripheral nerve will likely repair itself if you remove that compression off it," Tollestrup said. "However, if the compression has been there for years and years, sometimes that damage becomes permanent."
While surgery is about 80 percent effective, Tollestrup stresses that the procedure is not a panacea for all pain.
"It's for pain that's caused by a nerve, which is a huge amount of chronic pain, but it's not everything," he said.
After finishing his residency at St. Louis University Hospital, Tollestrup studied under peripheral nerve surgeon Dr. Lee Dellon, founder of the Dellon Institutes of Peripheral Nerve Surgery.
Tollestrup said his dreams of becoming a reconstructive plastic surgeon changed after the fellowship. He moved to Henderson in 2009 and started his own practice later that year.
"It's a new specialized surgical field that uses techniques that have been around a long time and combines that with a much better understanding of the peripheral nervous system," he said. "It's a marriage between a surgical approach and knowing the anatomy. With that, you can fix many of these chronic pain problems."
Thanks to Tollestrup, Anderson said she enjoys her "new life" and tries not to take it for granted.
"It's like night and day. It's a world of difference," Anderson said. "I've gone hiking. I can jump on the trampoline. I've started biking. It's a miracle every day."
For more information, visit dellon.com or call 702-666-0463.
To reach Henderson View reporter Caitlyn Belcher, email cbelcher@viewnews.com or call 702-383-0403. Find her on twitter: @caitlynbelcher.