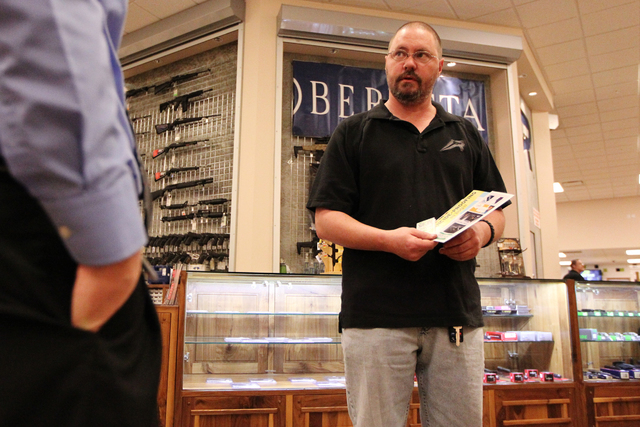 For much of Nevada's history, the deadliest piece of machinery within its boundaries was the automobile.
But now, rising numbers of people taking their own lives with guns has left the Silver State with a new, depressing distinction.
Nevada is one of five states in which gun suicides outnumber roadway deaths, according to a comparison of the most recently available statistics from the U.S. Centers for Disease Control and Prevention and the National Highway Traffic Safety Administration.
After peaking in 2006, traffic fatalities in Nevada have dipped to historic lows as police agencies stepped up enforcement of drunken driving and seat belt laws.
In the same time span, gun suicides have risen to all-time highs.
Every year since 2009, more Nevadans have died from intentional, self-inflicted gunshot wounds than traffic fatalities, according to the state Department of Health and Human Services.
In 2013, the last full year of available data for both categories, 317 Nevadans committed suicide with a gun, and 266 died in traffic crashes.
While Nevadans kill themselves by methods ranging from jumping from bridges and cliffs to drug overdoses, poisoning and hanging, more than 51 percent of suicides involve the use of a gun, according to the Nevada Office of Suicide Prevention.
Why?
"They're the most lethal," said Richard Egan, who handles outreach for the office.
That's one theory.
Nevada is one of 10 states where total gun deaths outnumbered traffic fatalities. But in Nevada, Utah, Oregon, Washington and Alaska, gun suicides outweighed crashes.
Several of those states, including Nevada, fall into the "Suicide Belt," so dubbed by a 2011 study from the University of Nevada, Las Vegas Center for Democratic Culture. Suicide rates in these states range between 19 to 22 per 100,000 people. The national average is 12.5 per 100,000.
A lack of available mental health facilities is partly to blame for Nevada's high number of suicides, said Dmitri Shalin, who edited the "Suicide Belt" report. A UNLV sociology professor, Shalin has also authored multiple reports on quality of life in Nevada.
"When people are down and out and looking for help, it's just not forthcoming," Shalin said.
Nevada's rapid population growth, which soared 35 percent from just under 2 million in 2000 to more than 2.7 million in 2010, left many newcomers in social isolation, Shalin said.
"People come here from everywhere, often leaving behind their family and friends," he explained, "and those relationships aren't what they used to be."
A combination of depression, gun accessibility and lack of mental health resources were also among the leading suicide factors cited by Dr. Ron Lawrence, founder of the Community Counseling Center of Southern Nevada.
"People see Las Vegas as a place to immigrate to, thinking that if they just come here, some of their problems are going to go away." Lawrence said. "But, in reality, those problems still need to be resolved."
Among the most gun-suicidal age groups, according to the Nevada Department of Public Health, were residents age 50-59. Just more than 20 percent of the 1,804 people who killed themselves with guns in Nevada from 2008 to 2013 were in their 50s. The 40-49 age group was second at 16.4 percent. Teenage gun suicides accounted for less than 4 percent of the total.
Males accounted for 86 percent of gun suicides across all age groups.
As part of an initiative to build awareness for gun suicides, the Department of Suicide Prevention launched a statewide campaign with Nevada gun stores in 2012. The department leaves gun safety and suicide prevention brochures in stores and trains employees to intervene when a customer seems suicidal. The department also has a presence at gun shows throughout the state.
Gun store managers can connect customers to professionals, if needed, Egan said.
The Range 702 and 2nd Amendment Gun Shop are among Las Vegas Valley gun shops participating in the campaign.
Bill Smallwood, gunsmith at The Range 702, said friends of his have used guns to take their own lives, which makes the cause hit home for him.
Suicidal customers at the store on Dean Martin Drive, just west of the Strip, are few and far between, Smallwood said. But curious shoppers often take brochures.
"They want to know what it is and what it's about," Smallwood said.
Mark Hames, owner of 2nd Amendment on Rancho Drive just north of Craig Road, said he just started offering brochures this year. He'd rather be safe than sorry.
"People mistake it for propaganda against their Second Amendment rights," Hames said. "But they're really not seeing the bigger picture."
But another valley range owner said the initiative is wishful thinking.
"People who enter gun stores don't normally profile as depressed or suicidal," said Bob Irwin, owner of The Gun Store on Tropicana just west of U.S. Highway 95. "Putting signs and brochures just puts the idea of suicide back in their mind."
Irwin estimates his store encounters a suicidal customer once every five years. Instead of using Egan's program, private psychologists train Irwin's employees to spot suicidal symptoms. Gun Store employees also accompany customers while shooting.
"That's a safety measure so customers don't turn around with the gun," Irwin said, "and it also prevents them from turning around and pointing the gun at themselves."
Egan said a recent gun background check petition drive also could help cut down on suicides.
In November, the group Nevadans for Background Checks garnered nearly 250,000 signatures on a petition calling for all gun vendors, even if the firearm exchange is between friends or family, to run background checks. State law­makers will review the petition, and the issue could end up on the ballot in November 2016.
"Any time you take guns out of the wrong hands, that can only help," Egan said.
Contact reporter Chris Kudialis at ckudialis@reviewjournal.com or 702-383-0283. Follow him on Twitter @kudialisrj.
Facts on Nevada suicides
– Nevada is just one of five states in which firearm suicides exceeded traffic fatalities in 2013.
– More Nevadans in their 40s and 50s commit suicide with a gun than any other age group.
– The state Department of Suicide Prevention is partnering with gun shops to promote awareness of gun suicides.
– Experts say the state lacks sufficient mental health resources.