Nevada Blind Children's Foundation helps kids adapt without sight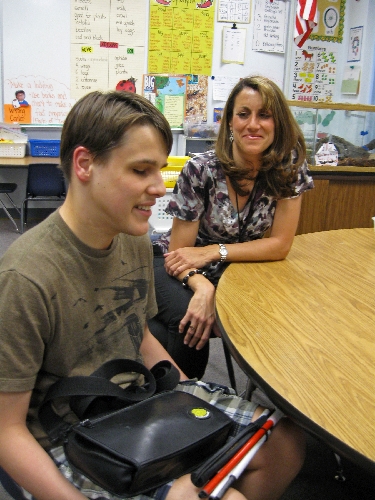 Sixteen years ago, Karen Leavens gave birth to a son, Adam. He was born prematurely at 24 weeks gestation. Within a few weeks, she and her husband learned that he couldn't see.
Without services available for the blind, the Leavens, who are Summerlin-area residents, considered moving out of state.
"My biggest concern was being able to teach him," Karen Leavens said. "Being a teacher, I knew how to teach children, but to teach a blind child, I knew nothing."
But they stayed. At first, the family used a private tutor to help Adam with schoolwork. In 2006, the Nevada Blind Children's Foundation came to fruition, the brainchild of executive director Lori Moroz-White, whose daughter, Niki, was blind. Adam began participating in its programs, which changed his life.
With Niki as inspiration, Adam was not held back from activities that all children enjoy. He rides a tandem bike with his father, George. He roller skates and walks the neighborhood unassisted. He even tried indoor rock climbing.
The foundation sponsors outings for the children, such as movie nights. The technology is now available to "tell" what's happening on the screen when there's no dialogue. In the previous years, Adam's mother whispered ongoing commentary as they sat in movie theaters. They'd sit in the front row to avoid disturbing fellow patrons.
The foundation caused the Leavens to rethink their son's possibilities.
"The biggest thing for me was meeting Lori White," Leavens said. "Her daughter (Niki) was 5, and she is almost totally blind. Just being able to meet her and see Niki … riding a tricycle … it just was so good for me."
The more events they attended, the more the Leavens learned. It wasn't just Adam who benefited from participating. The parents, standing on the sidelines, got to compare notes.
"It was nice to share with other moms and see what difficulties they were going through," Karen Leavens said. "It's amazing how many things were similar."
Adam attended the foundation's summer camps, where he enjoyed playing goal ball, making pottery, doing yoga and cooking.
"Last year, I got to make ice cream," he said.
He counts among the roughly 75 children who attend foundation events three of his closest buddies. How much does Adam look forward to NBCF events?
"They're fun, and when they're coming up, I'm counting down the days," he said.
Activities are fun for any child, but schoolwork is a daily task. At Centennial High School, Adam has an assistant provided through the Clark County School District. He carries a portable Braille machine for taking notes. The $5,000 machine was made available through the foundation.
The tutoring it provided was a big help. The foundation assisted him with roughly 100 hours of study, and Adam passed his math proficiency tests on the first try.
Mathematics is one of the toughest school subjects for blind students, said Linda Maneen, director of operations for the foundation.
"Imagine math with no eyes," she said. "Things that you can listen to or feel are fine, but it's that conceptual stuff that becomes really difficult. … We pride ourselves on being that gap service between the education that the children get through the Clark County School District and the special needs that the children (have)."
Adam was also part of a book club through the foundation.
"And it was all blind kids, so that was a good thing," his mother said. "Being around other blind kids and getting the chance to talk with them, you know, they go through different things than the average kid does, so it's a good way for him to touch base with them."
Adam didn't feel the same.
"To me, blind kids and sighted kids are kind of the same," he said. "Just because you're blind doesn't mean … to me, it's not much of a difference."
His mom added, "But I think there's a difference for sighted kids; they have a little difficulty approaching blind kids. … If he's sitting at a lunch table, he doesn't know who's there unless they talk to him."
Niki White is in college now. It's a goal Adam has as well. He is thinking of going into some type of audio career, possibly in the music industry.
"If the blind foundation hadn't been there for me, I don't know what I would have done," he said. "In Nevada, there's no school for the blind, so the blind foundation is sort of the start of that."
The foundation is headquartered at 3811 W. Charleston Blvd., Suite 208. For more information, call 735-6223 or visit nvblindchildren.org.
Contact Summerlin/Summerlin South View reporter Jan Hogan at jhogan@viewnews.com or 387-2949.
The Nevada Blind Children's Foundation
The Nevada Blind Children's Foundation is headquartered at 3811 W. Charleston Blvd., Suite 208. For more information, call 735-6223 or visit nvblindchildren.org.