Nevada earns D on nonprofit's new health-care report card
August 23, 2017 - 1:29 pm
Updated August 23, 2017 - 6:50 pm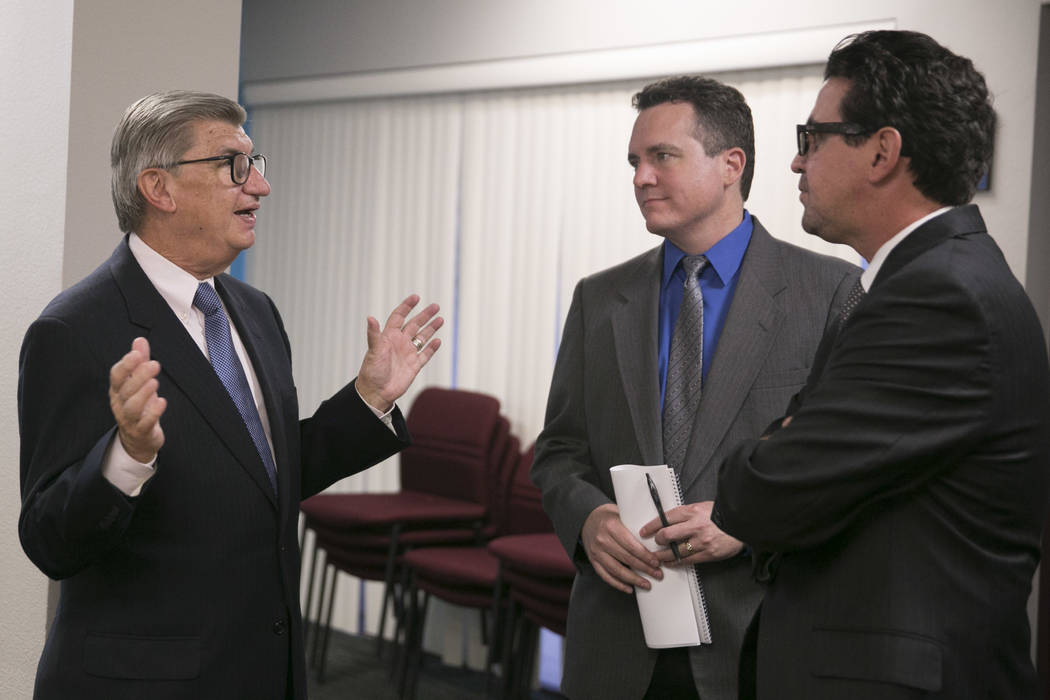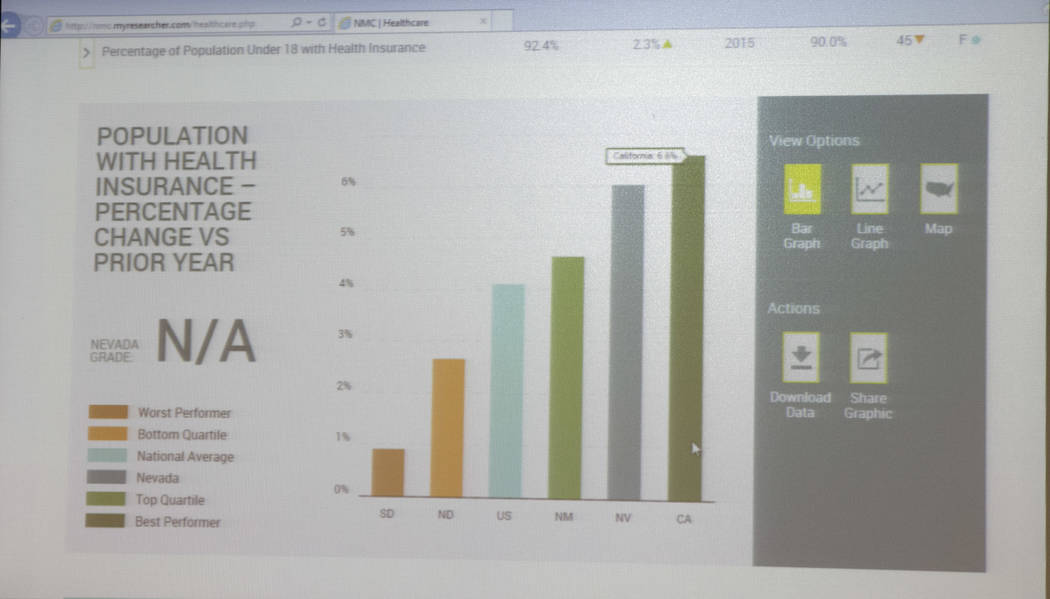 A new nonprofit created by heavy hitters from Nevada's business and medical communities gave the state a D grade on its first report card on the state's health care system.
The report card was released Wednesday by the Nevada Medical Center and is intended to focus attention on improving access to quality health care in the state.
Larry Matheis, the NMC's CEO, said the report card will help state leaders focus on the gaps that must be filled to improve Nevada's medical standing. Currently, he said, the state's medical system "resembles a series of isolated communities … due to the lack of collaboration among medical professionals and the dearth of thought given to enhancing our community's reputation."
The report card's grades, based on analysis of data supplied by the Centers for Disease Control and Prevention and other government agencies, show how Nevada fares in the categories of health care access, chronic disease, nutrition and activity, mental health and substance abuse. The grades weren't all bad, with the state receiving a passing "C" grade on chronic disease and a better-than-average "B" on nutrition and activity.
The report is online at http:// nvmedicalcenter.org/nevada- healthcare-statistics/.
A guide and resource
Matheis, former executive director of the Nevada State Medical Association, said the report is intended to guide policymakers and recommend new approaches.
"We are creating a Nevada Health Commission to use the report as a basis for recommending health policy priorities to the private and public sectors," said Matheis, "We also are working with the UNLV School of Medicine to explore the potential for integrative medicine."
Integrative medicine is an approach to care that puts the patient at the center and addresses the full range of physical, emotional, mental, social, spiritual and environmental influences that affect a person's health.
The report card, unveiled Wednesday evening at Delta Point, a community health center near downtown Las Vegas, is among the NMC's first major public initiatives. The organization was founded in 2013 by Eric Hilton, who died in 2016 after 49 years directing the Hilton hotel chain established by his father, Conrad Hilton.
Earlier this month, NMC partnered with the Las Vegas-Clark County Library District to organize play camps at two area libraries, aimed at demonstrating the impact of "purposeful play on physical and mental health to young children," Matheis said. It also is developing a similar demonstration program with the Clark County School District to be rolled out at elementary schools in the fall, he said.
Though NMC boosts some high-profile talent — board members include New York-New York CEO Cynthia Kiser Murphey and Dr. Florence Jameson, founder of the nonprofit Volunteers in Medicine of Southern Nevada — the organization had largely stayed out of the public spotlight before the release of the report card.
The rankings, based on statistics from the 50 states and the District of Columbia, gave the state an F for access to health care through primary care doctors and insurance availability.
Only Mississippi had a worse rate of primary care providers, 53 per 100,000 people, compared with Nevada's 56. The nation's capitol, with 116 providers per 100,000 people, fared best.
No quick fix for doctor shortage
Given that Nevada's explosive growth — the population nearly doubled from 1.5 million in 1995 to nearly 3 million in 2016 — is expected to continue, the NMC set a modest target for access improvement: only one more provider per 100,000 by 2020. Even the creation of the new UNLV School of Medicine — its 60 graduates won't be entering residencies for graduate medical education for four years — can't do much to help offset retirements by doctors in the near future.
The report card's chronic disease section tracks cases and deaths rates for cancer, diabetes, heart disease and stroke, respiration and kidney disease.
Nevada ranked 21st nationally in the age-adjusted death rate from all forms of cancer, with 157 deaths per 100,000 people per year. Kentucky, at 196 deaths, and Utah, at 125 deaths per year, represented the worst and best states, respectively. The NMC set an improvement target of 155 deaths per 100,000 people for Nevada by 2020. The national average is 159.
Although Nevada received an overall grade of "C" on issues pertaining to mental health, it received a "D" on the rate of suicides, with 18 per 100,000 people. Wyoming, at 28 suicides, had the nation's highest rate, while the District of Columbia's was the lowest at five. The national average is 13. NMC set an improvement target of 17 by 2020.
On substance abuse, Nevada earned an overall "C," ranking 26th in the nation on excessive drinking, 21st in smoking, 14th in impaired driving accidents and 39 in fatal drug overdoses.
Nevada did its best on nutrition and activity, largely because of exercise opportunities and physically active adults. The NMC noted, however, that "Nevada ranks at or below average in food insecurity (D) and food environment (C), meaning Nevada has room for improvement in making sure people have enough good and the right foods."
The NMC's report card is similar to rating systems used by other organizations to measure Nevada's health care delivery system, including recent reports that found the state lacking on hospital safety and the overall health of its senior citizens.
Contact Paul Harasim at pharasim@reviewjournal.com or 702 387-5273. Follow @paulharasim on Twitter.