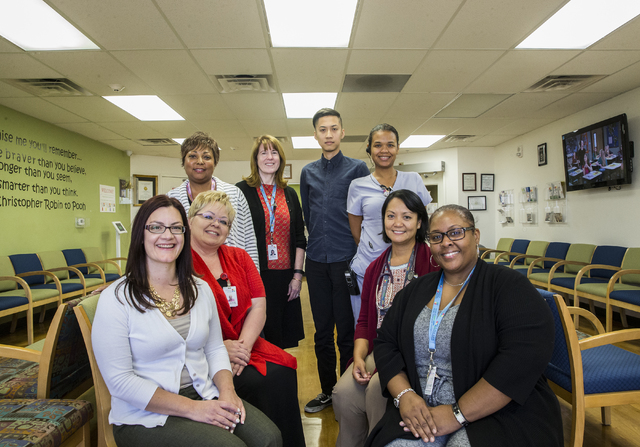 Children in the Las Vegas Valley who have sickle cell disease soon will be able to visit a one-stop hub for medical care and social services to help them cope with the painful, sometimes debilitating blood disorder.
The new Sickle Cell Treatment Center will open at the Children's Specialty Center of Nevada, 3121 S. Maryland Parkway, by the end of October, according to Dr. Nik Abdul Rashid, director of the sickle cell center.
The center will provide patients with access to a multidisciplinary team, including doctors, a social worker and a clinical research associate, who can help with everything from psychological assessments to communicating with a child's school about the impact of the disease, Rashid said.
"There's a lot of advancement in medical care right now," she said. "We know if we're on top of things, we can avoid a lot of medical complications."
The pediatric center, which treats roughly 200 patients with the disease every year, saw a need for a sickle cell center that could house a multitude of resources under one roof, Rashid said last week at an event that provided patients and parents with a preview of the center.
Sickle cell disease, a genetic condition that results in irregularly shaped red blood cells, often is accompanied by mild or moderate anemia and produces symptoms that include fatigue, lightheadedness and pain. Complications can include stroke and death.
Most common among African Americans, sickle cell disease affects roughly 100,000 people in the U.S. Though some medications and therapies exist to ease pain and lengthen life for sickle cell patients, the only treatment available is a complicated stem cell transplant, generally from a sibling with matching genetic markers.
In Nevada, 85 babies were diagnosed with sickle cell disease from 2010 through 2015 through the state's newborn screening program.
Henderson resident Myesha Prather Nard, who watched an uncle struggle with sickle cell disease for years before his death, said she was terrified to learn through amniocentesis that her baby would also have the disease.
She said she considered an abortion, not wanting the child to live with that kind of pain, but ultimately decided to keep the baby, learn as much as she could about the disease and move from Maryland to Nevada, hoping the warmer climate would help her child avoid the pain her uncle faced when cold weather set in.
Before finding the Children's Specialty Center, she said she searched for a local specialist to treat her baby boy, now 7 months old, but never found the right one.
"I said if I can't find a sickle cell doctor, I'm going to move," she said.
Other parents at the introductory meeting agreed that Southern Nevada has had limited resources for sickle cell patients and that the center's creation is a positive step.
Tamiko Brooks, a community health worker with the new center, said her teenage daughter and mother have struggled with the disease due to inadequate health care services. She said there is a particular need for resources to help transition children to adult sickle cell care, a situation that currently forces many patients in their 20s to see pediatric specialists.
She added that the new center will help ensure kids with sickle cell disease receive adequate care while also giving parents the information and resources they need to be the best caregivers they can be.
"All aspects of their care are touched upon here," she said.
Contact Pashtana Usufzy at pusufzy@reviewjournal.com or 702-380-4563. Follow @pashtana_u on Twitter.