New law lets nurse practitioners get more involved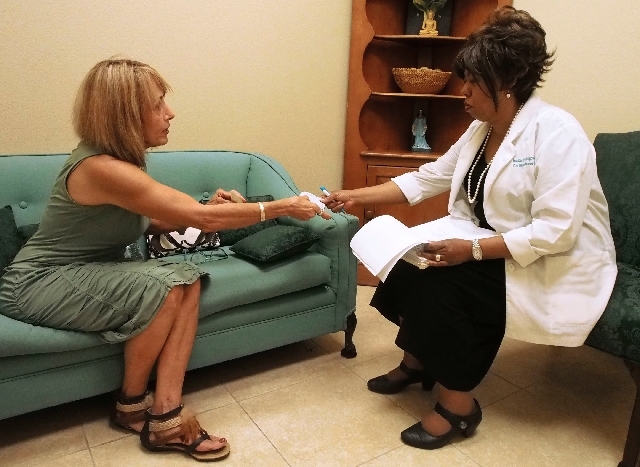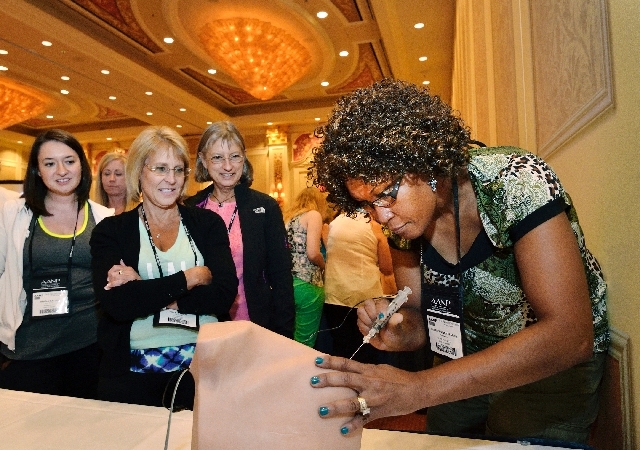 As a nurse practitioner, Martha Drohobyczer performs a screening test for cervical cancer on a woman in a treatment room, another of her patients, Louisa Piccoli, waits to see her about hormonal therapy for treatment of menopausal symptoms.
"I've lived in Las Vegas for 38 years and I've seen all kinds of medical professionals," the 63-year-old Piccoli says. "And Martha is the best there is. Takes her time with tests to get the right diagnosis and prescriptions. Really talks with you to see what's going on. She even calls you at home to see if you're all right. No doctor has ever done that."
It's time for Piccoli's appointment at the Alternatives for Women medical office off South Jones Boulevard.
"My, don't you look wonderful," Drohobyczer says to the smiling patient who silently mouths the words, "Thank you."
Looking through her patient's file, the nurse practitioner suddenly stops and looks up: "Isn't it about time for your mammogram?"
An advanced practice registered nurse who has completed specialized training well beyond that of an RN in both obstetrics-gynecological and psychiatric medicine, Drohobyczer, 61, works with Piccoli and other patients — including diagnosing conditions and prescribing medications — through a collaborative agreement with a physician.
Her collaborator, Dr. Shelton Paul, isn't on hand this day to directly supervise her work nor does he practice at this location.
Collaborative physicians are required by the Nevada State Board of Medical Examiners to monitor, at least once a month, the quality of care provided by a nurse practitioner, which can include direct observation of patient examinations, and an assessment of a sample of referrals, consultations and patients' charts to ensure that proper protocols are followed.
"Under the law," says Drohobyczer, who has a Master of Nursing degree from St. Louis University, "I could write a prescription at 10:45 in the morning and if the doctor decided at 10:46 he no longer wanted to be part of the written agreement, I couldn't practice. We can't work at what we've been trained at without a paper signed by a doctor. And getting a doctor to do that isn't easy and can be expensive. I also see psychiatric patients at two different hospitals and had to get a collaborative physician at each one."
That changes, however, on July 1 when a bill passed by Nevada lawmakers and signed into law earlier this month by Gov. Brian Sandoval takes effect. It allows nurse practitioners to practice independently of a doctor and to the full extent of their training, a health care delivery system already in place in 16 other states and the District of Columbia.
There is one caveat in the bill that could slow down newly minted nurse practitioners' journey to full independence: to prescribe controlled substances, the advanced practice registered nurse must have at least two years or 2,000 hours of clinical experience or the controlled substance must be prescribed within a protocol approved by a collaborating physician.
What the new law means to Drohobyczer, who has 30 years of clinical experience, is that a longtime desire of hers — to practice part of the month in a clinic for the rural poor in upstate Lyon County — can become a reality.
"There wasn't a doctor there who wanted to be in a collaborative agreement," she notes. "I'm fortunate I'll now give people there at a clinic access to care they wouldn't otherwise have. There's a bad suicide problem there, and women who haven't had care in years."
A nurse practitioner's role may include the following: diagnosis, treatment, evaluation of acute and chronic illness and disease, such as hypertension, diabetes, anemia, asthma, depression, anxiety, obesity, osteoarthritis, smoking cessation, thyroid disorders and wound care; obtaining medical histories and conducting physical examinations; ordering and performing diagnostic studies such as lab tests and X-rays; requesting occupational therapy or physical therapy; prescribing drugs for acute and chronic illness; providing prenatal care and family planning services; providing well-child care, including immunizations and screening; counseling and educating patients on health behaviors and self-care skills.
Although there are protests from physician groups that include the American Medical Association — they express concern about the ability of nurse practitioners to diagnose complex illnesses — the role of nurse practitioners in health care continues to expand. At least partly driving this change is the Affordable Care Act, also known as Obamacare, which next year extends health care coverage to about 30 million more Americans. Nationwide, there will be a shortage of at least 90,000 physicians by 2020, according to many health care experts.
Even before the expansion of coverage by Obamacare, Nevadans had trouble getting access to health care. A 2009 study from the University of Nevada School of Medicine found that the Silver State ranked a dismal No. 48 in doctors per patient, with 190 practicing doctors per 100,000 people. Just an "average" doctor-patient ratio would be 262 practicing doctors per 100,000 people, studies show. By January 2014, one study estimates that an additional 280,000 Nevadans will be seeking primary care.
Assemblywoman Maggie Carlton, D-Las Vegas, is sure Nevadans will be better off because of the legislation she sponsored that lifts practice restrictions on nurse practitioners.
She says she was dismayed to learn during bill hearings that some nurse practitioners had to pay a doctor as much as $2,000 a month to be a "collaborator," particularly when the doctor's "oversight" was purportedly nothing more than a signature on a collaborative agreement.
"It just didn't seem right," she says.
The future should be much brighter for both nurse practitioners and patients, she says.
"It frees up a member of the health care team to do more," says Carlton, who was honored for her work on the bill last week during the national convention of the American Association of Nurse Practitioners that took place in Las Vegas. "I also think it should bring in more nurse practitioners to the state. The more we have, the better off we all are."
There are currently nearly 800 nurse practitioners in Nevada.
Susan VanBeuge, legislative liaison for the Nevada Advanced Practice Nurses Association, notes that after nurse practitioners were given full-practice authority in Arizona in 2001, a study found that between 2002 and 2007 Arizona ended up with 782 new nurse practitioners, a 52 percent increase.
VanBeuge says highly trained nurses are always looking for a chance to gain more responsibility and autonomy, and they migrate to states where there is a chance to practice independently.
"Many, many nurse practitioners in California have been watching what is happening here," she says, predicting Nevada's new law could be an impetus for practitioners there to move to the Silver State.
Medical doctor and Sen. Joe Hardy, R-Boulder City, does not believe giving autonomy to nurse practitioners is a positive for Nevada.
"It's what you don't know that gets you in trouble," he says, suggesting that the training given to nurse practitioners isn't even in the ballpark with what doctors receive.
Although he says he has the greatest respect for nurse practitioners, he notes that many doctors not only go through four years of medical school, but also internships and fellowships and specialty training that can take another eight to 10 years. It is possible to become a nurse practitioner after two years of graduate school.
Oversight of a nurse practitioner's work, he believes, is a "necessity" for quality care.
Physician groups, who have said they have no problem with nurse practitioners handling earaches and immunizations, object to giving them authority to treat more chronic diseases such as diabetes, or conditions that involve more complicated diagnoses such as concussions or broken bones. One physician association released a paper that said allowing nurse practitioners to practice independently "would create two classes of care: one run by a physician-led team and one run by less-qualified health professions. … Everyone deserves to be under the care of a doctor."
Angela Golden, president of the American Association of Nurse Practitioners, says the argument by doctors about nurse practitioners having a lack of education and training isn't valid.
She pointed out that most nurse practitioners worked as nurses for eight years — in effect, receiving on the job training in a particular field before they went back for their master's degree, which usually takes two or three years of training or study in a particular discipline, such as women's health or geriatric medicine.
Unlike training for doctors, which has them sampling all ages and all disciplines, training for nurse practitioners is specific.
"In our field, someone wanting to work in geriatric medicine is not going to get training in pediatrics," she says.
Nor are those who plan on working outside hospitals going to have a residency at a hospital as most doctors do, she adds.
"Physicians can't envision how a different educational model from theirs can produce a good outcome, but it can," she says.
"We're not against doctors," nurse practitioner Drohobyczer stresses. "When there's something I can't handle, I, of course, refer a patient to a specialist, just as any primary care doctor would."
A 2012 Health Policy Brief in the journal Health Affairs reported that "a systematic review of 26 studies published since 2000 found that health status, treatment practices and prescribing behavior were consistent between nurse practitioners and physicians." Authors of an article published in 2011 in the New England Journal of Medicine, "Broadening the Scope of Nursing Practice," wrote that "there is no measurable difference in the quality of basic care services" when comparing physicians and nurse practitioners.
The article also contained this nugget: "Between three and 12 nurse practitioners can be educated for the price of educating one physician and more quickly." Some experts have jumped on that statistic to suggest that there could be a huge change in the delivery of care in the United States.
Hardy agrees, suggesting that if someone can go to school for a half or a third of the time and still make a good living in health care, more individuals will take that career path. According to Salary.com, the median salary for a nurse practitioner in Las Vegas is more than $92,000 a year.
Debra Scott, executive director of the Nevada State Board of Nursing, says that while it is possible that some nurse practitioners will hang a shingle and practice independently, she expects most to remain in the kind of setting they work in presently –– ambulatory care settings, hospitals, clinics.
She has little concern about how 98 percent of nurse practitioners will conduct themselves. They know what they don't know, she says, and will refer complicated cases to physician specialists.
It's the 2 percent who may try to go outside the scope of practice, she says, who will need careful monitoring.
"We're working on regulations to implement the bill," she says. "We're doing our due diligence."
For Louisa Piccoli, the time is right for nurse practitioners such as Martha Drohobyczer to play a larger and more respected role in American health care.
"If they're like her, people who really care and are always learning, it's a good thing," she says. "We need them to play a bigger role in health care."
Contact reporter Paul Harasim at pharasim@
reviewjournal.com or 702-387-2908.